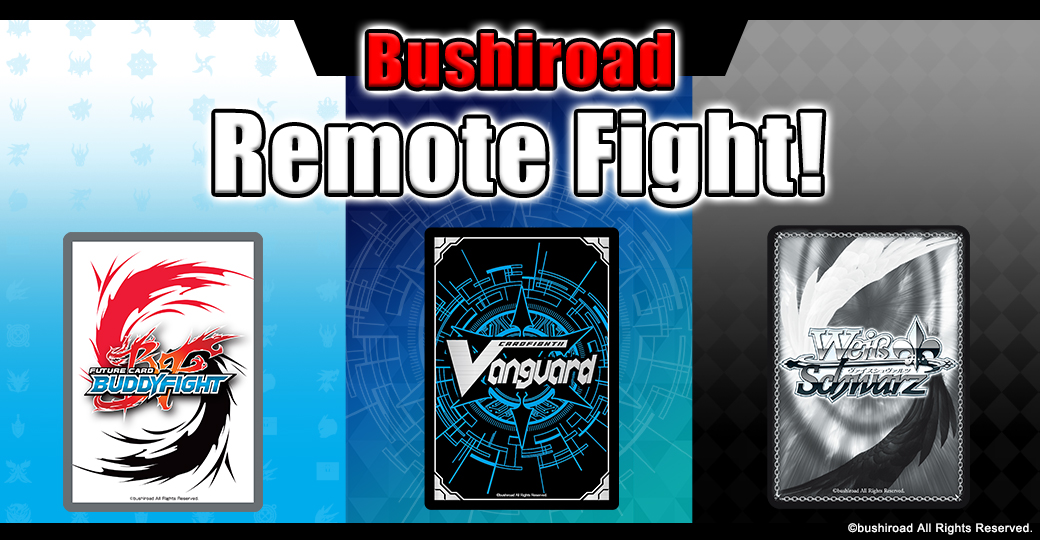 Challenge players from around the world to Bushiroad Trading Card Games remotely through Discord!
Requirements
Discord account
Area to do a clear video capture of the playing field.
A legal deck for the Bushiroad TCG you would like to play
How to Start
After accessing Bushiroad Remote Fight server on Discord, look to the left side panel and kindly go through [#read-me] & [#information] channels first.
Bushiroad Remote Fight Discord channel can be found here: https://discord.gg/7S6mS6G
Login and enter the chat channel of the game you want to play.
Login during Battle Timings for a higher chance of matching with an opponent!
Message the bot (instructions on how are in the Discord Channel #manual) in the respective game matching channel. After a game is found, please send your opponent a direct message to start the game via video chat
You may even be matched up against a Bushiroad staff during "Bushi Bustle Time"?!
Points to note
Users are responsible for any costs incurred for using this Discord server.
Please refrain from making comments regarding offensive/controversial materials or topics. Users will be removed from the server without warning for doing so.
So what are you waiting for? Click the image below to join our Discord server!!