Guide for Retailers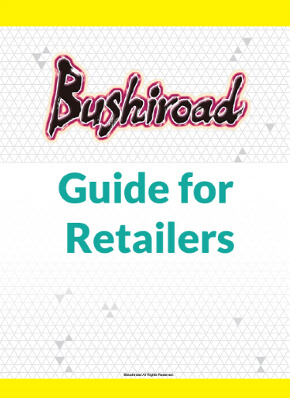 In the gaming industry, especially a highly social one like trading card games, a good player base is paramount to the business' growth. With this guide, we hope to help you grow that solid community of players. You will learn how to boost the number of players stepping into your door by organizing good events, and how to maximize the tournament experience using resources we provide! Also included are some event and promotion ideas which can help you grow your business. Download your FREE copy of the Guide for Retailers!
In this page, you can also access materials that we provide to assist retailers in conducting shop events. Let's get started!
Materials for Shop Tournaments
Forms and Documents
| | |
| --- | --- |
| Tournament Forms [PDF] | Use this form to run your shop tournaments manually. |
| Shop Tournament Report Forms [XLS] | Register players for tournaments with this form. Keeping track of the number of players participating in your shop helps you understand your players better. Also, please do not forget to submit the report to Bushiroad. |
| Deck List [PDF] | Keep a record of the deck lists of your tournament winners to learn what decks are winning in your shop. You may be able to use the information to plan for your product orders. |
| Online Deck Builder | |
Tournament Software
The Bushiroad Tournament Software aims to provide tournament organizers with a smoother and faster experience for both small and large-scale tournaments.
Features:
Enrol players
Create pairings
Calculate match pairings
Compatible with both individual & team formats
Download Bushiroad Tournament Software [Windows | zip].
Please refer to the Bushiroad Tournament Software Manual for a brief overview on using the software.
Ruling
Game Rules and Regulations
Worried about the rulings for the trading card games? Listed below are the links to the Rules page of each respective game, should you have questions or seek clarifications on certain card effects or ruling:
Cardfight!! Vanguard
Weiss Schwarz
Guides for Beginner Players
To help your beginner players to jump into the games, we recommend you to use these free guides for starters:
Cardfight!! Vanguard G Starter's Guide
Weiss Schwarz "For Beginners"
Useful Tournament Terms
Pairing
Before each round, each player needs to be paired to ensure that everyone has an opponent to play against. The first round of pairing is usually random. For subsequent rounds, the pairing should be based on the number of wins, or the standing points if the number of wins are the same. If there is an odd number of players, a player will be assigned an "auto-win" for that round, known as a "bye". In each round, a player should be paired against different opponents whenever possible. If necessary, a software may be used for pairings.
Best of 1
Players only play one match per round. That match alone determines the winner of the round.
Best of 3
Players may play up to 3 matches per round. The player who first wins 2 matches wins the round.
Single Elimination
A player will be eliminated from the game after losing a round.
Double Elimination
A player will be eliminated from the game after losing 2 rounds.
Swiss
Swiss tournaments run continuously round after round without any elimination, unless a player opts to drop out. The winners/top players are determined based on their winning standings, which are calculated by the number of wins and losses, as well as that of their opponents. Usually, a software can easily calculate the standings.
Cut to Top 8/Top 4
In tournaments with Cut to Top 8/Top 4, only the top 8 or 4 players based on the latest standing after a few rounds will participate in subsequent quarter/semi-final matches.
Sideboard

An optional deck separate from the player's main deck to be used in Future Card Buddyfight tournaments with Best of 3 format:

Players can have 0-10 cards for their sideboard.
The 4 per deck rule applies to the main deck and sideboard as a whole. (i.e. You may only have up to 4 of a certain card between your deck and sideboard. Like normal games, your Buddy does not count towards the 4 per deck.)
Between games 1-2 and 2-3 of each round, players may use cards from their sideboard to change their deck.
After sideboarding, the deck needs to be in a legal state and the sideboard can be no more than 10 cards.
Players must return deck to pre-sideboard state before each new round.

Booster Draft Tournament

A format of play whereby players have no cards to begin with. Each player will open new card packs and will build their deck from scratch before the tournament starts.

You can take a look the detailed explanation of Booster Draft Tournament in the Cardfight!! Vanguard Booster Draft Tutorial Video and Future Card Buddyfight Draft Recommended Rules.
Tournament Etiquette
There are certain unspoken rules and etiquette that players follow to ensure a clean, fair fight. Greeting the opponent, announcing all moves clearly and offering a handshake after every match are among some of them.
>> Read more about tournament etiquette.
Events
Major Tournaments
Bushiroad holds major tournaments worldwide which can boost the gaming hype in your community. Bushiroad Spring Fest and Bushiroad World Championship are yearly tournaments held worldwide with qualifiers held in more than 15 countries across the globe. Winners will advance to the Continental Championships, and World Championship finalists may eventually advance to the World Finals. Ride the excitement in the months leading to the tournaments while your players are eager to brush up their gaming skills! You can conduct special events such as workshops, staff challenges, or rare card lucky draws. Shop-level "Store Championship Circuits" are also available at selected countries to kick start the Bushiroad World Championship 2016.
Shop Tournaments & Other Events / Campaigns
On top of our monthly tournaments, Bushiroad also hold monthly shop tournaments as well as ad hoc events and seasonal campaigns for official retailers. Check out the respective Events page to find out the ongoing events and campaigns!
Cardfight!! Vanguard
Weiss Schwarz
Digital Materials
TV Animations
Watching the animation can give you a better understanding of the games too! Visit the following links for the latest episode of the animation and original video contents created by us!
Cardfight!! Vanguard
Future Card Buddyfight
Official YouTube Channels
Subscribe to our official YouTube channels for a variety of video contents including TV animations, commercials, tutorials and game play videos!
Cardfight!! Vanguard G Official Channel
Cardfight!! Vanguard TV animations, commercials and game play videos
Future Card Buddyfight Official Channel
Future Card Buddyfight TV animations, commercials, game play videos and BUSHI NAVI International episodes
Bushiroad Official Channel
Commercials, game play videos and tutorials for Weiss Schwarz, Luck & Logic
Media Kits