* All items are while stocks last. Please check on site for stock availability.
* To shorten customer wait-time, we encourage using cashless forms of payment, which will be the only available option at the majority of our cashiers. Cash payment will still be available at limited cashiers.
* All item purchases will be limited to a maximum of 3 copies of each item.
* Items that come in boxes such as trading can badges will be limited to 3 boxes.
Purchase Bonus
Receive a random D4DJ postcard for every $100 of purchase!
There will be 2 designs featuring Shinobu Inuyose & Towa Hanamaki, who will also be performing at AFA Singapore. If you're lucky, the card will be signed by the voice actress herself! (Miyu Takagi for Shinobu Inuyose, Haruki Iwata for Towa Hanamaki)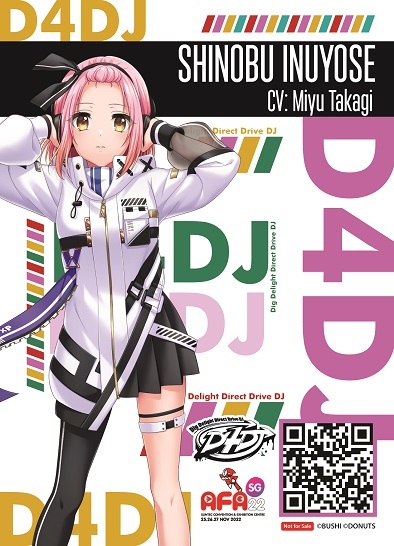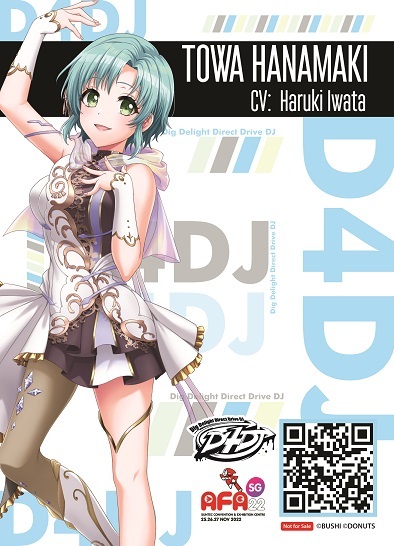 Bushiroad 15th Anniversary Live Goods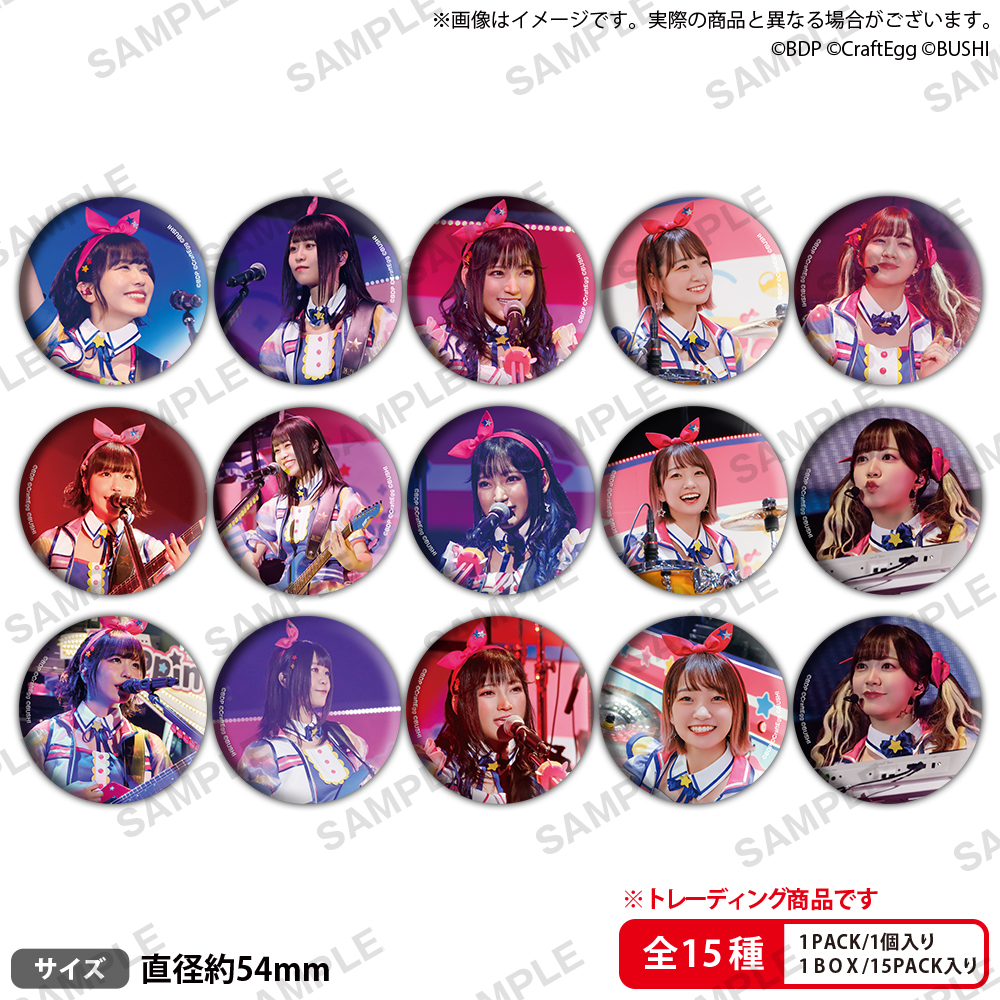 Poppin'Party Artist Trading Can Badge vol.5
15 types, random
SGD $7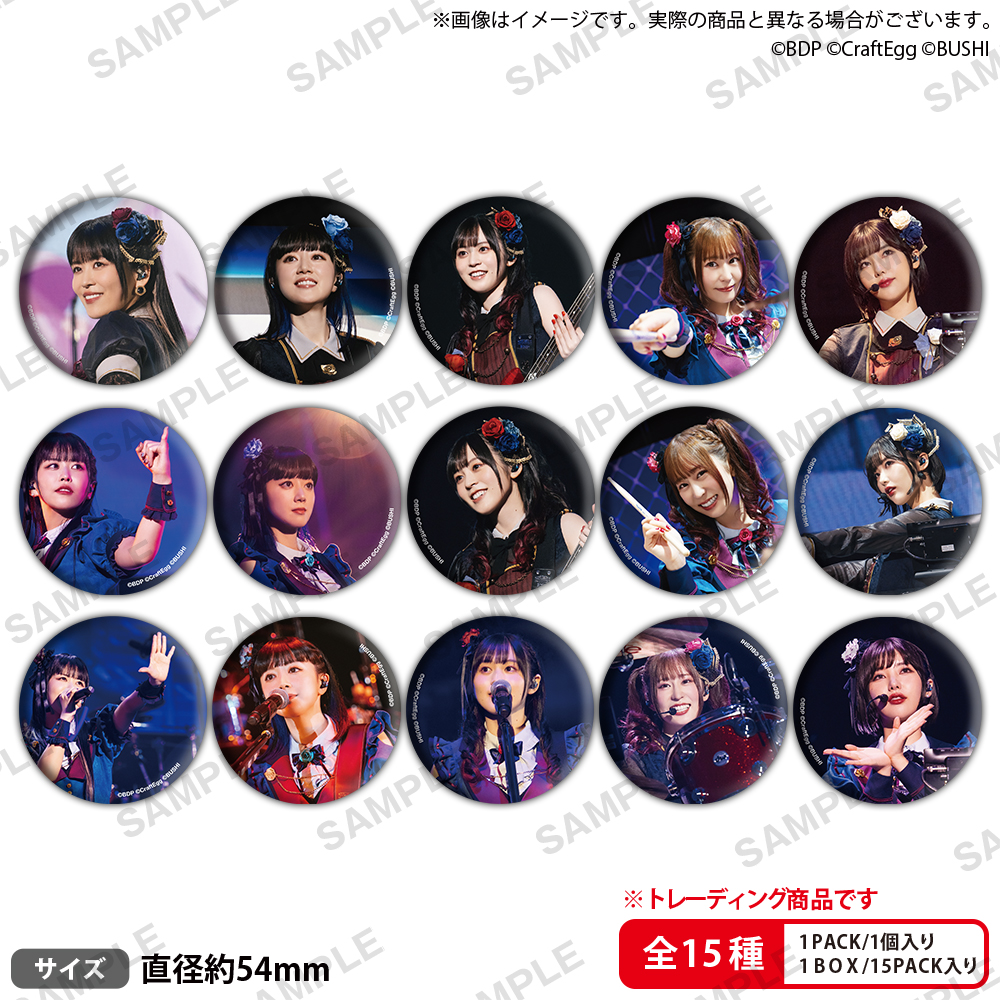 Roselia Artist Trading Can Badge vol.5
15 types, random
SGD $7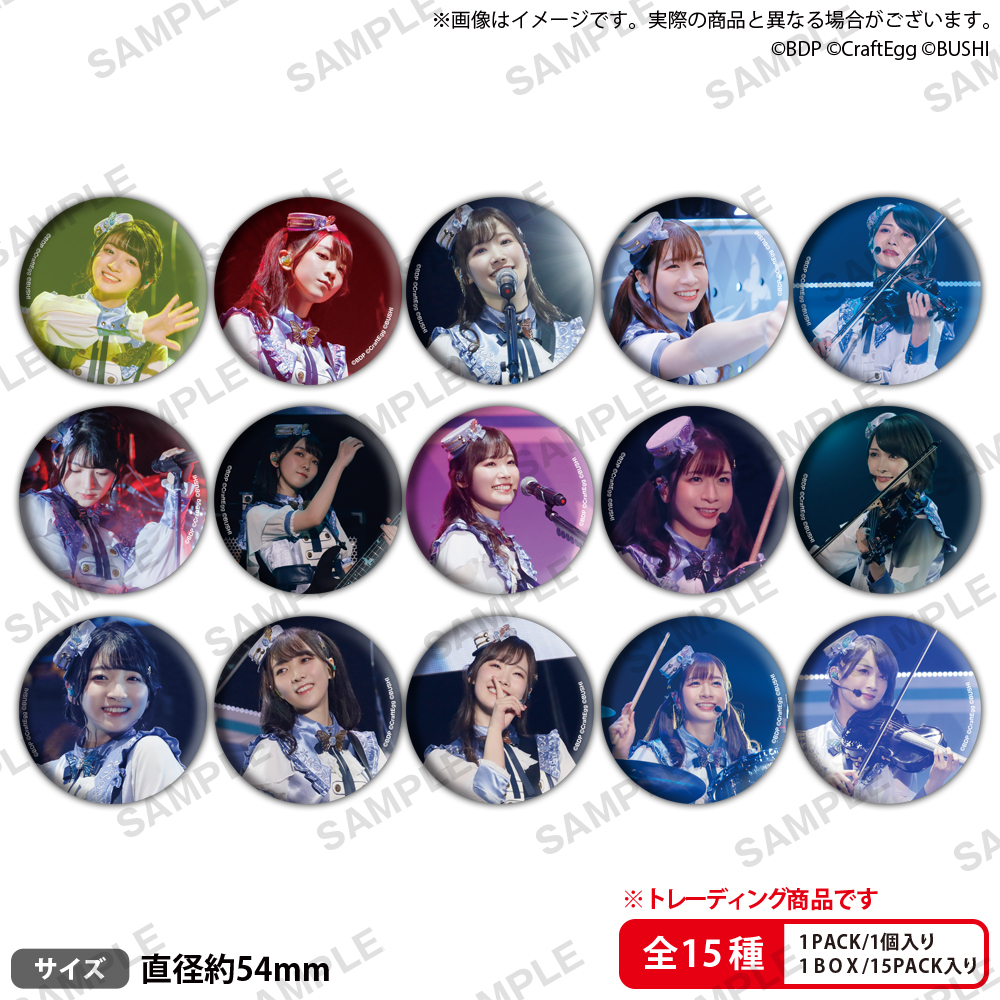 Morfonica Artist Trading Can Badge vol.2
15 types, random
SGD $7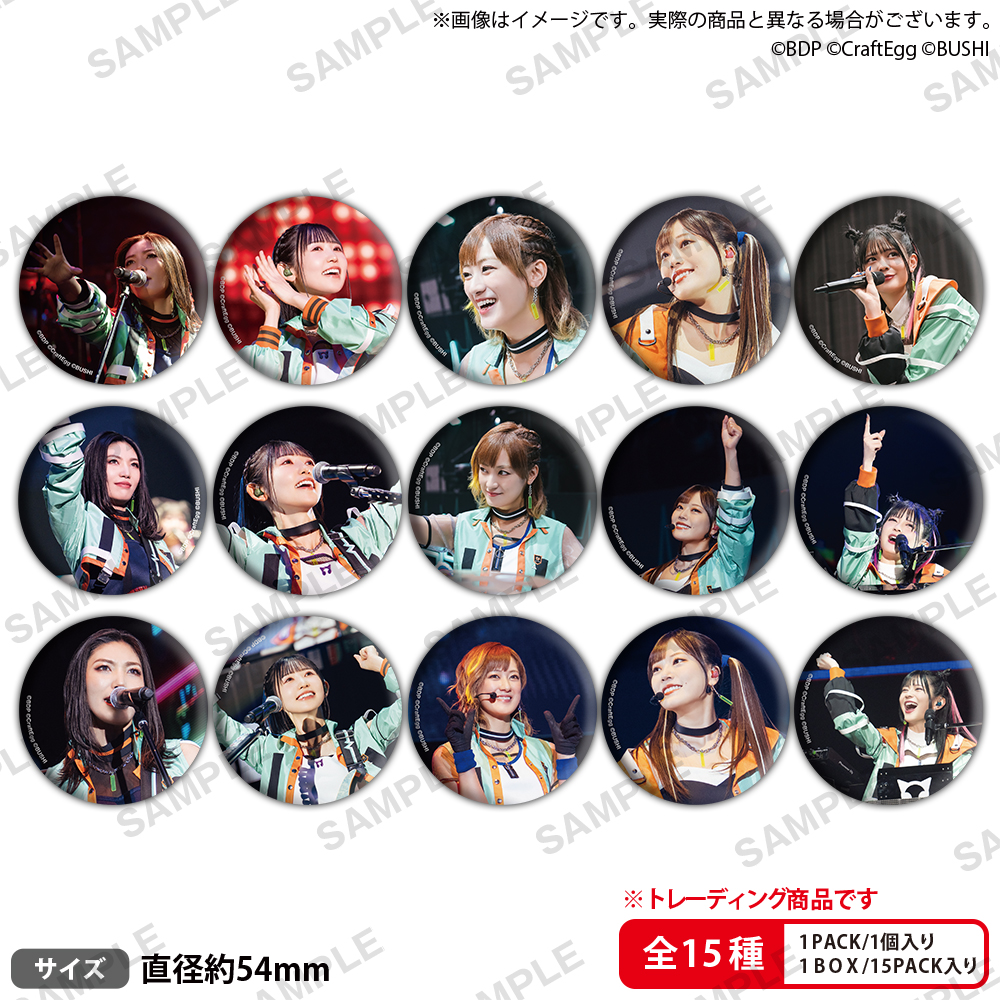 RAISE A SUILEN Artist Trading Can Badge vol.5
15 types, random
SGD $7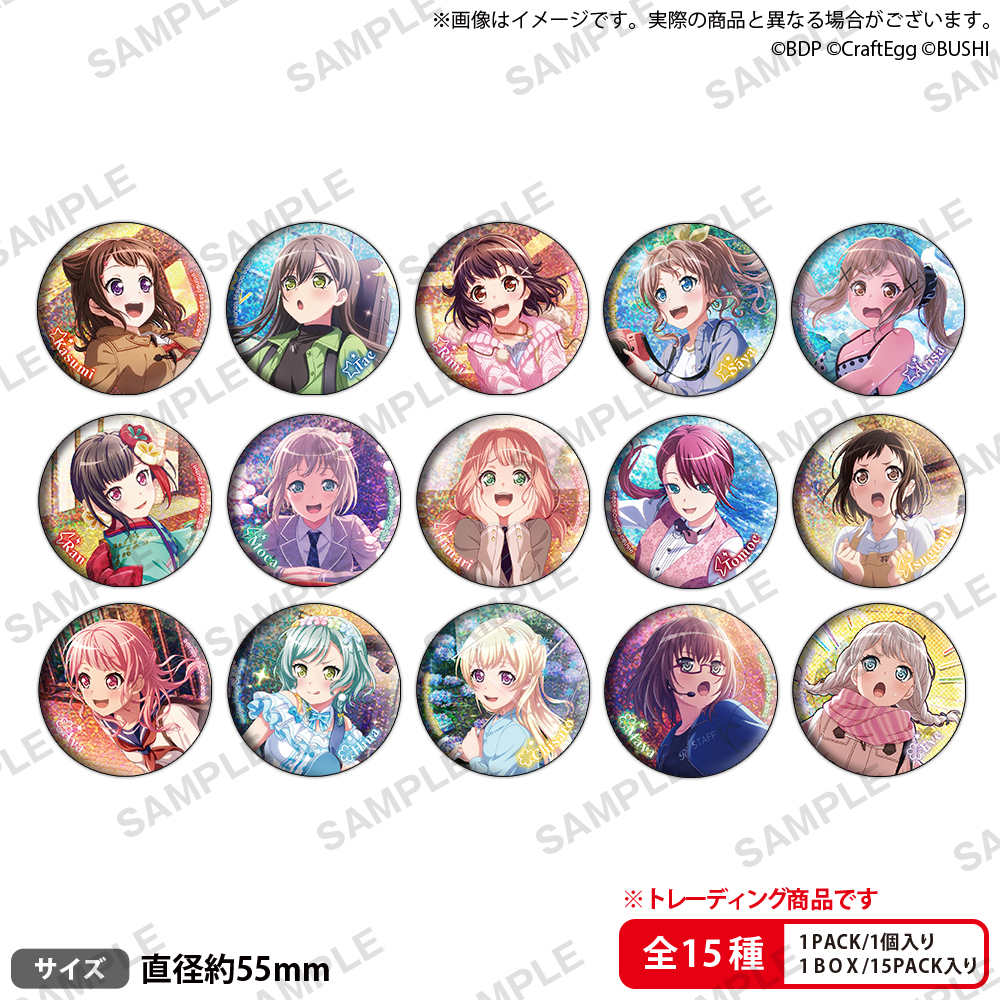 BanG Dream! Girls Band Party! Trading Can Badge KiraKira ver. vol.4 side A
15 types, random
SGD $7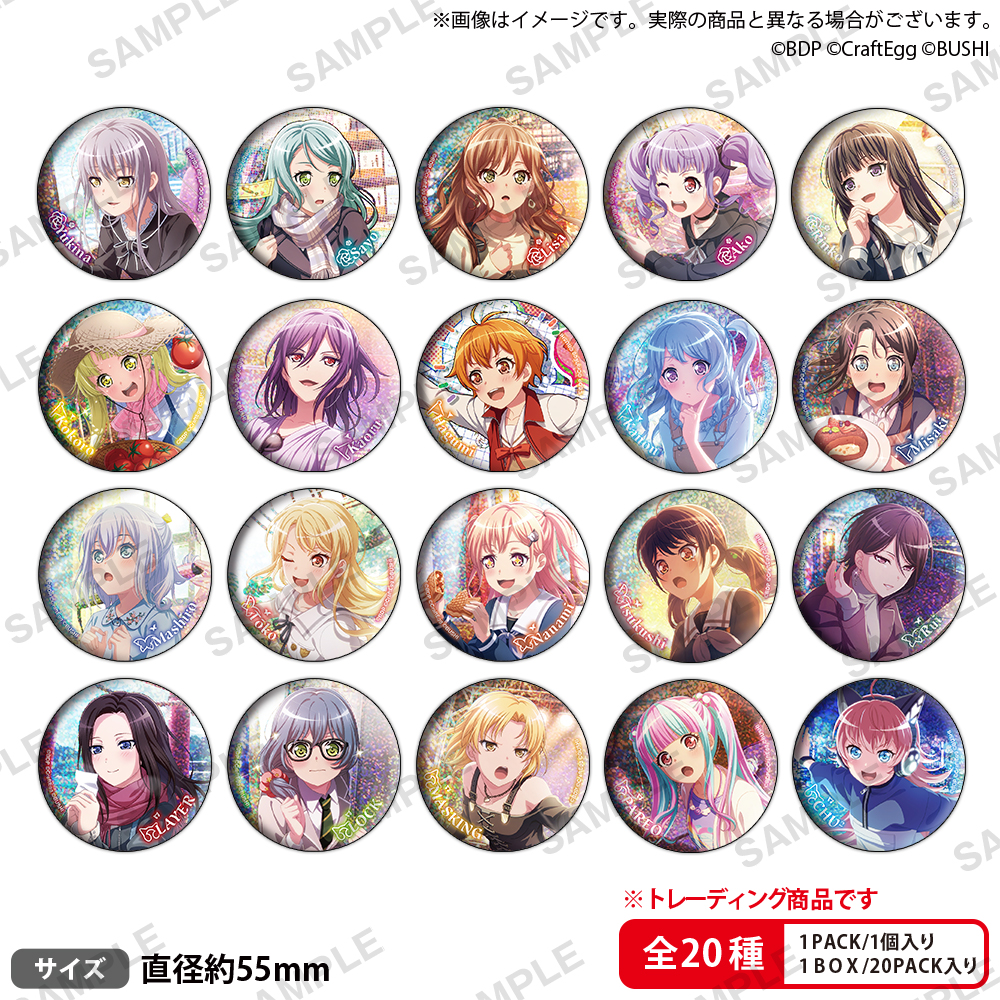 BanG Dream! Girls Band Party! Trading Can Badge KiraKira ver. vol.4 side B
20 types, random
SGD $7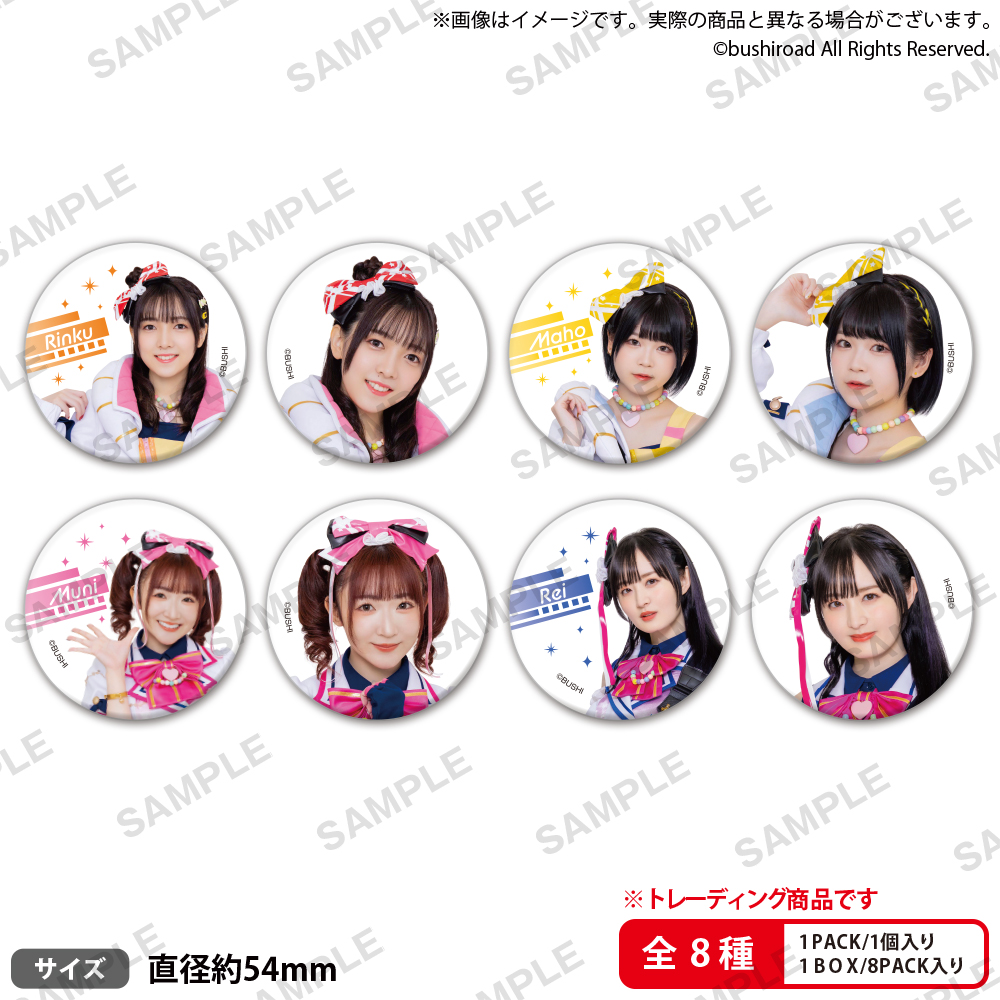 D4DJ Artist Trading Can Badge
Happy Around!
8 types, random
SGD $7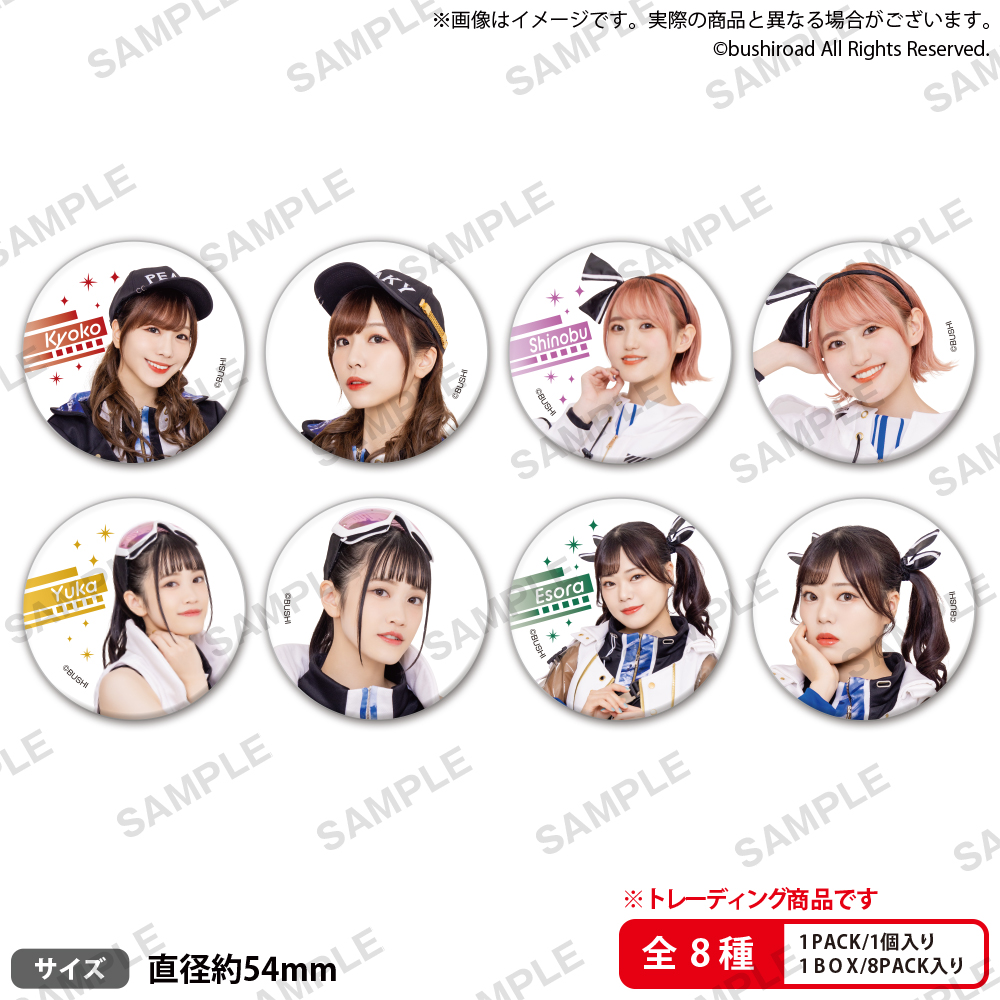 D4DJ Artist Trading Can Badge
Peaky P-key
8 types, random
SGD $7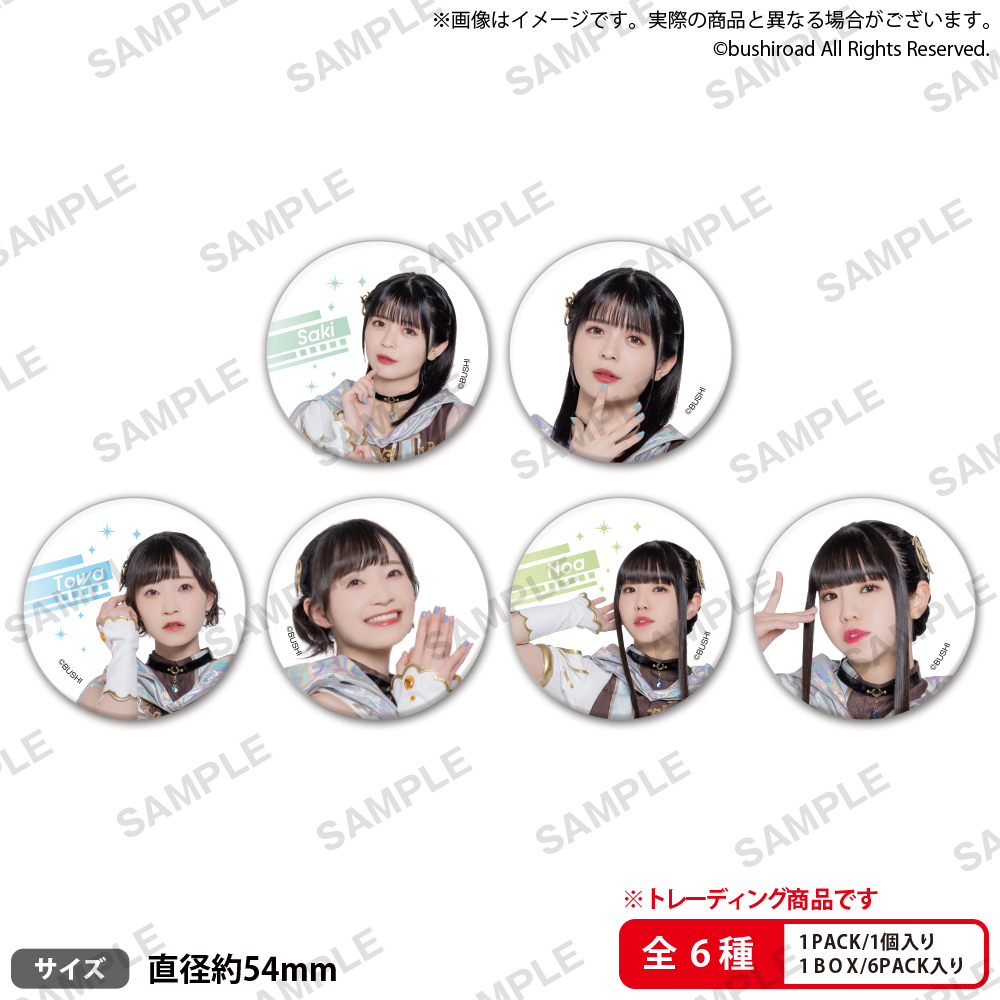 D4DJ Artist Trading Can Badge
Photon Maiden
6 types, random
SGD $7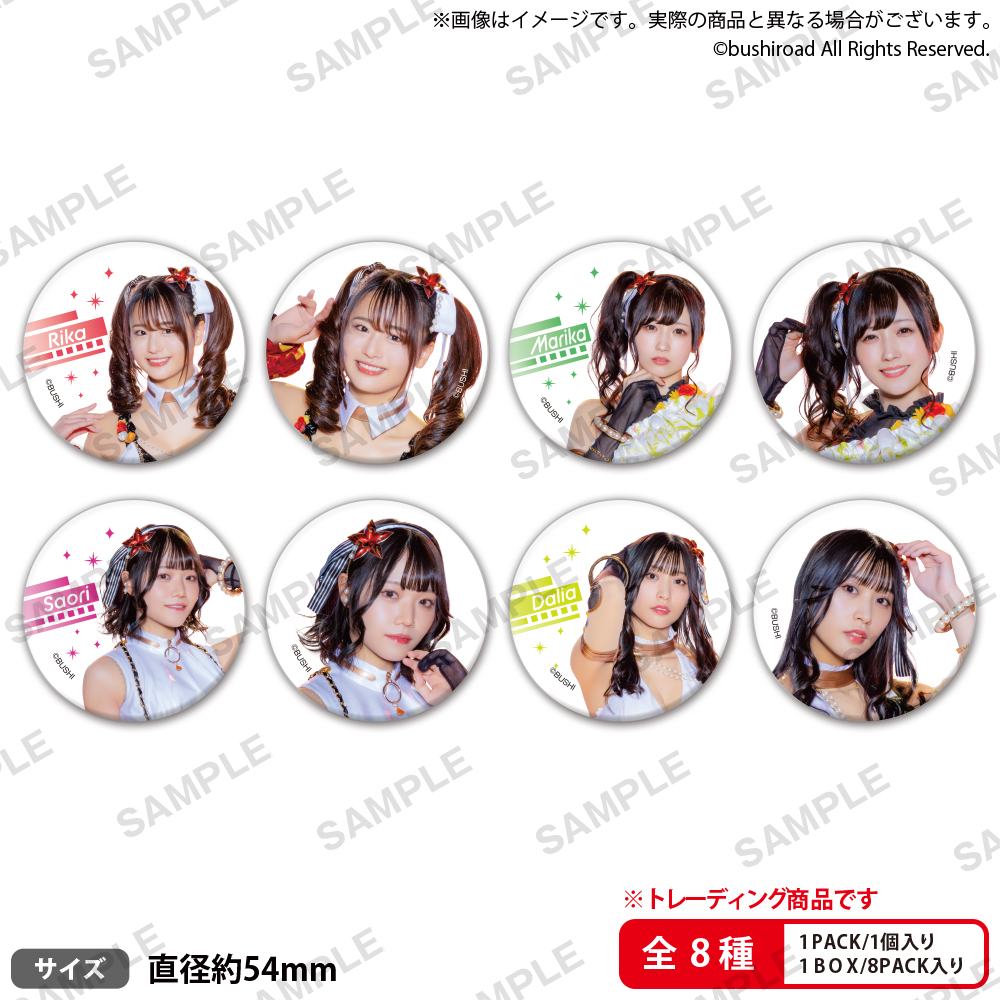 D4DJ Artist Trading Can Badge
Merm4id
8 types, random
SGD $7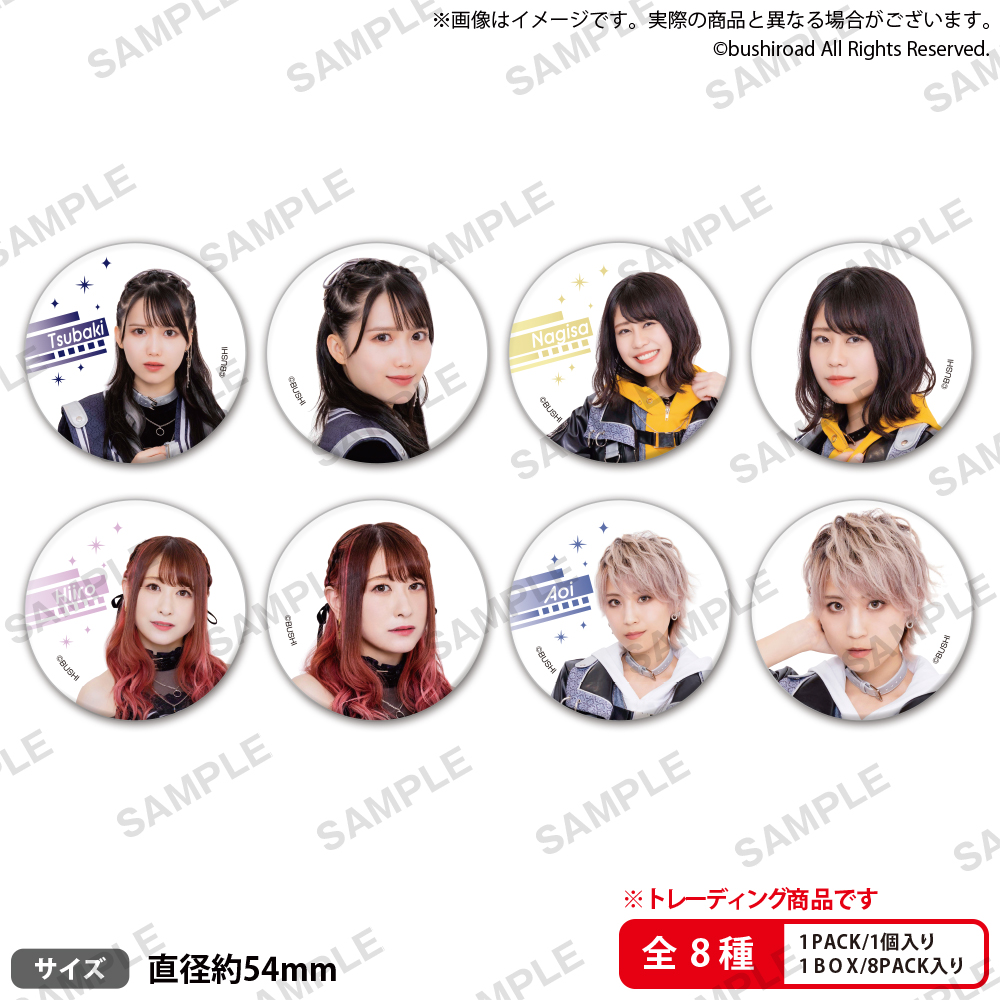 D4DJ Artist Trading Can Badge
RONDO
8 types, random
SGD $7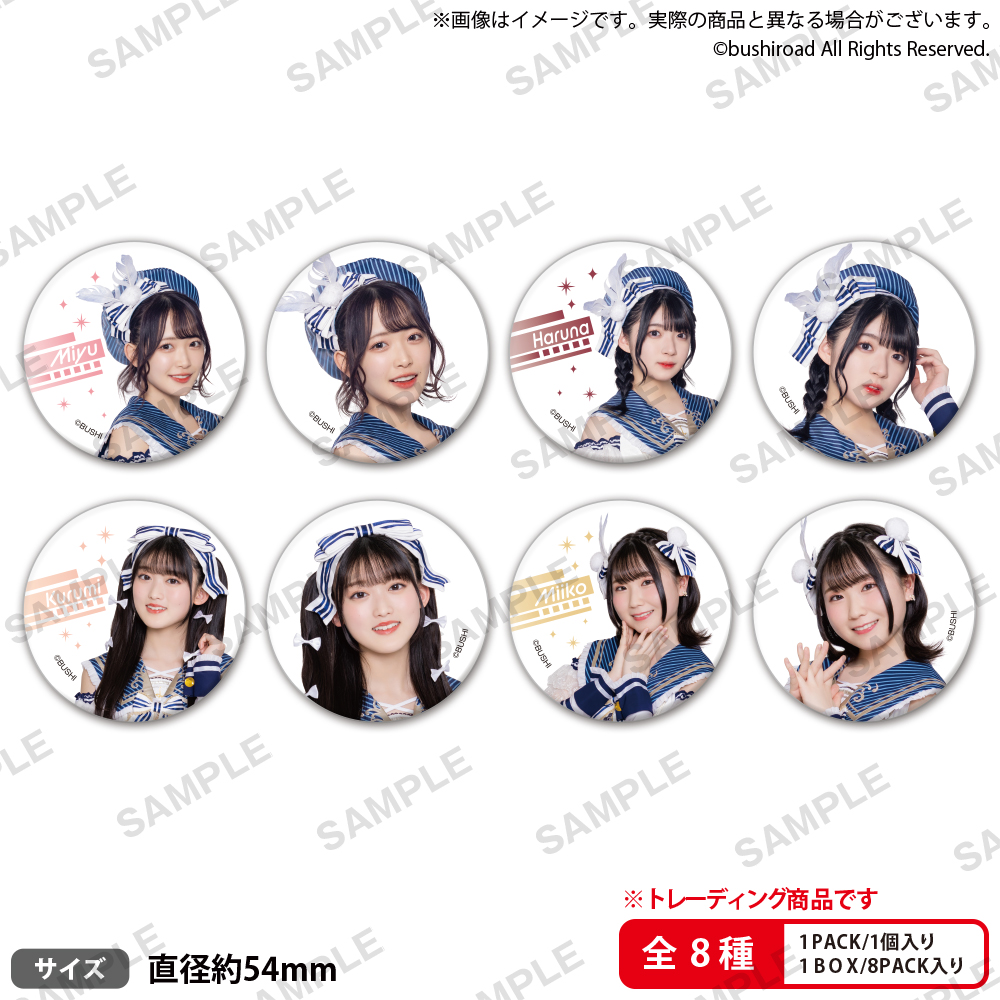 D4DJ Artist Trading Can Badge
Lyrical Lily
8 types, random
SGD $7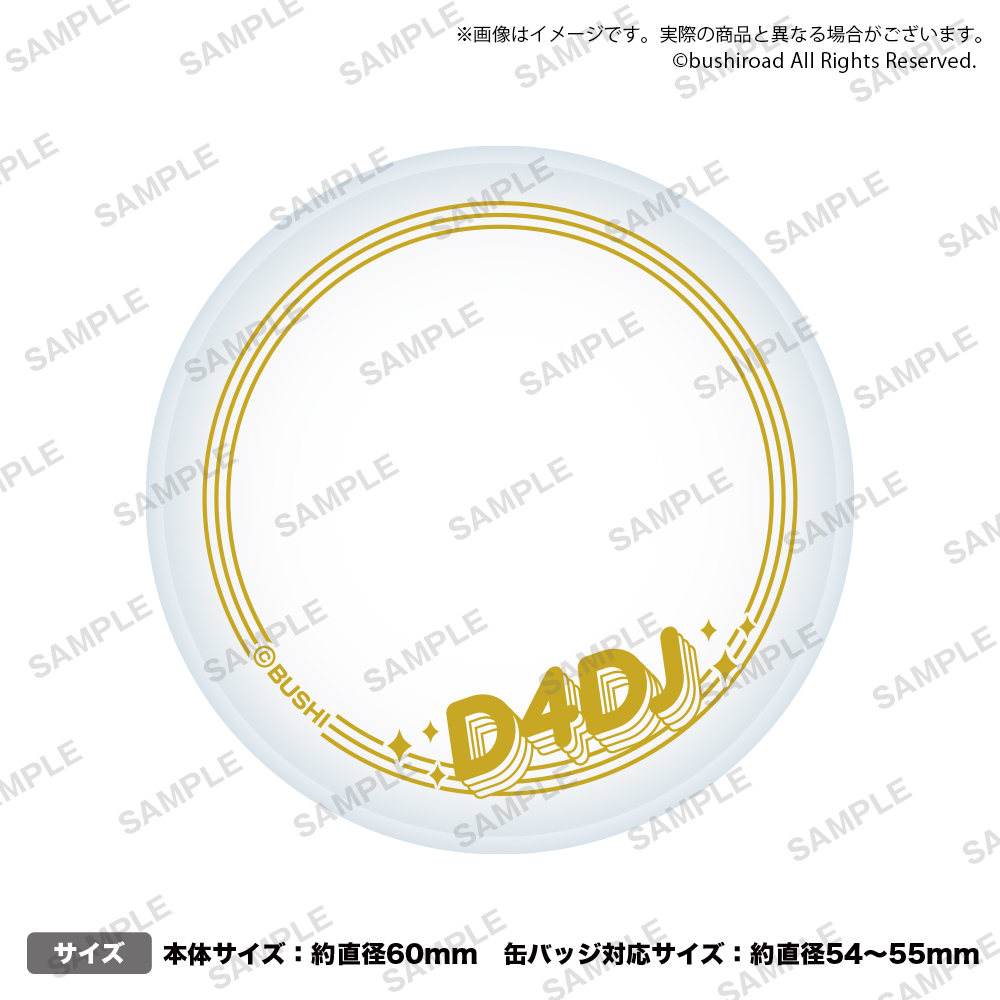 D4DJ Can Badge Cover
SGD $9
BanG Dream! Special☆LIVE Girls Band Party! 2020→2022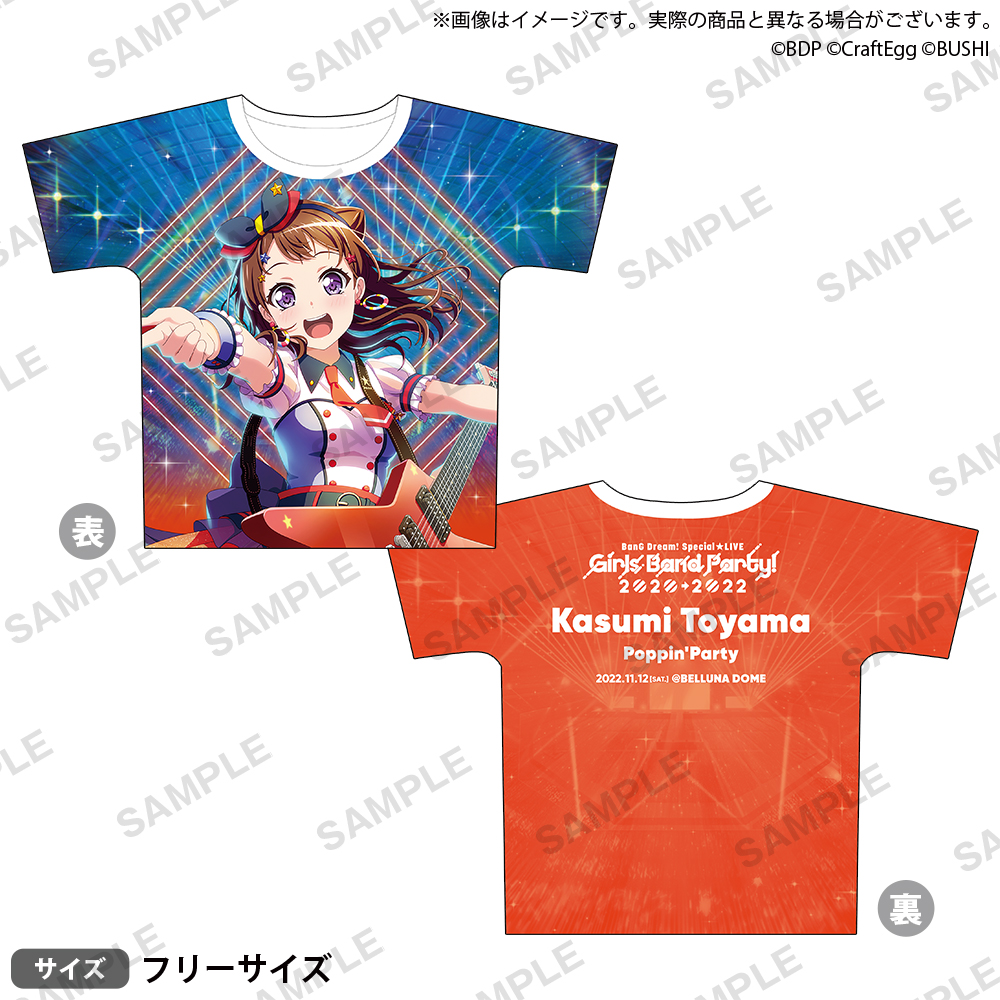 BanG Dream! Special☆LIVE Girls Band Party! 2020→2022 
Full Color T-Shirt
Kasumi Toyama
SGD $75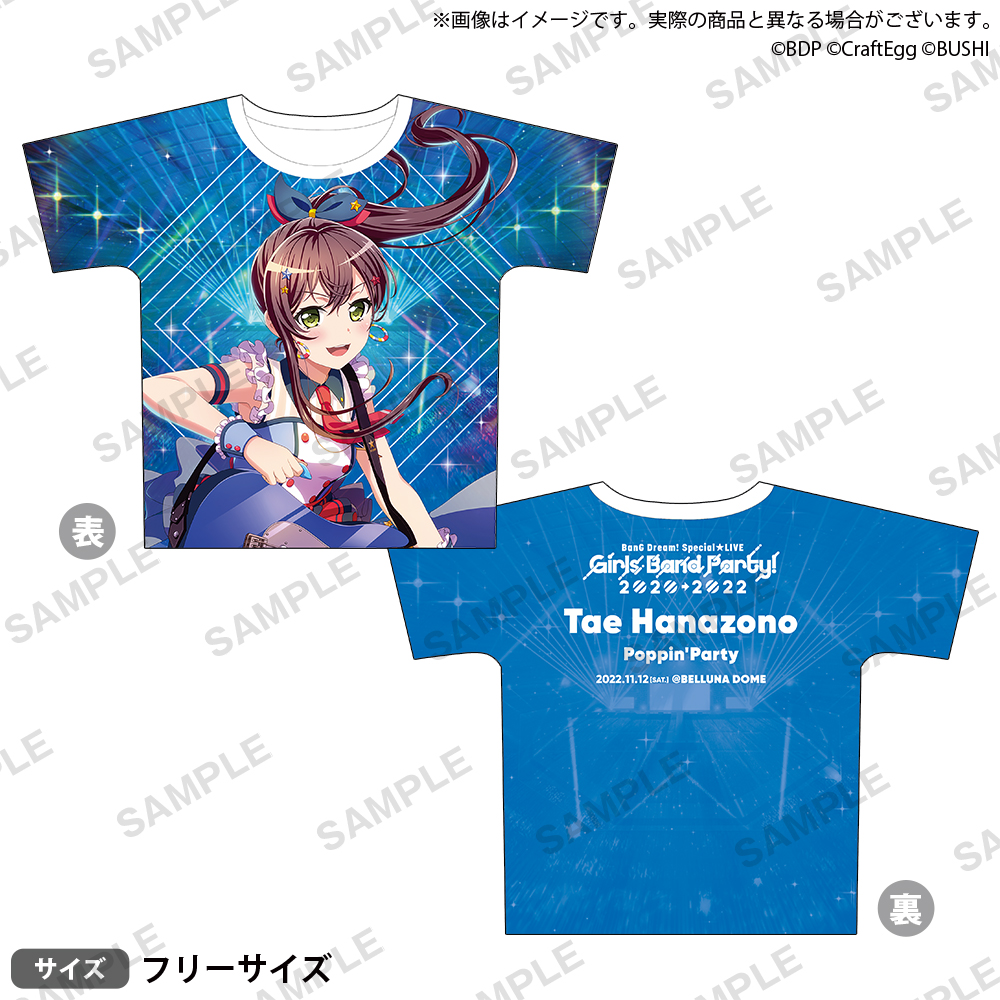 BanG Dream! Special☆LIVE Girls Band Party! 2020→2022 
Full Color T-Shirt
Tae Hanazono
SGD $75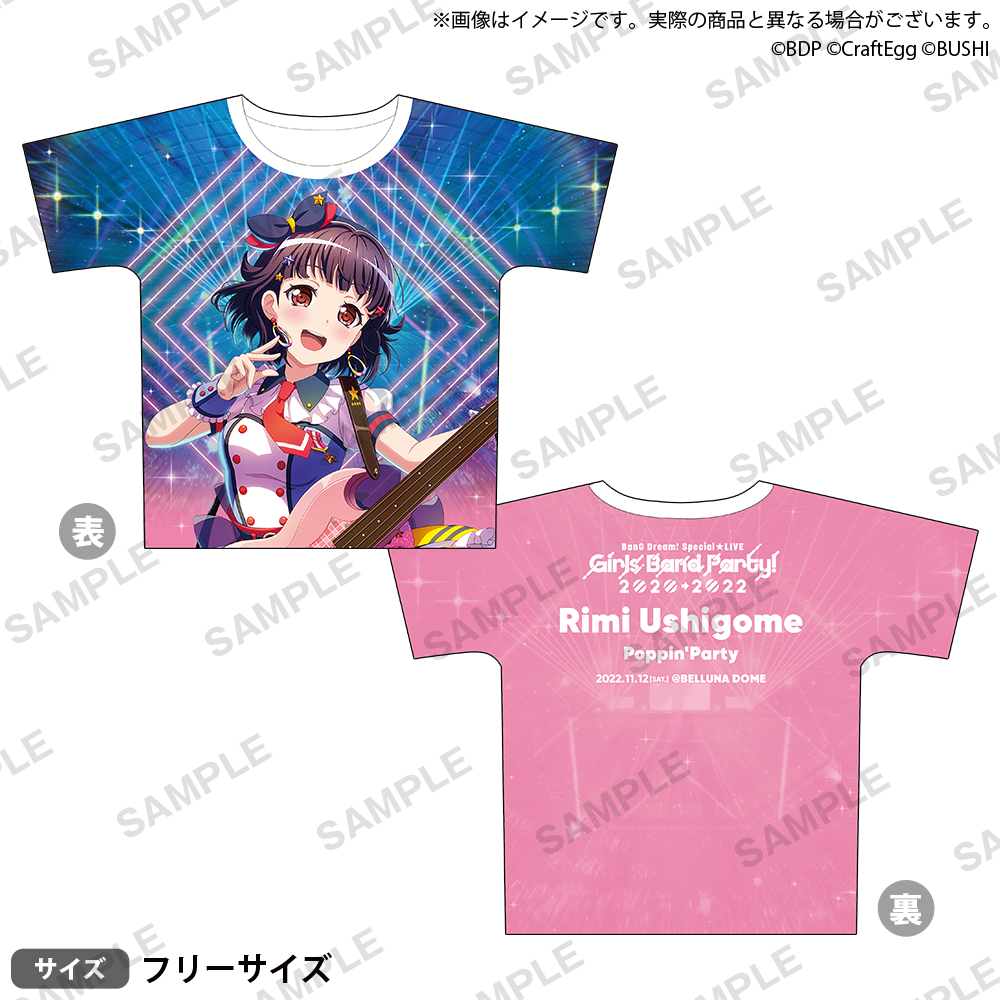 BanG Dream! Special☆LIVE Girls Band Party! 2020→2022 
Full Color T-Shirt
Rimi Ushigome
SGD $75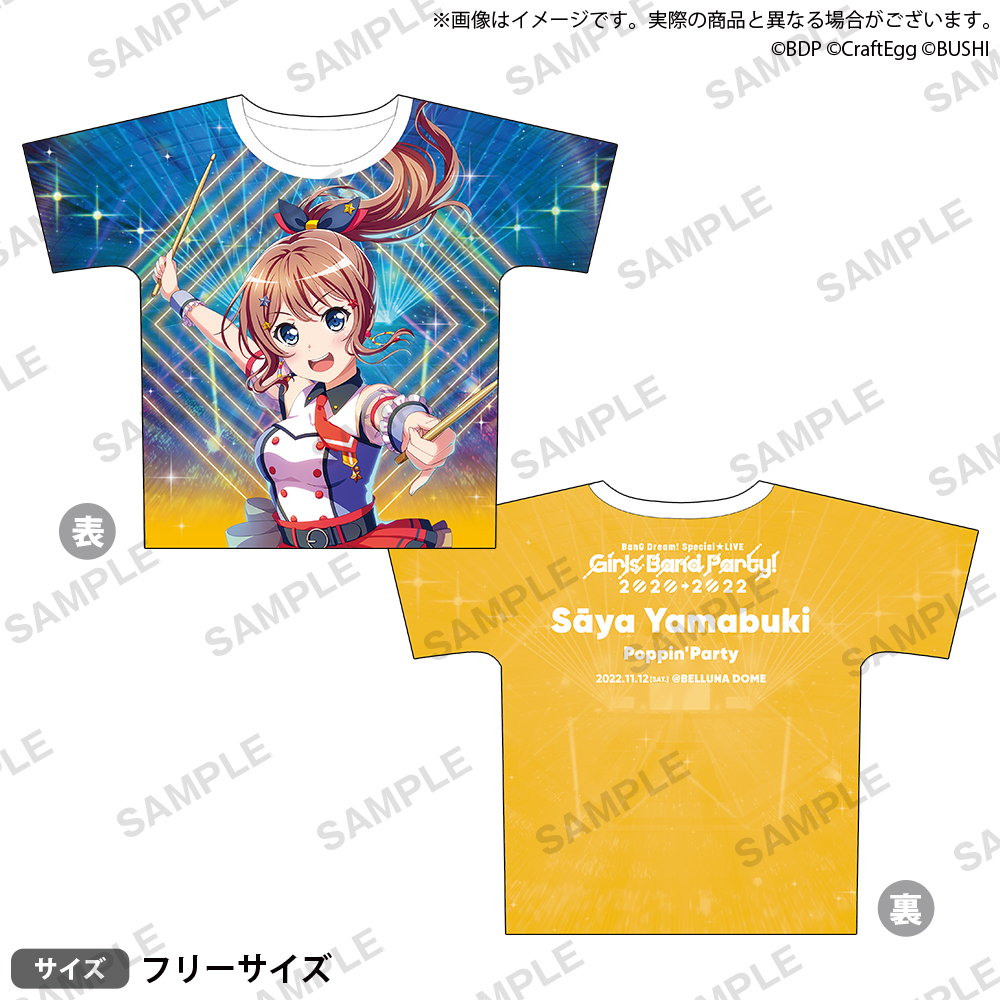 BanG Dream! Special☆LIVE Girls Band Party! 2020→2022 
Full Color T-Shirt
Saya Yamabuki
SGD $75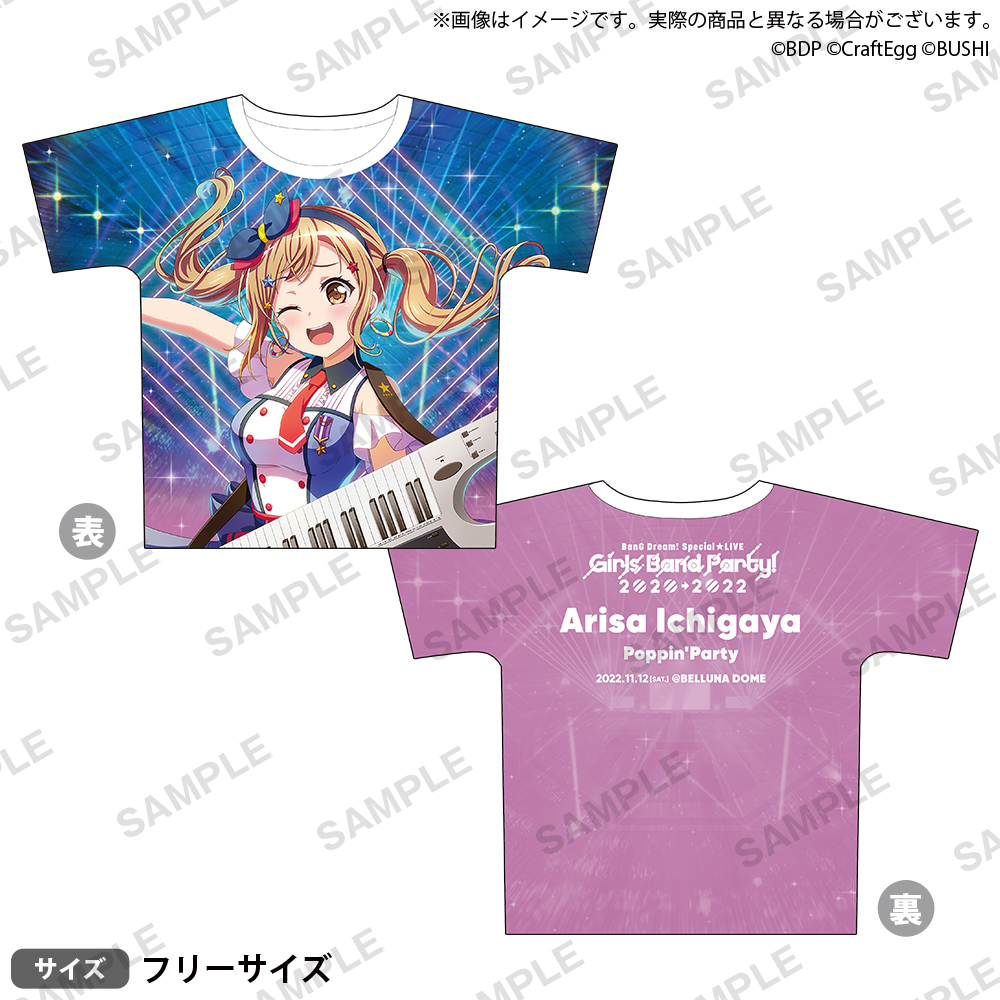 BanG Dream! Special☆LIVE Girls Band Party! 2020→2022 
Full Color T-Shirt
Arisa Ichigaya
SGD $75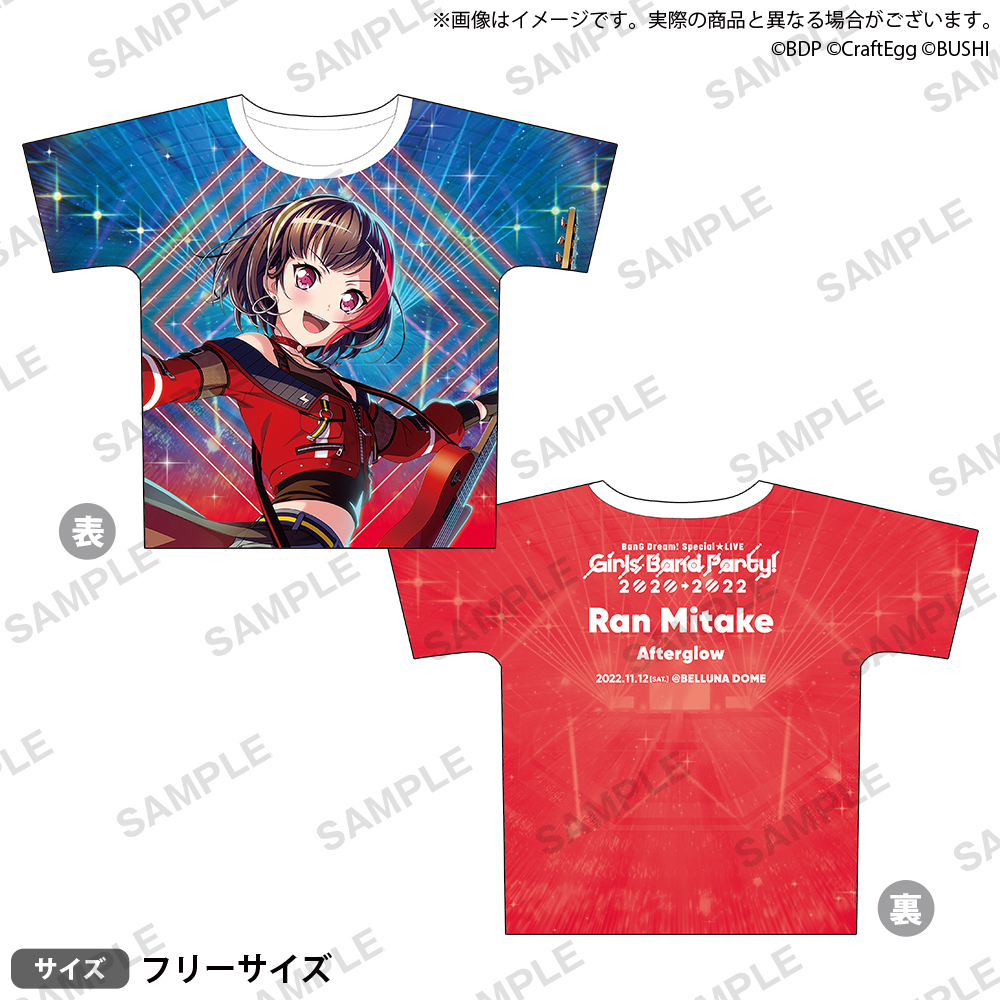 BanG Dream! Special☆LIVE Girls Band Party! 2020→2022 
Full Color T-Shirt
Ran Mitake
SGD $75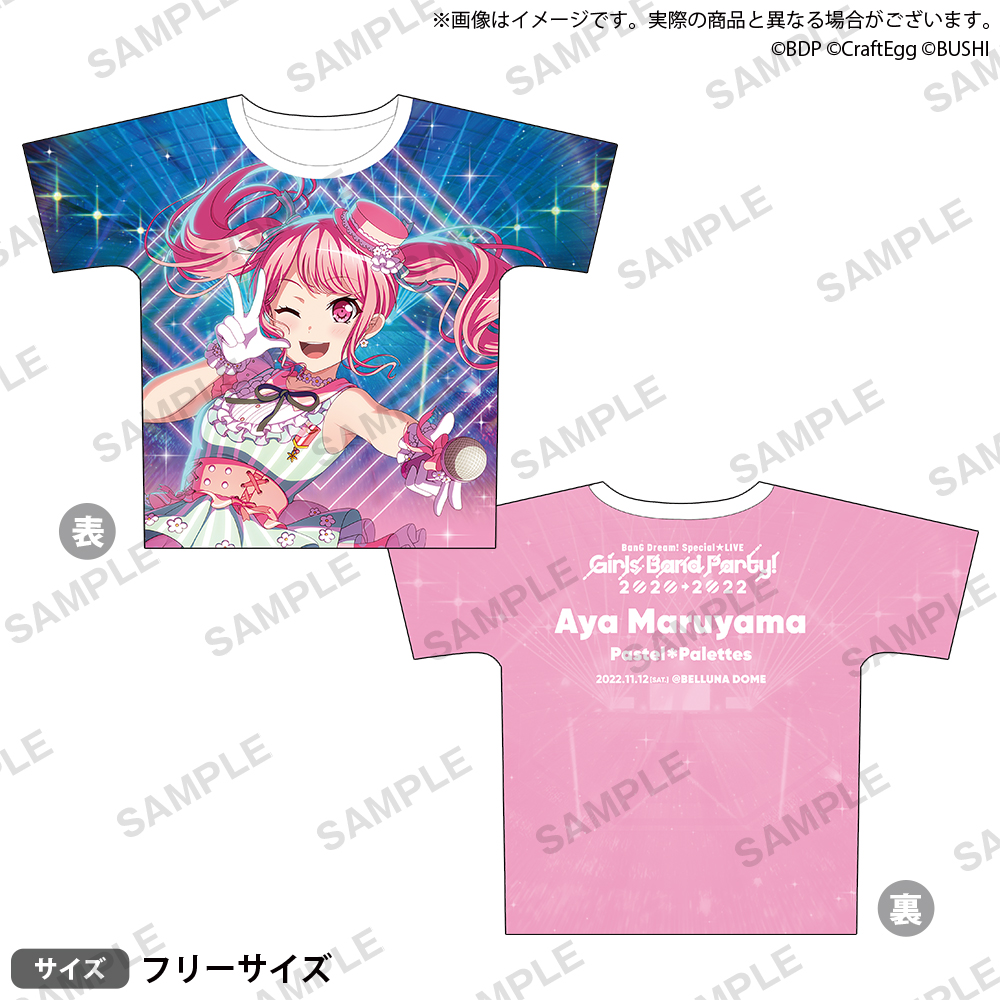 BanG Dream! Special☆LIVE Girls Band Party! 2020→2022 
Full Color T-Shirt
Aya Maruyama
SGD $75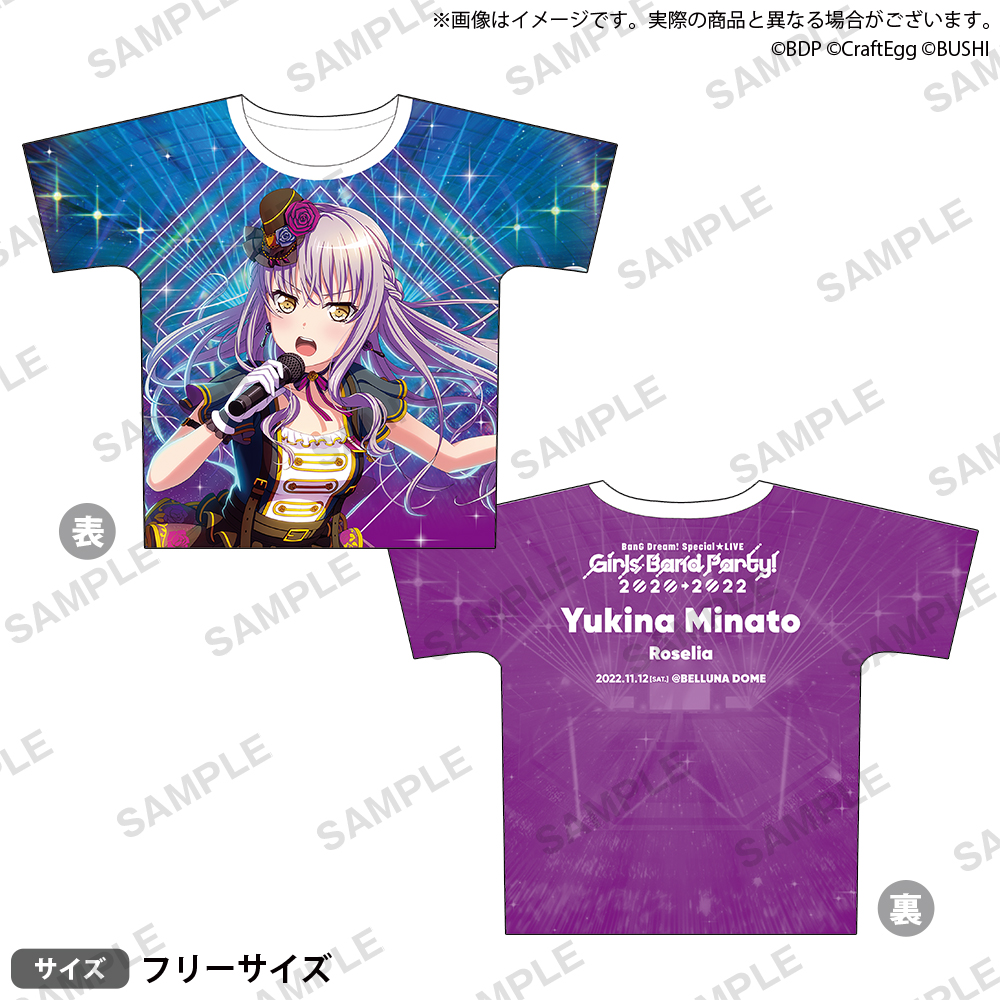 BanG Dream! Special☆LIVE Girls Band Party! 2020→2022 
Full Color T-Shirt
Yukina Minato
SGD $75
BanG Dream! Special☆LIVE Girls Band Party! 2020→2022 
Full Color T-Shirt
Sayo Hikawa
SGD $75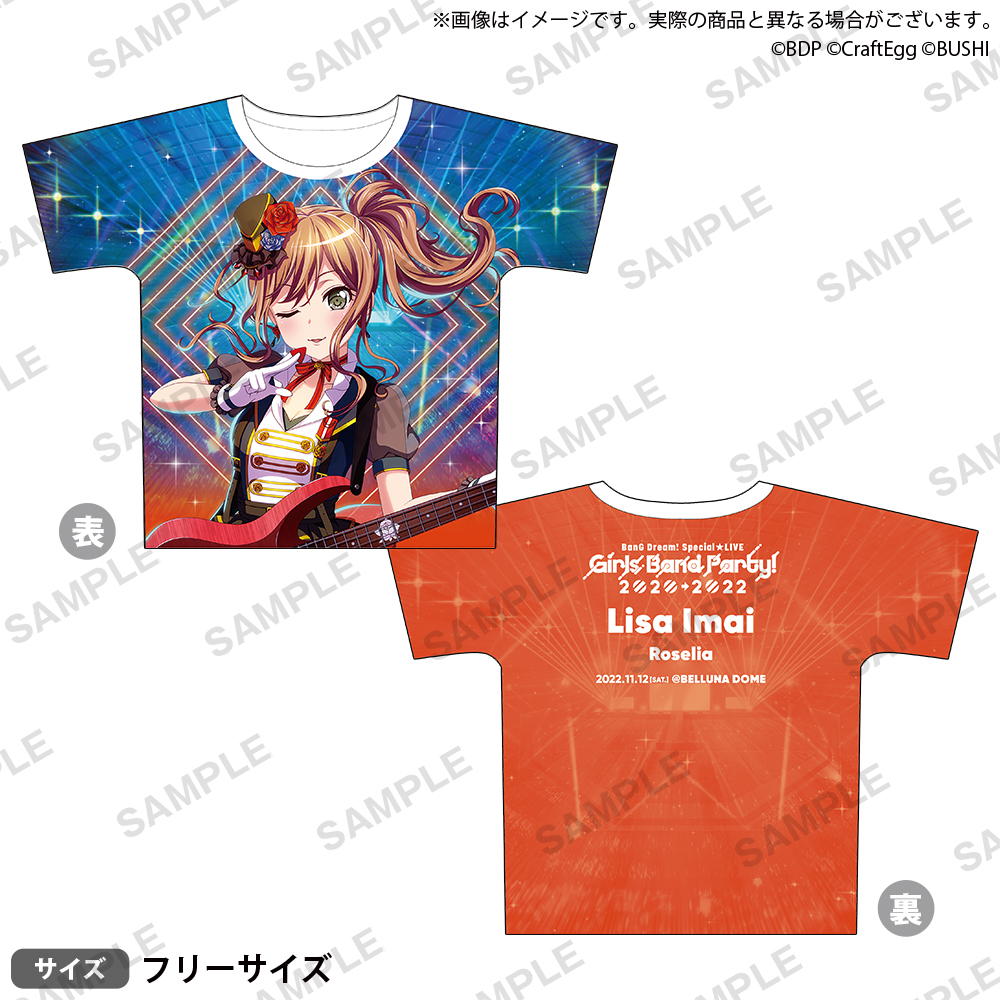 BanG Dream! Special☆LIVE Girls Band Party! 2020→2022 
Full Color T-Shirt
Lisa Imai
SGD $75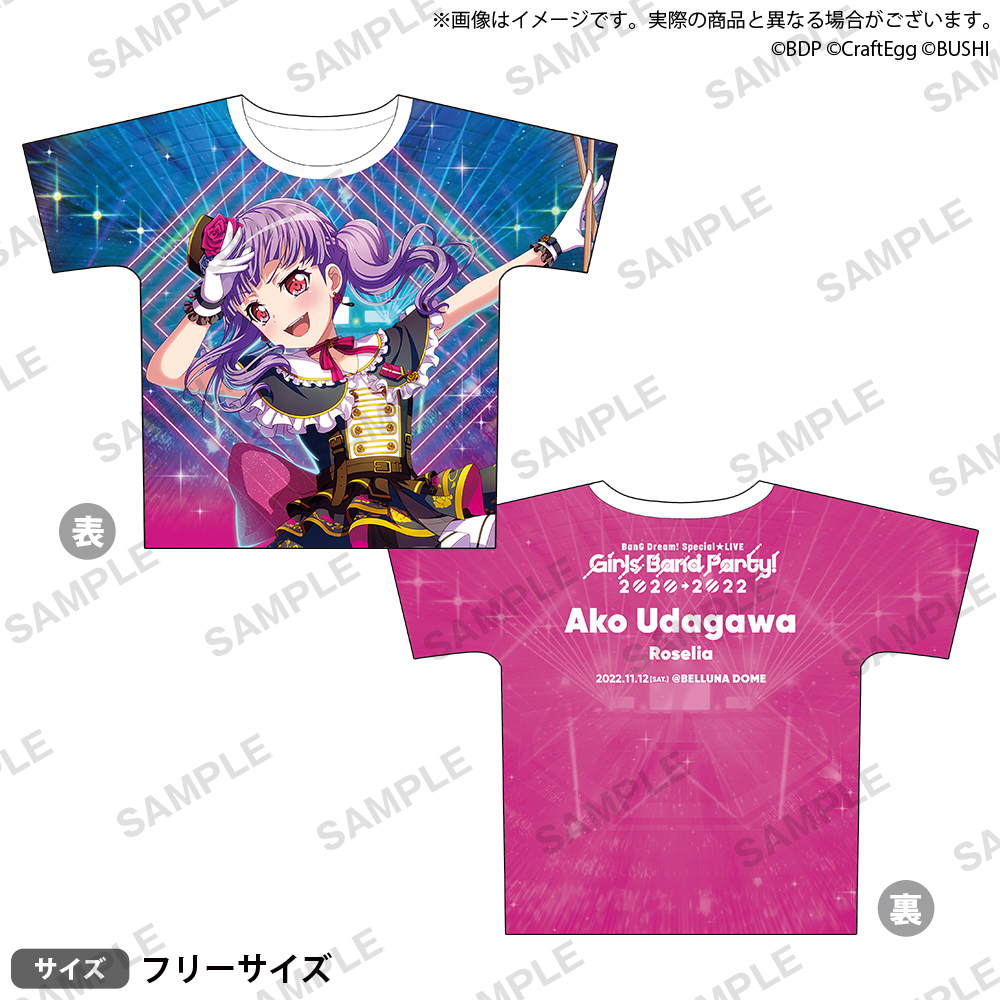 BanG Dream! Special☆LIVE Girls Band Party! 2020→2022 
Full Color T-Shirt
Ako Udagawa
SGD $75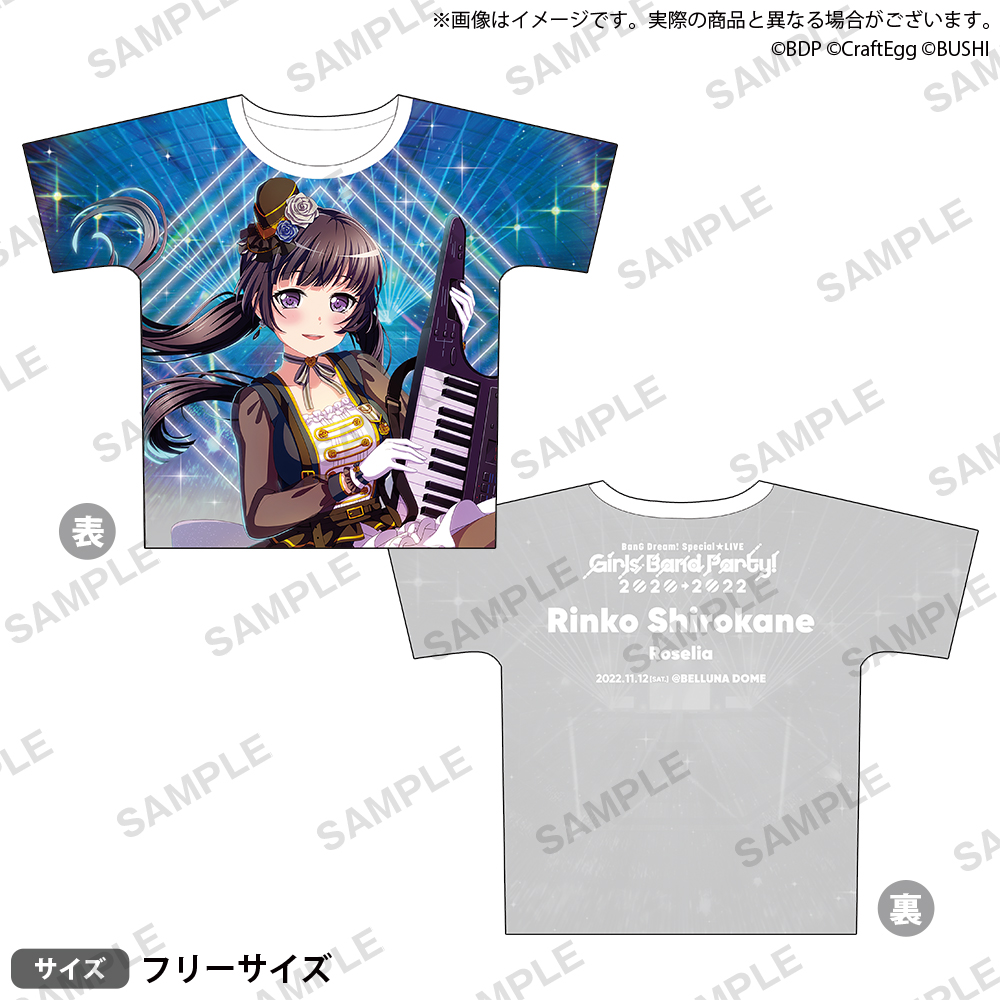 BanG Dream! Special☆LIVE Girls Band Party! 2020→2022 
Full Color T-Shirt
Rinko Shirokane
SGD $75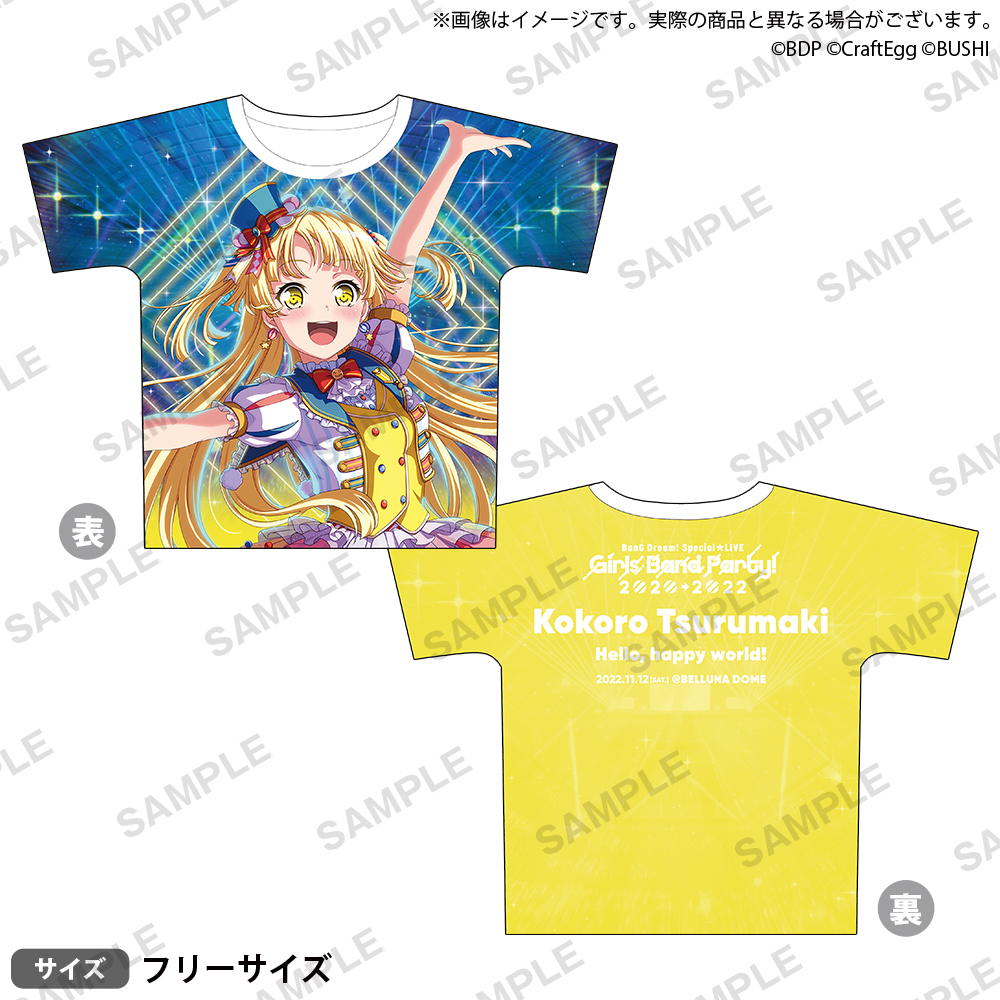 BanG Dream! Special☆LIVE Girls Band Party! 2020→2022 
Full Color T-Shirt
Kokoro Tsurumaki
SGD $75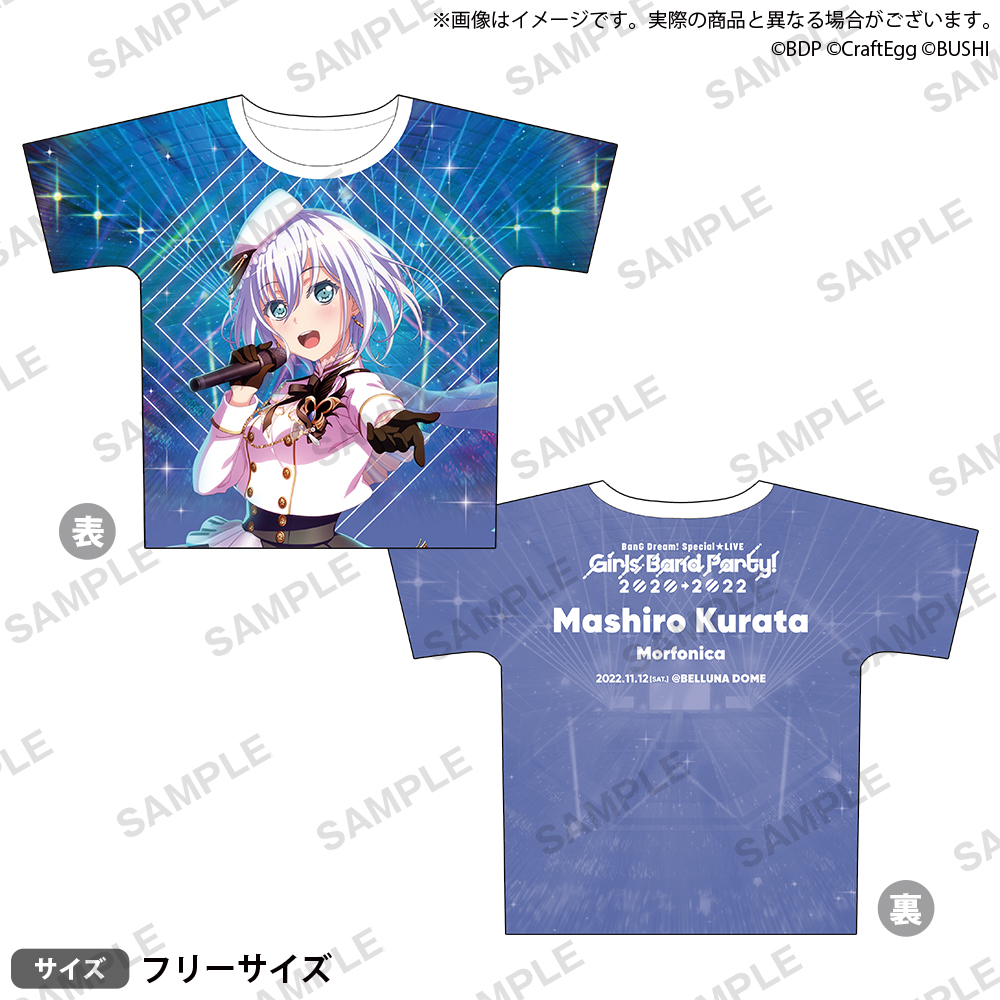 BanG Dream! Special☆LIVE Girls Band Party! 2020→2022 
Full Color T-Shirt
Mashiro Kurata
SGD $75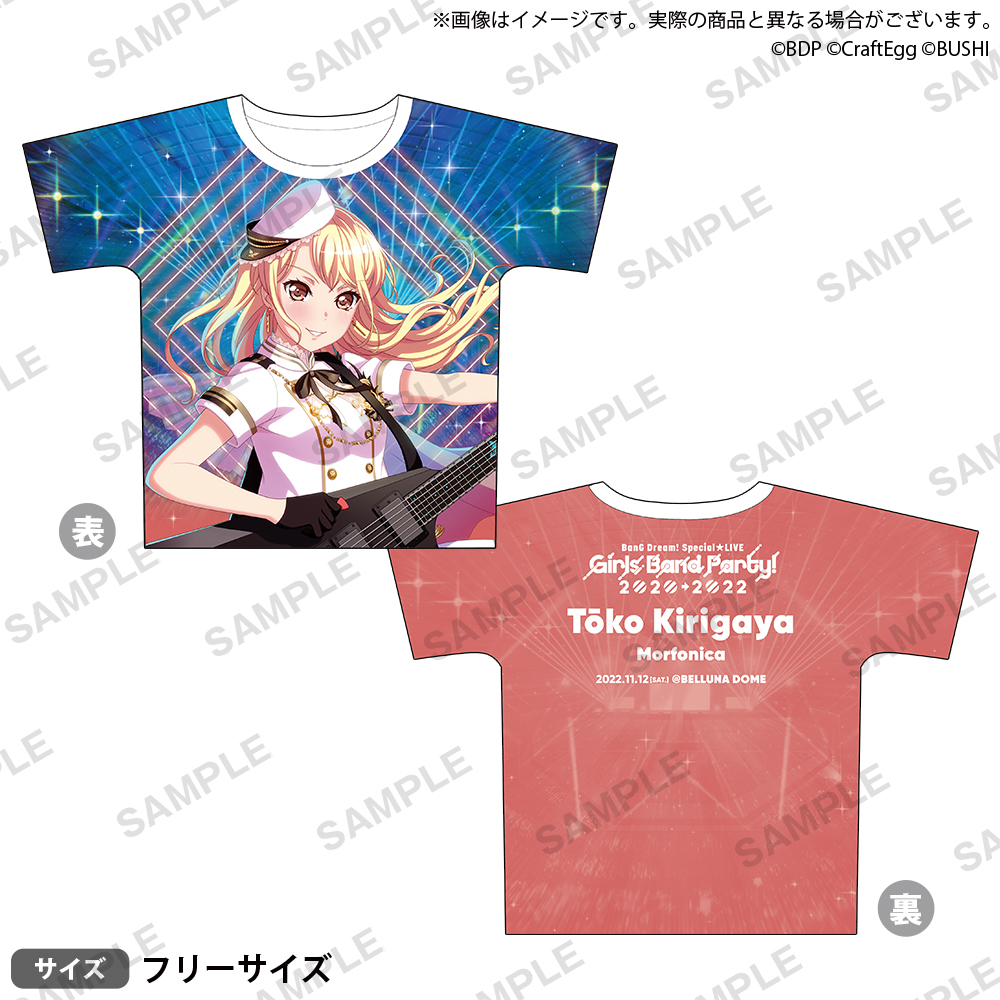 BanG Dream! Special☆LIVE Girls Band Party! 2020→2022 
Full Color T-Shirt
Toko Kirigaya
SGD $75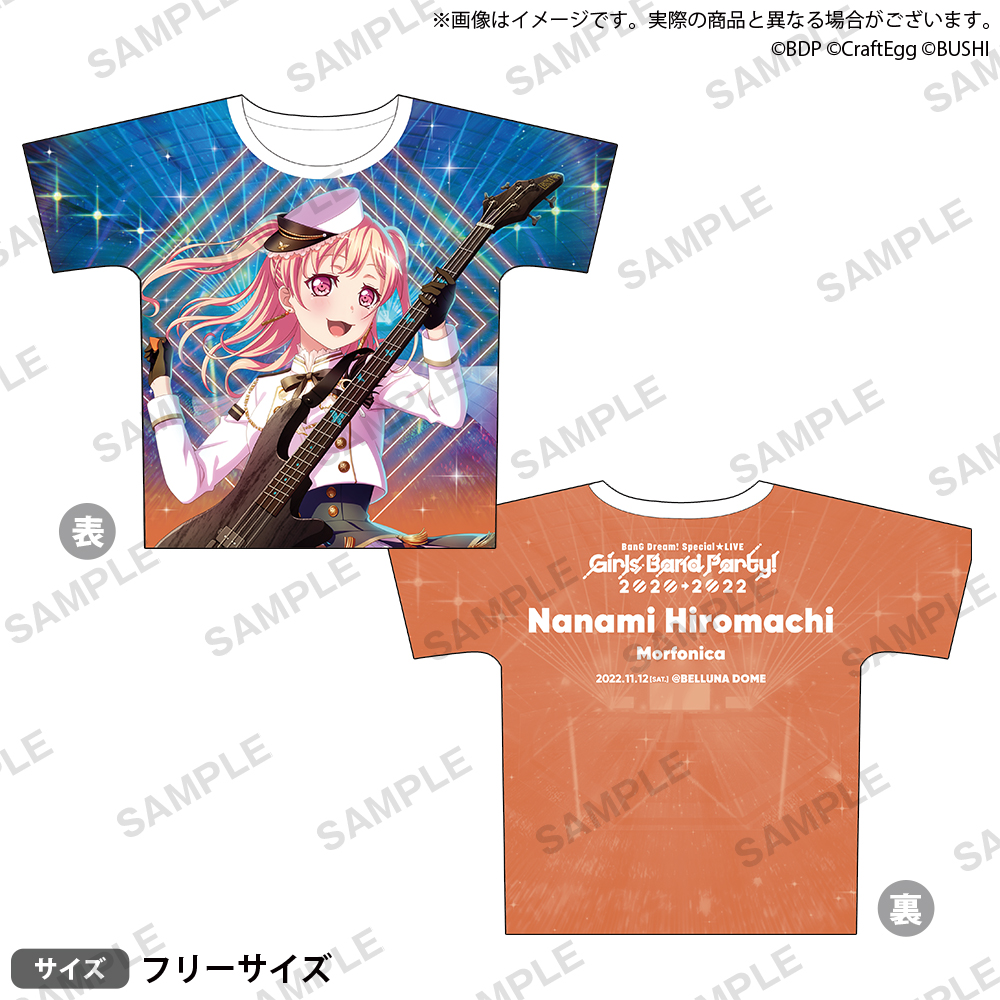 BanG Dream! Special☆LIVE Girls Band Party! 2020→2022 
Full Color T-Shirt
Nanami Hiromachi
SGD $75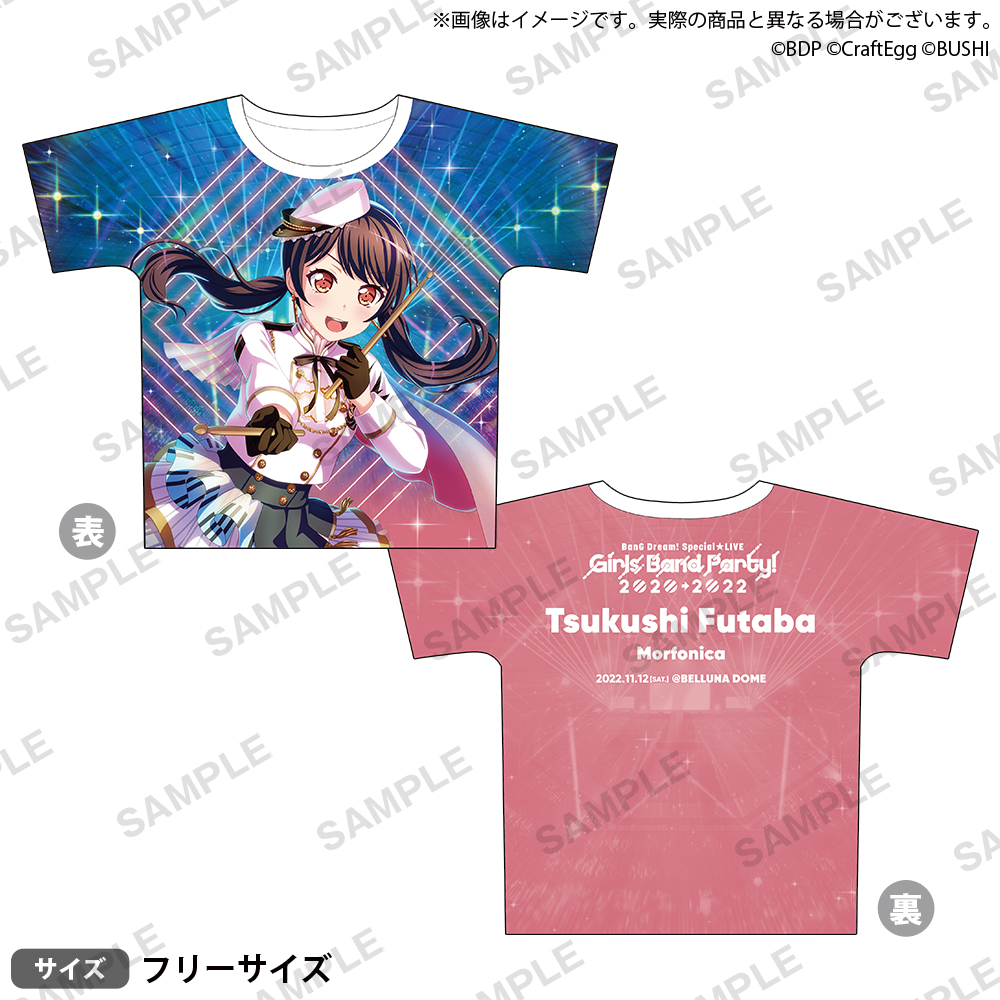 BanG Dream! Special☆LIVE Girls Band Party! 2020→2022 
Full Color T-Shirt
Tsukushi Futaba
SGD $75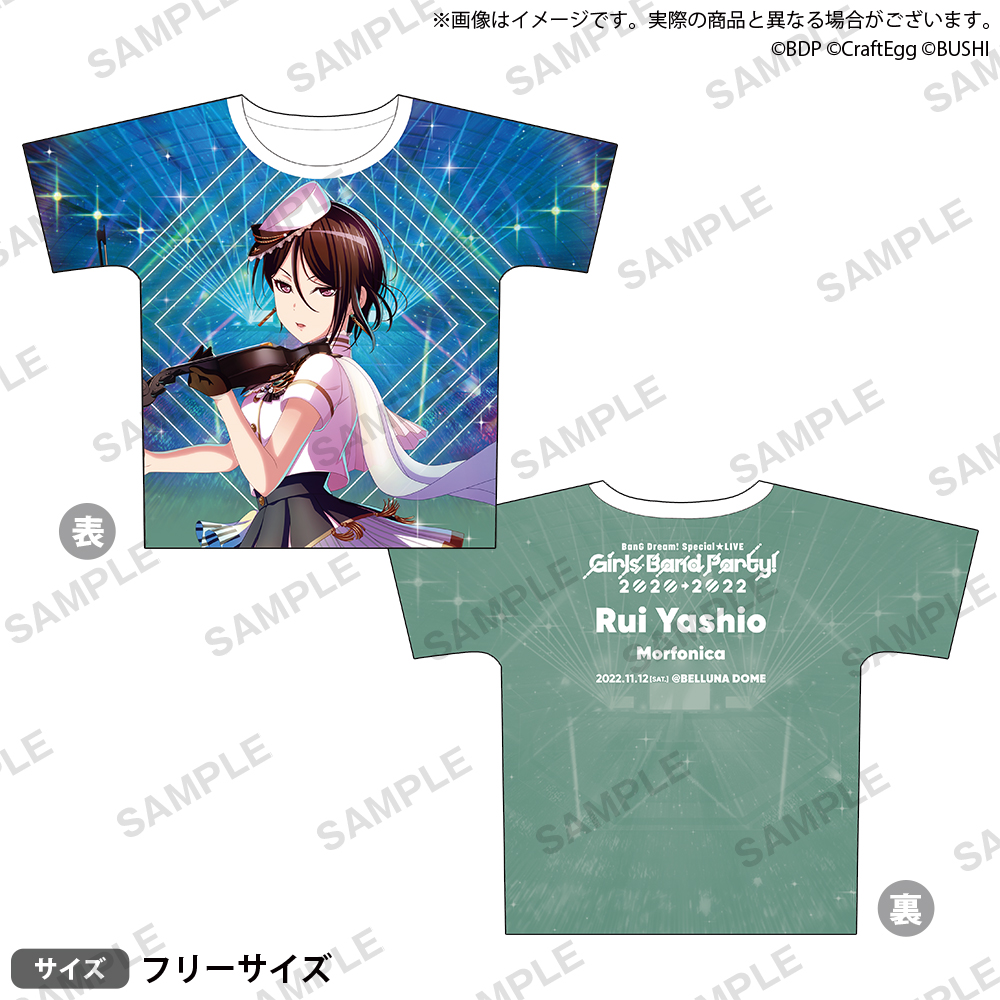 BanG Dream! Special☆LIVE Girls Band Party! 2020→2022 
Full Color T-Shirt
Rui Yashio
SGD $75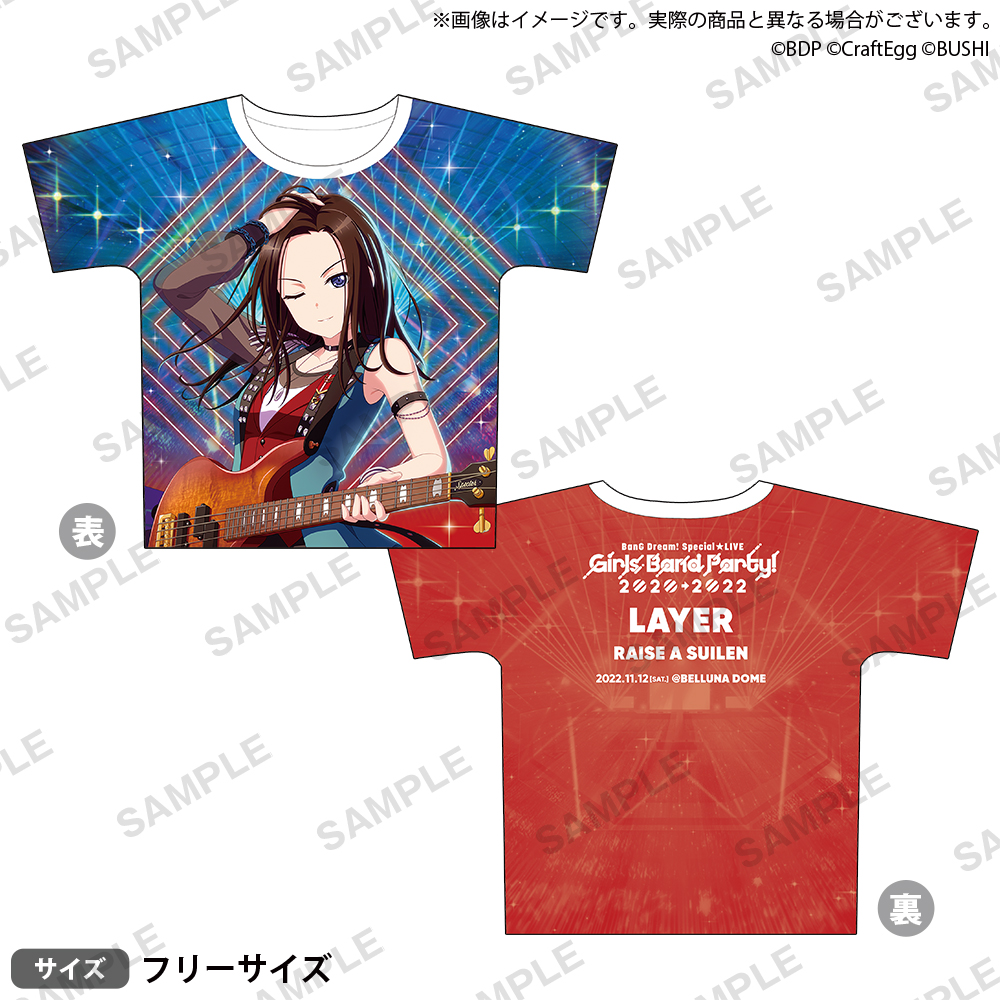 BanG Dream! Special☆LIVE Girls Band Party! 2020→2022 
Full Color T-Shirt
LAYER
SGD $75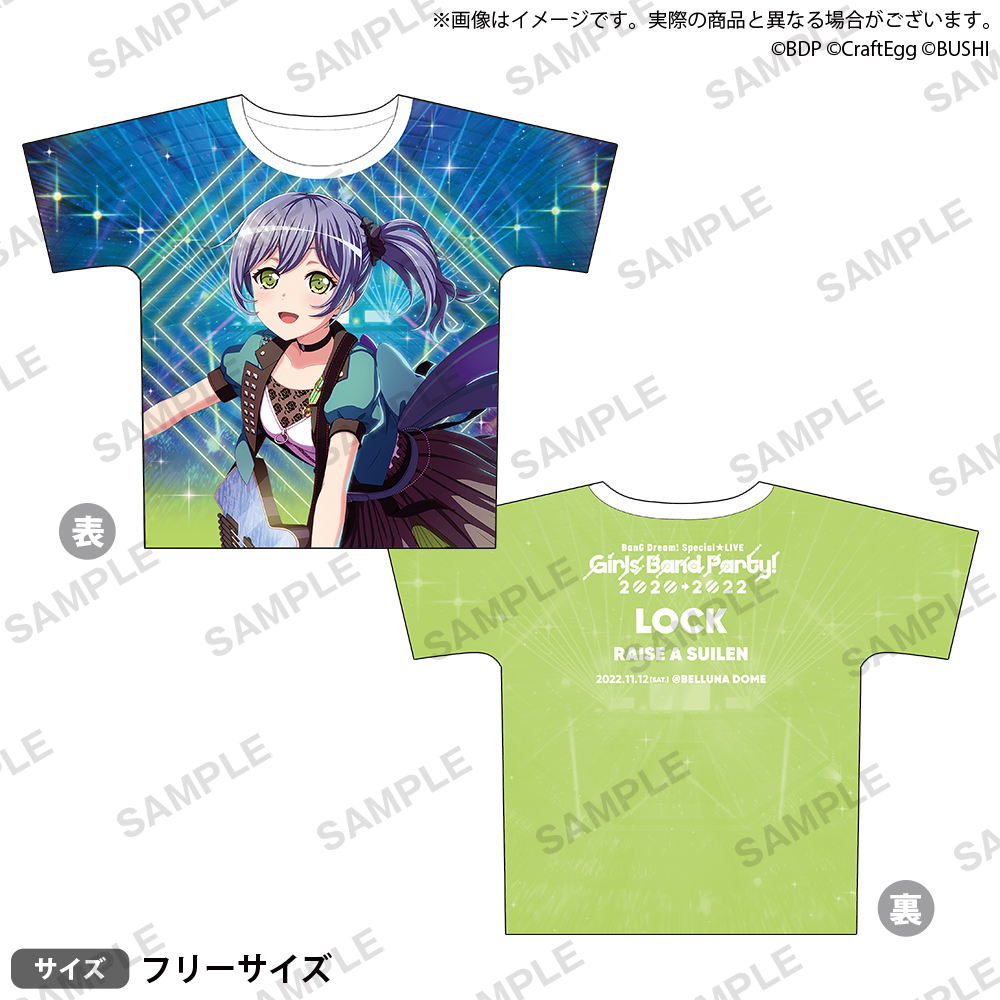 BanG Dream! Special☆LIVE Girls Band Party! 2020→2022 
Full Color T-Shirt
LOCK
SGD $75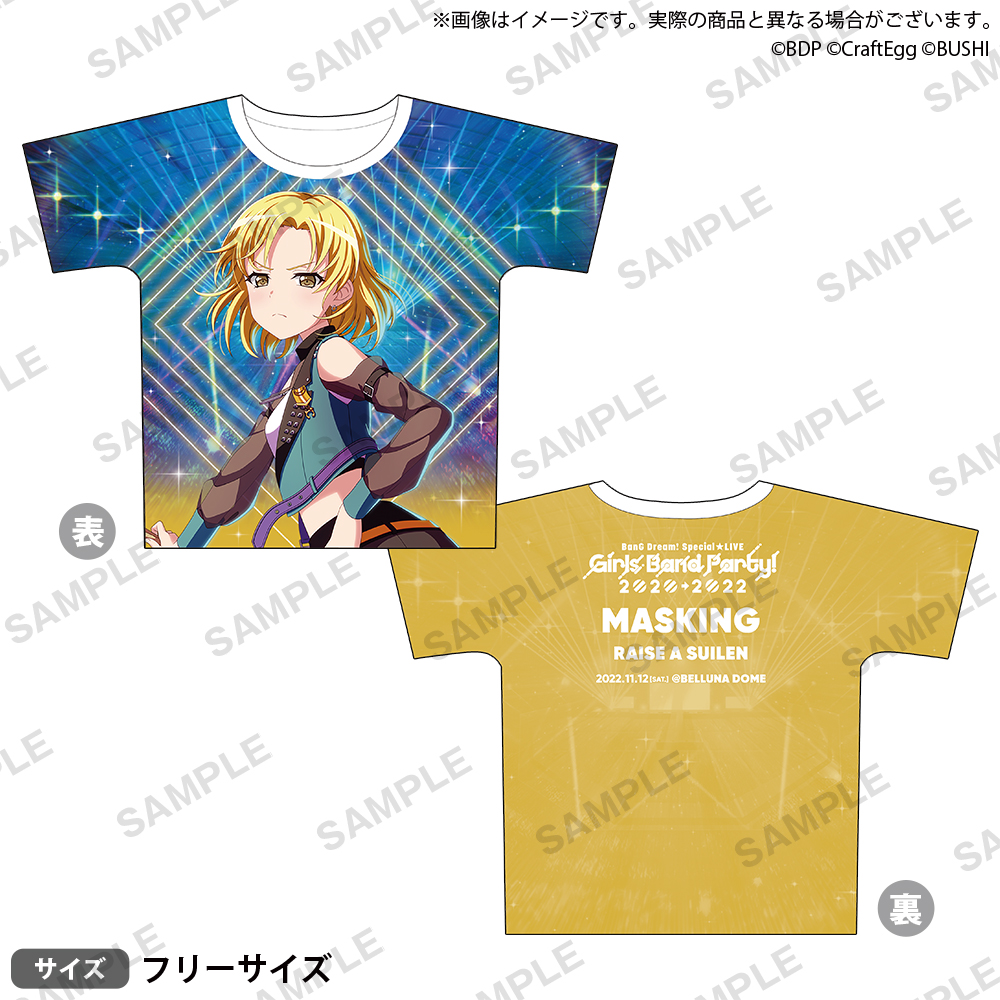 BanG Dream! Special☆LIVE Girls Band Party! 2020→2022 
Full Color T-Shirt
MASKING
SGD $75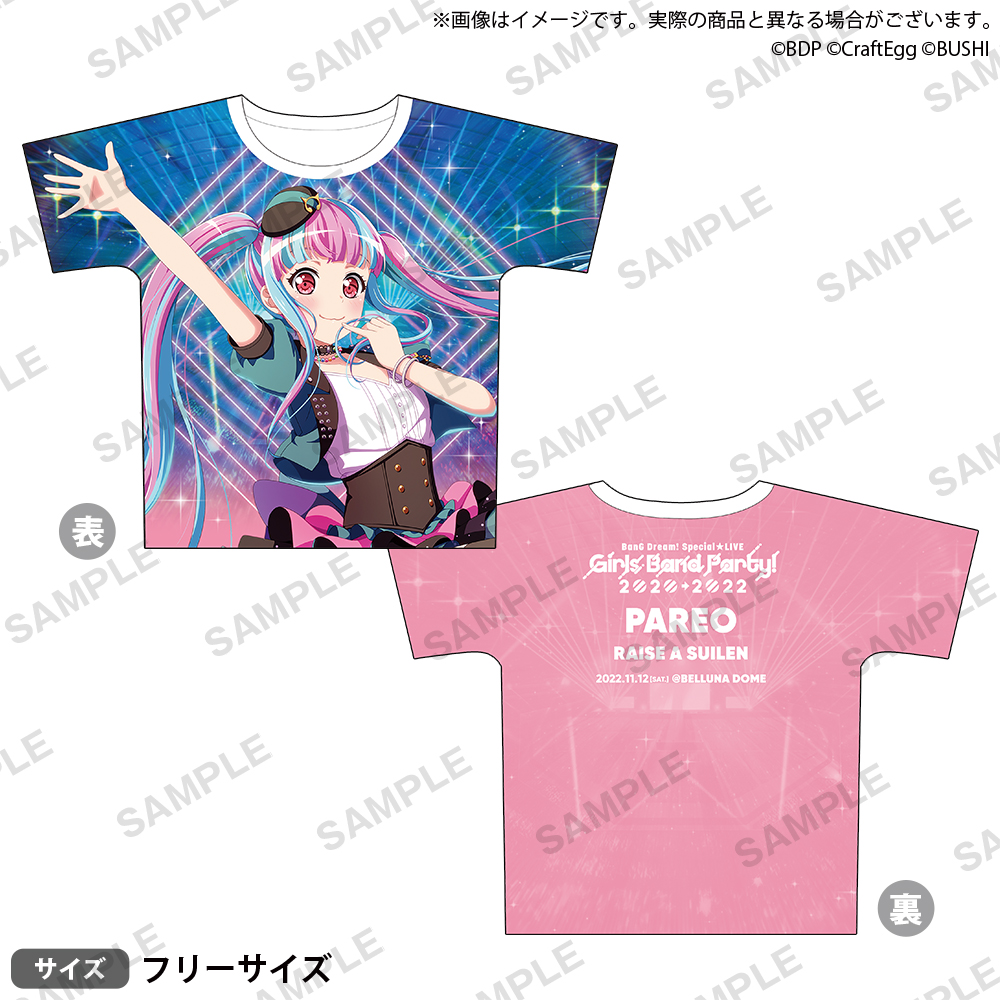 BanG Dream! Special☆LIVE Girls Band Party! 2020→2022 
Full Color T-Shirt
PAREO
SGD $75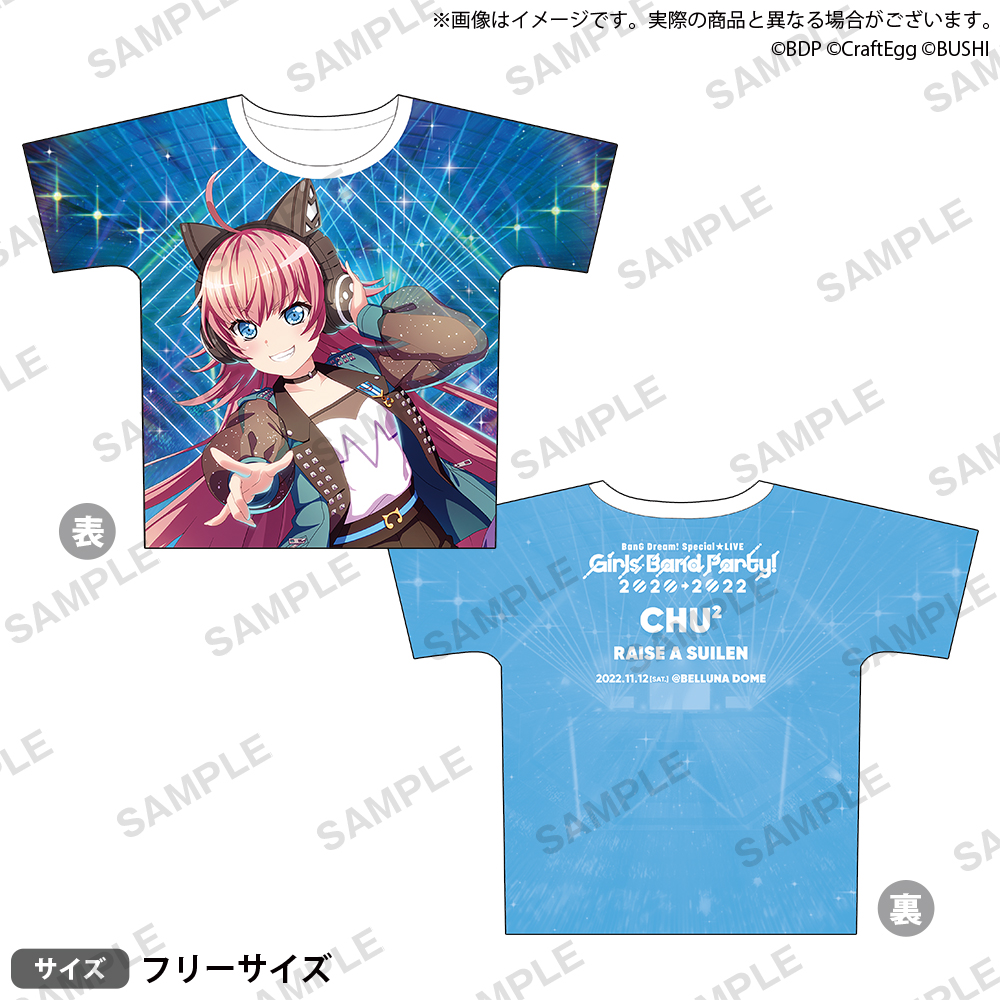 BanG Dream! Special☆LIVE Girls Band Party! 2020→2022 
Full Color T-Shirt
CHU²
SGD $75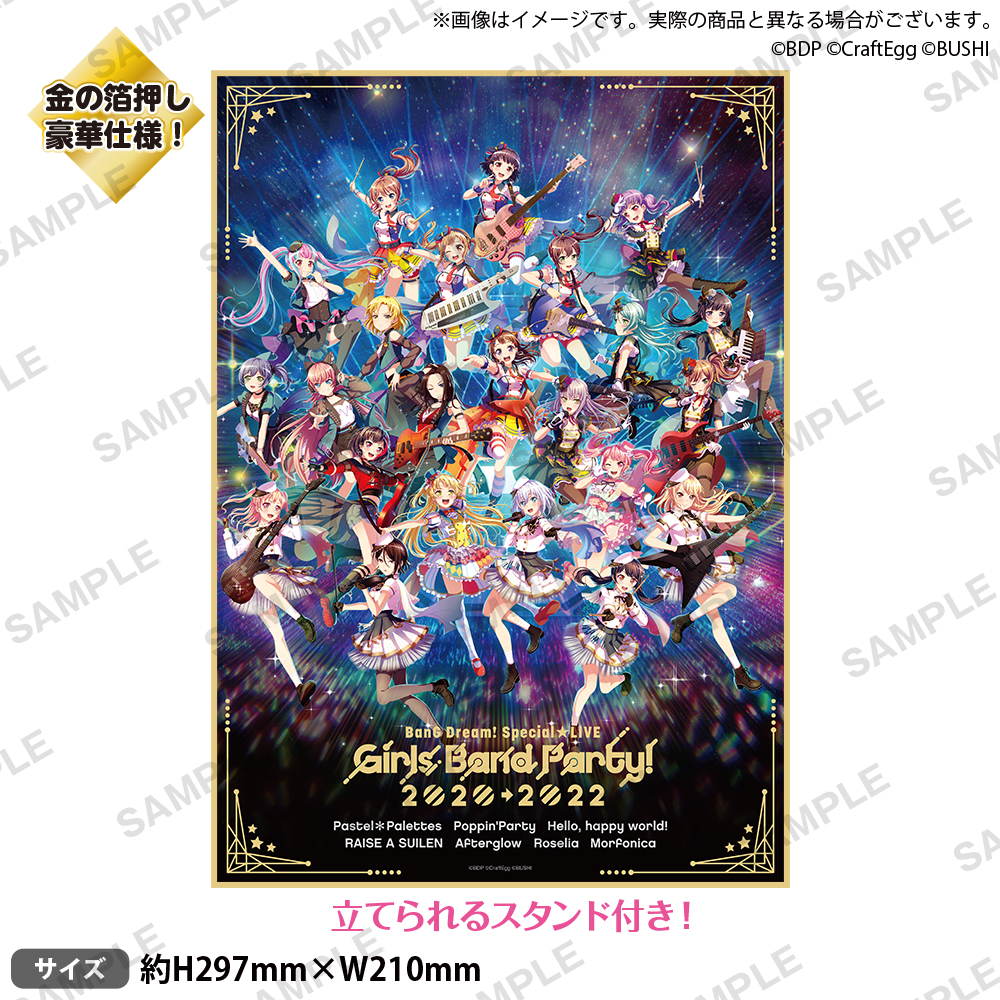 BanG Dream! Special☆LIVE Girls Band Party! 2020→2022 Commemorative Shikishi
SGD $18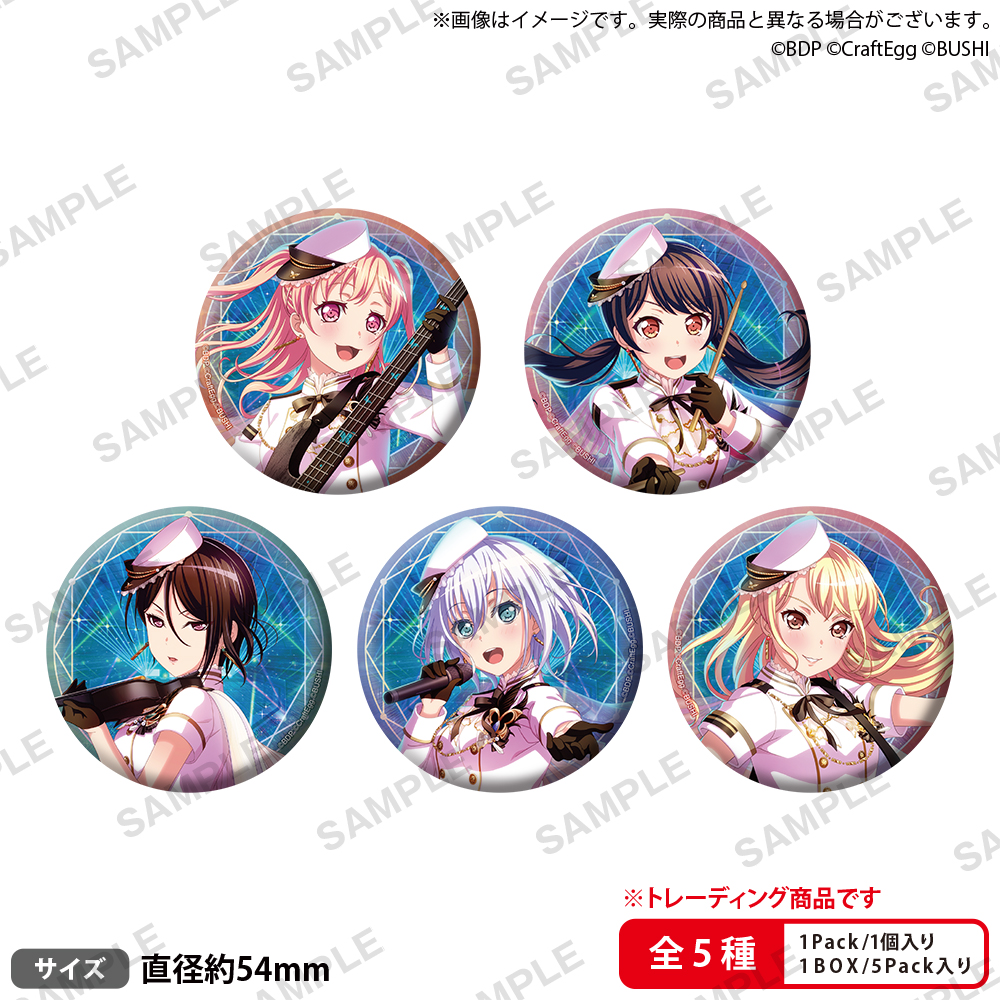 BanG Dream! Special☆LIVE Girls Band Party! 2020→2022
Trading Can Badge Morfonica
5 types, random
SGD $7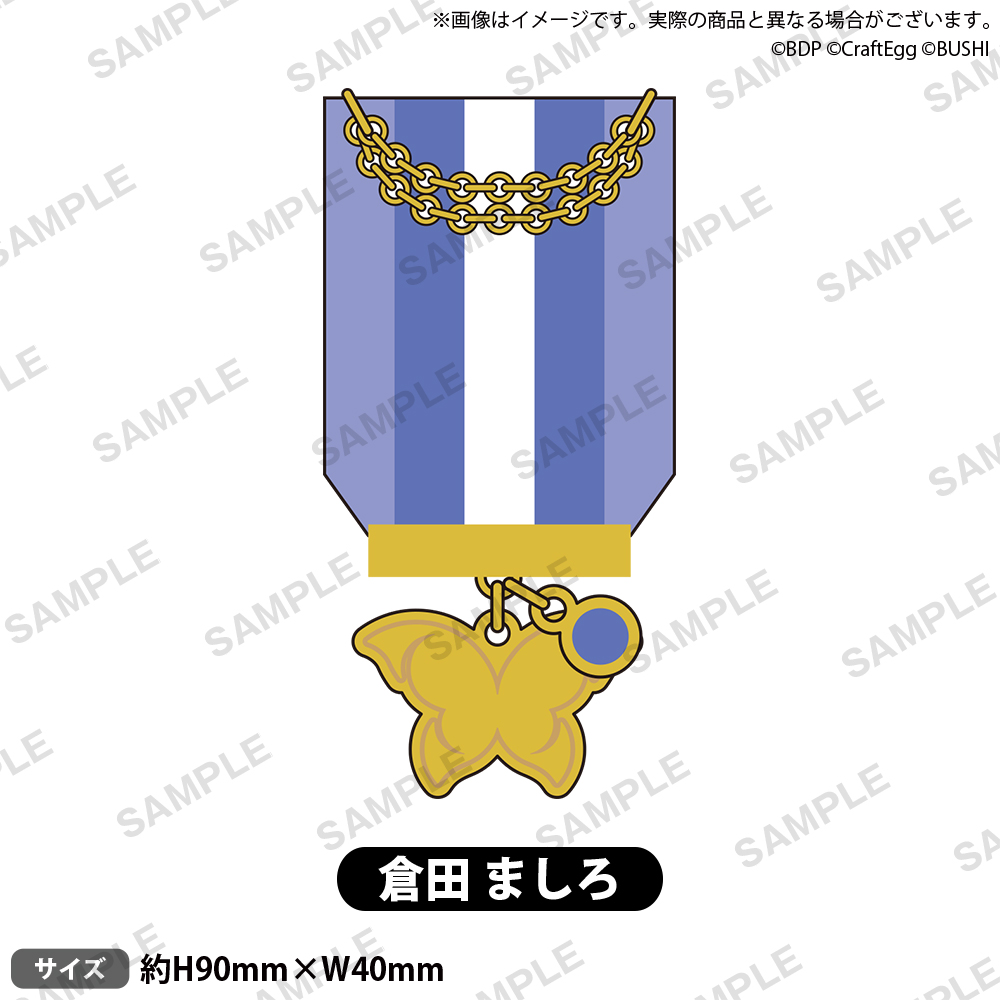 BanG Dream! Special☆LIVE Girls Band Party! 2020→2022 Memorial Brooch Morfonica
Mashiro Kurata
SGD $20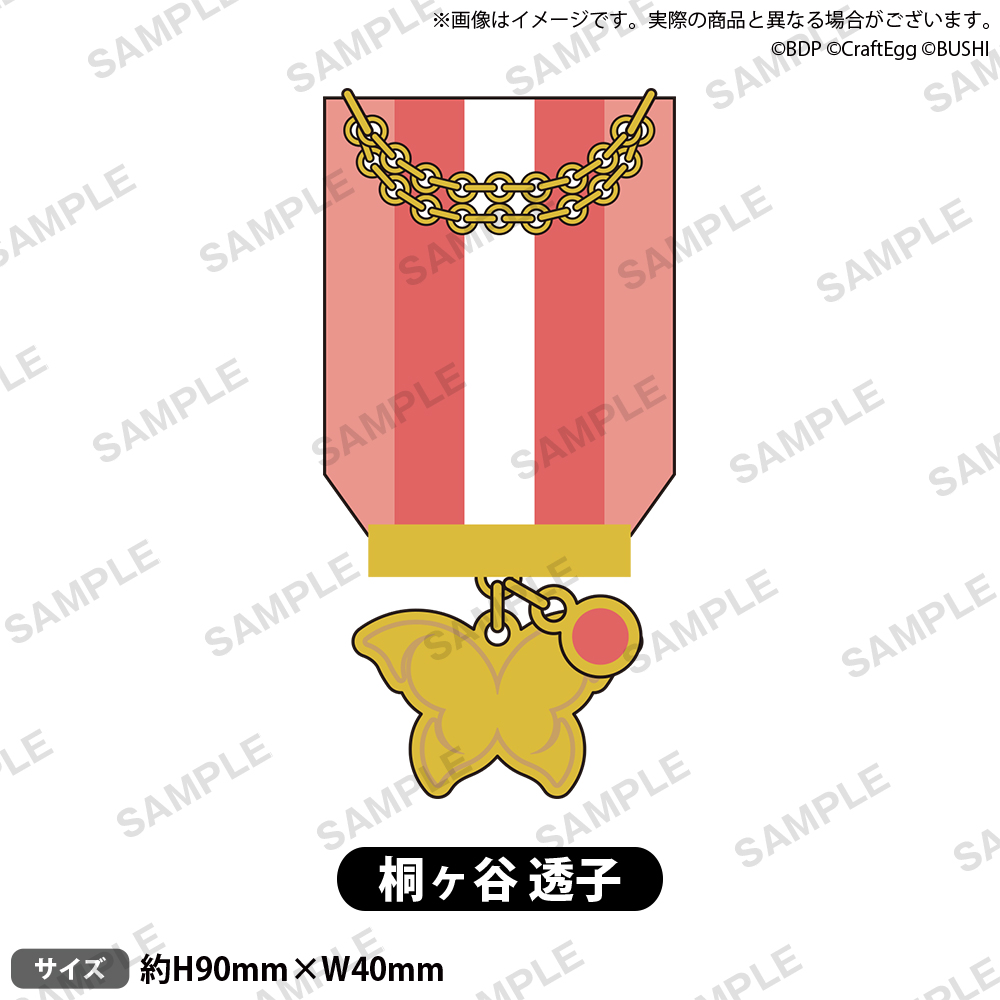 BanG Dream! Special☆LIVE Girls Band Party! 2020→2022 Memorial Brooch Morfonica
Toko Kirigaya
SGD $20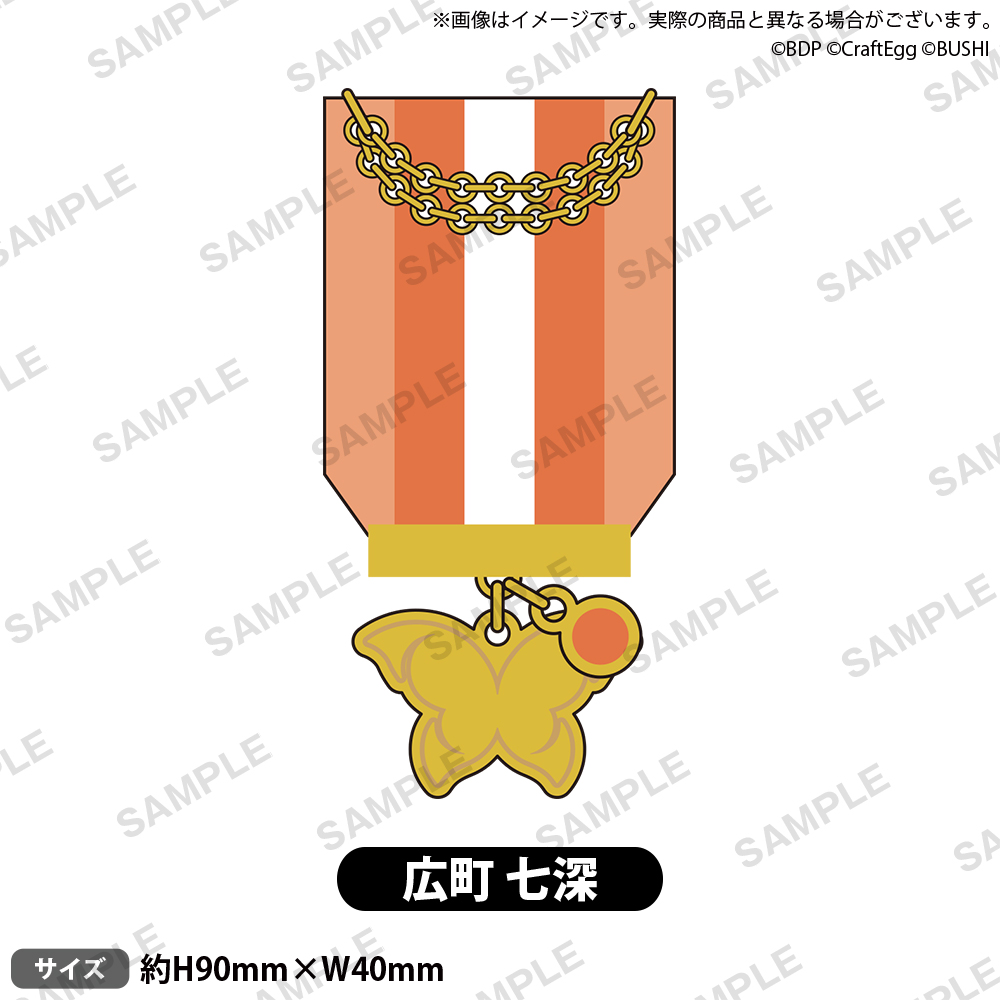 BanG Dream! Special☆LIVE Girls Band Party! 2020→2022 Memorial Brooch Morfonica
Nanami Hiromachi
SGD $20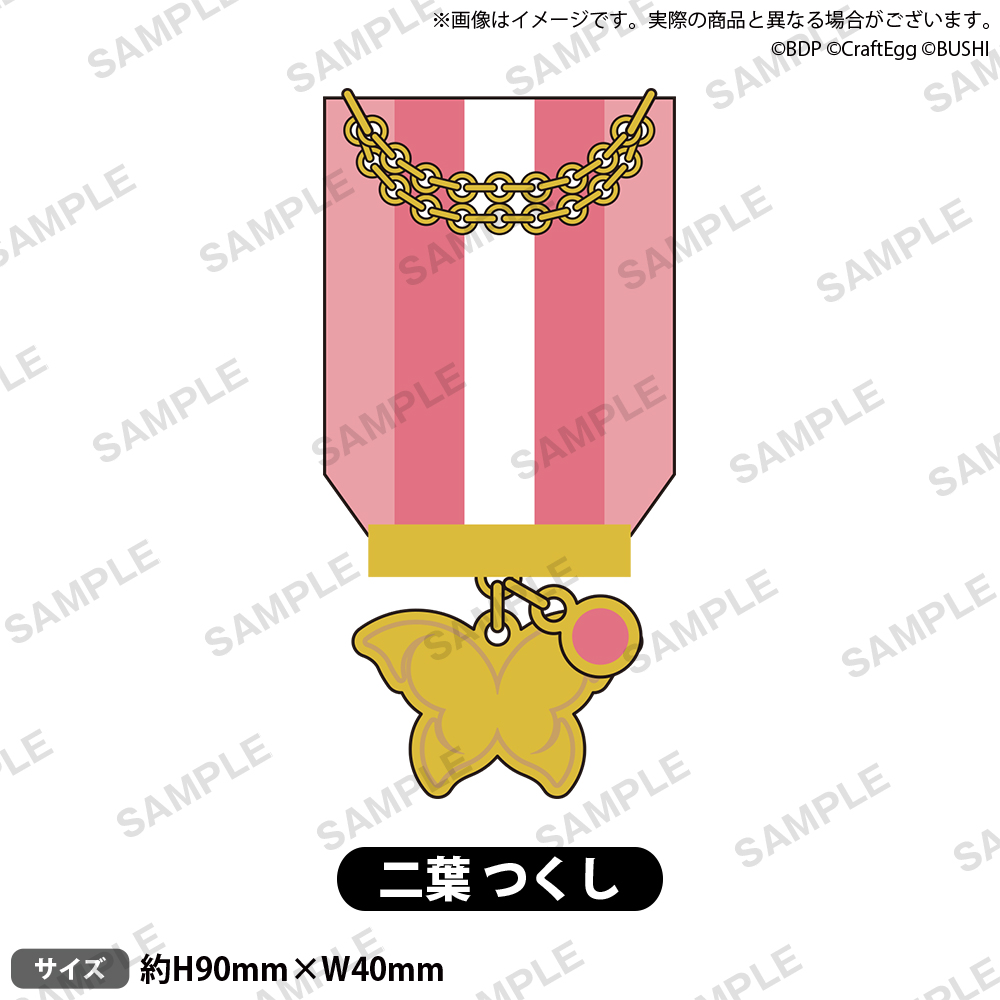 BanG Dream! Special☆LIVE Girls Band Party! 2020→2022 Memorial Brooch Morfonica
Tsukushi Futaba
SGD $20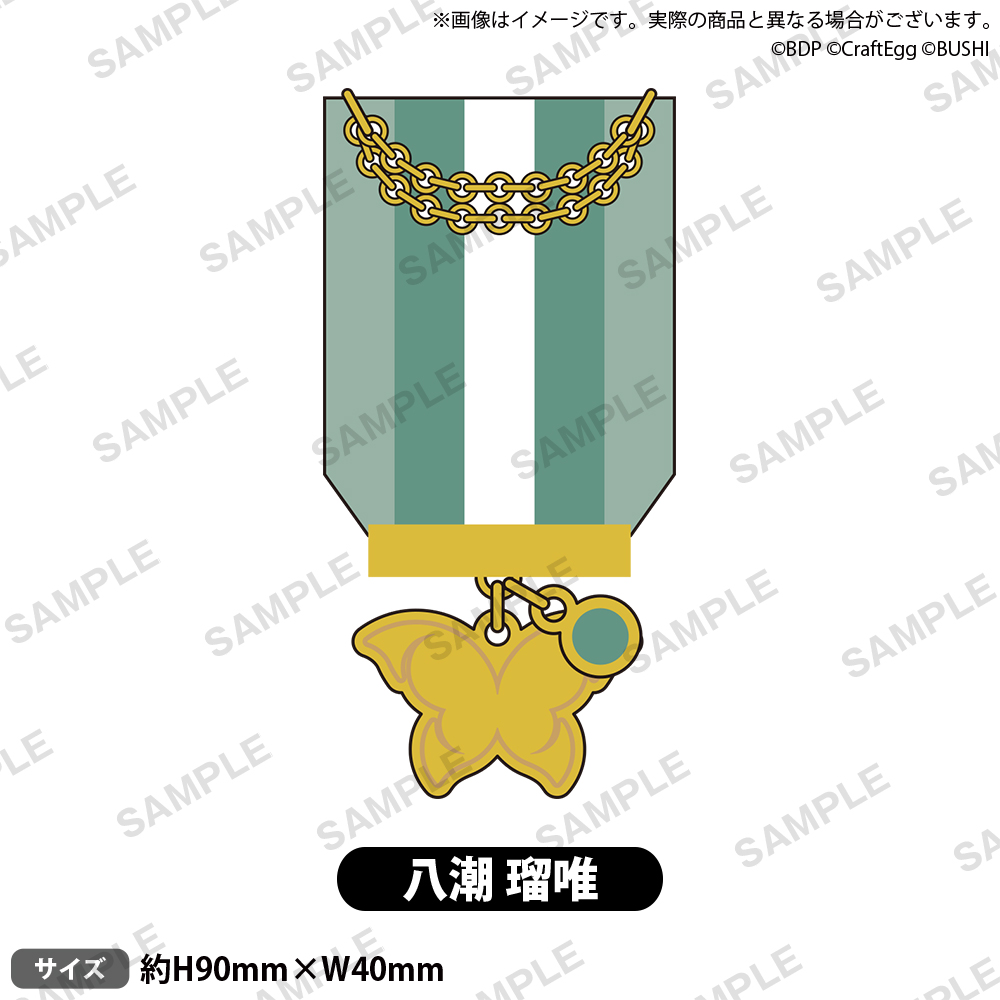 BanG Dream! Special☆LIVE Girls Band Party! 2020→2022 Memorial Brooch Morfonica
Rui Yashio
SGD $20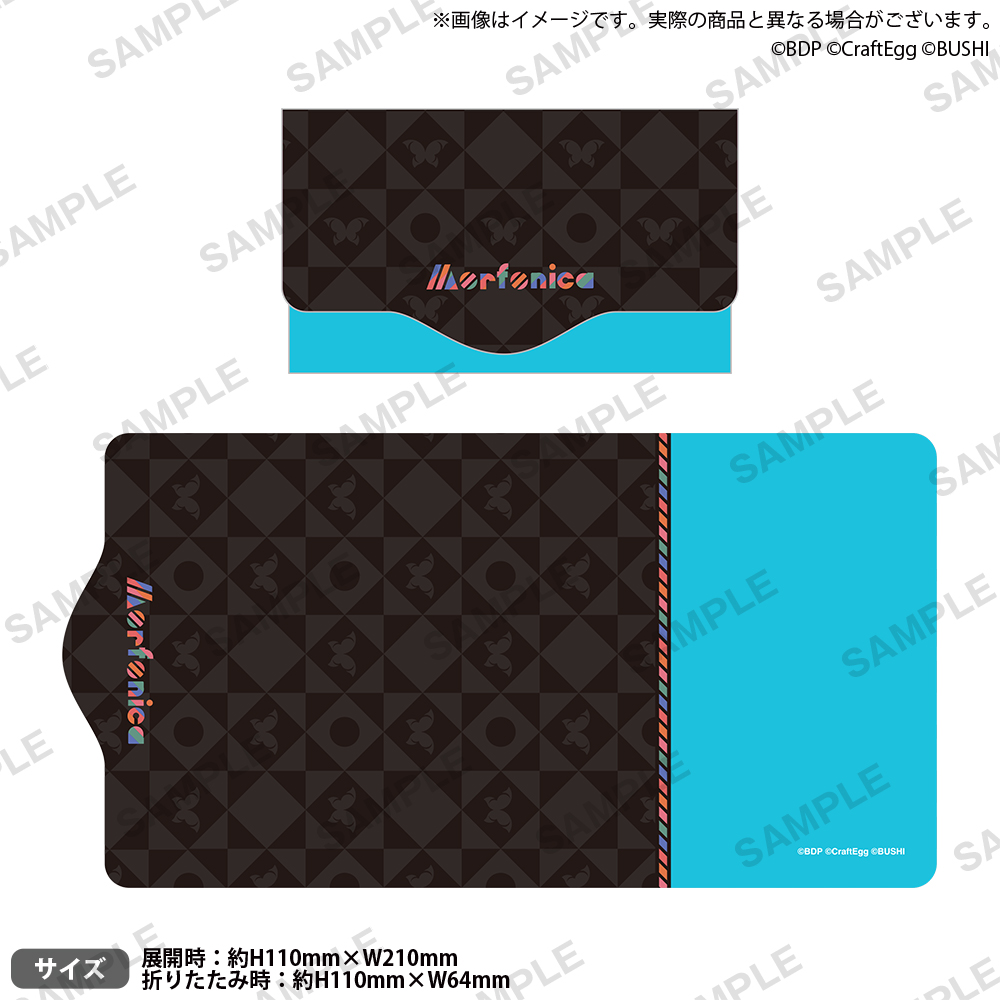 BanG Dream! Special☆LIVE Girls Band Party! 2020→2022 Key Case
Morfonica
SGD $35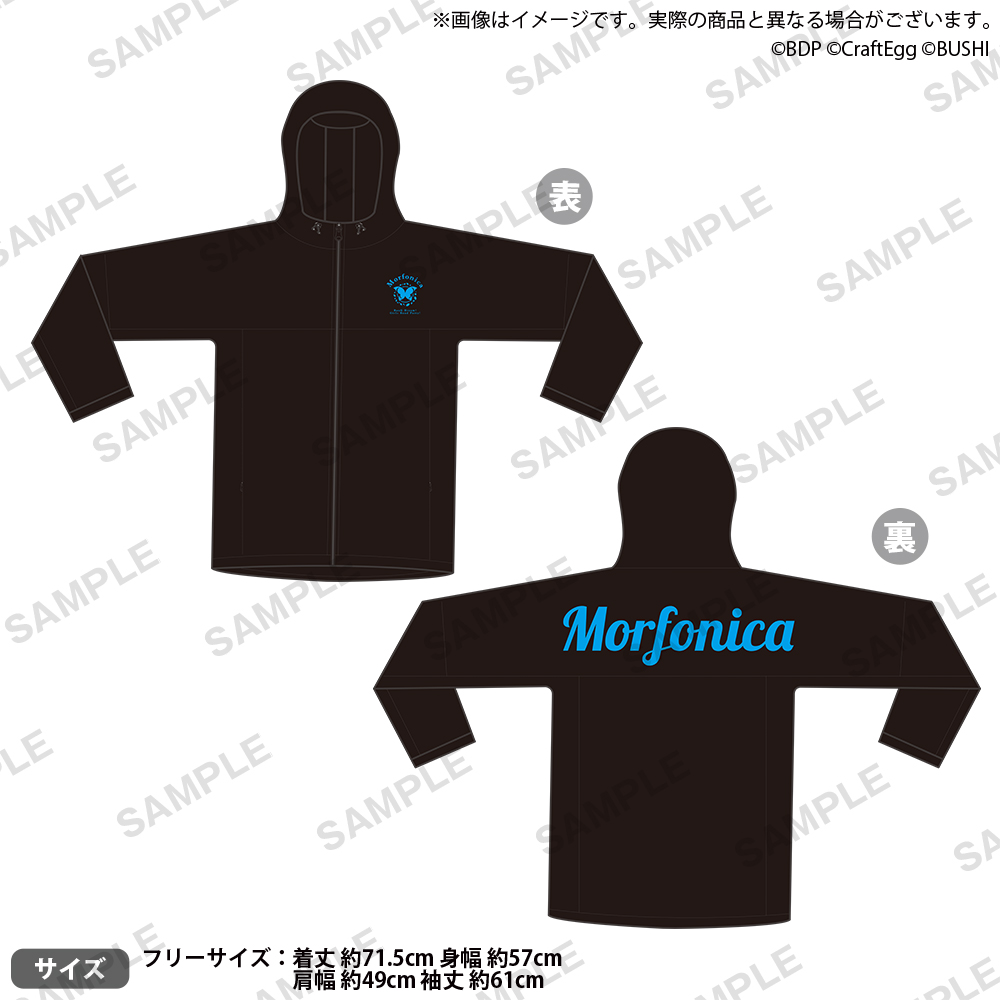 BanG Dream! Girls Band Party! Hoodie Jacket
Morfonica
SGD $80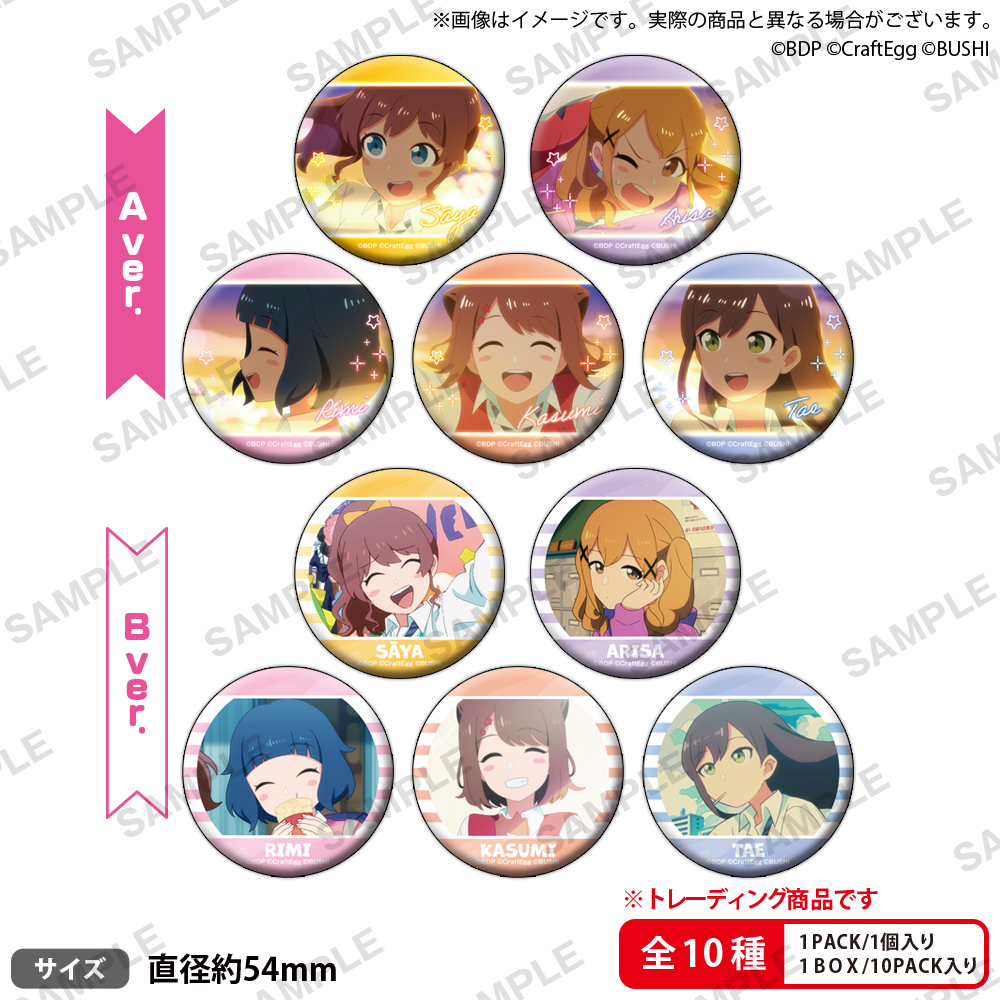 BanG Dream! Girls Band Party! Trading Can Badge "Introduction"
10 types, random
SGD $7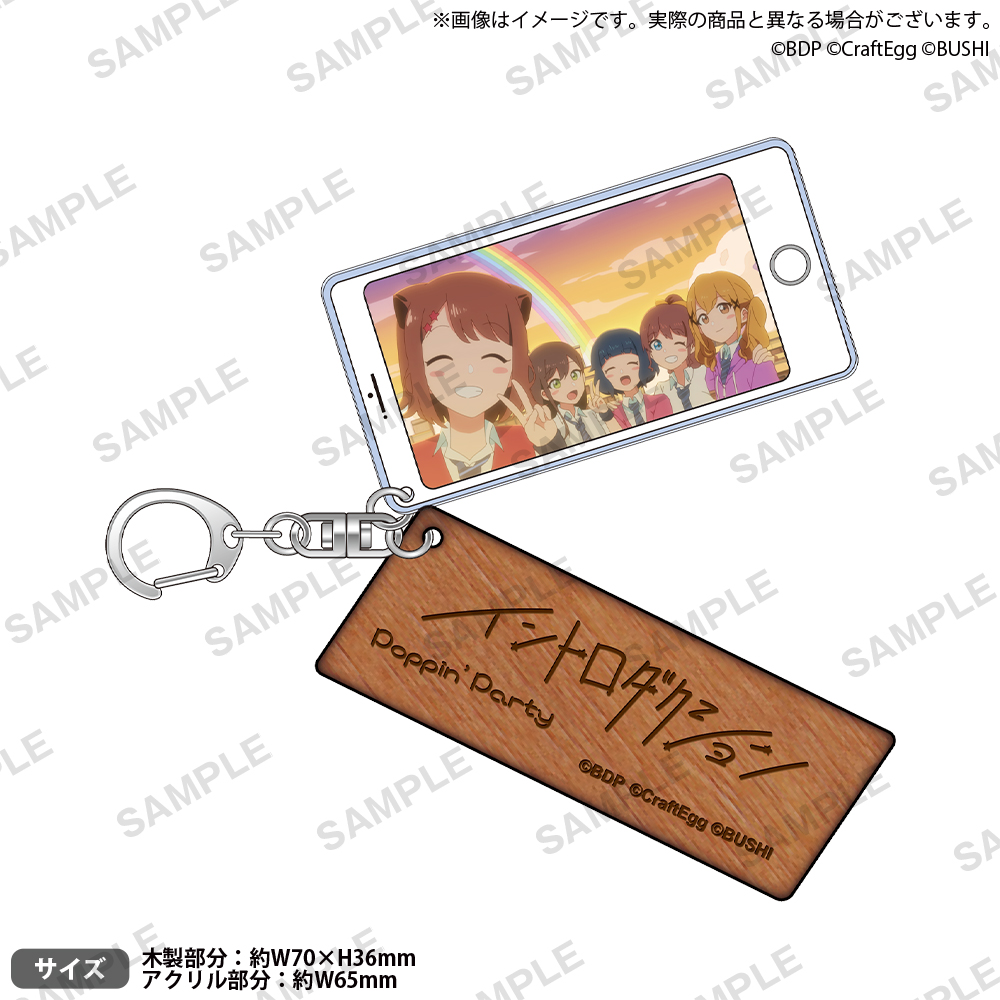 BanG Dream! Girls Band Party! Wooden Key Holder "Introduction"
SGD $18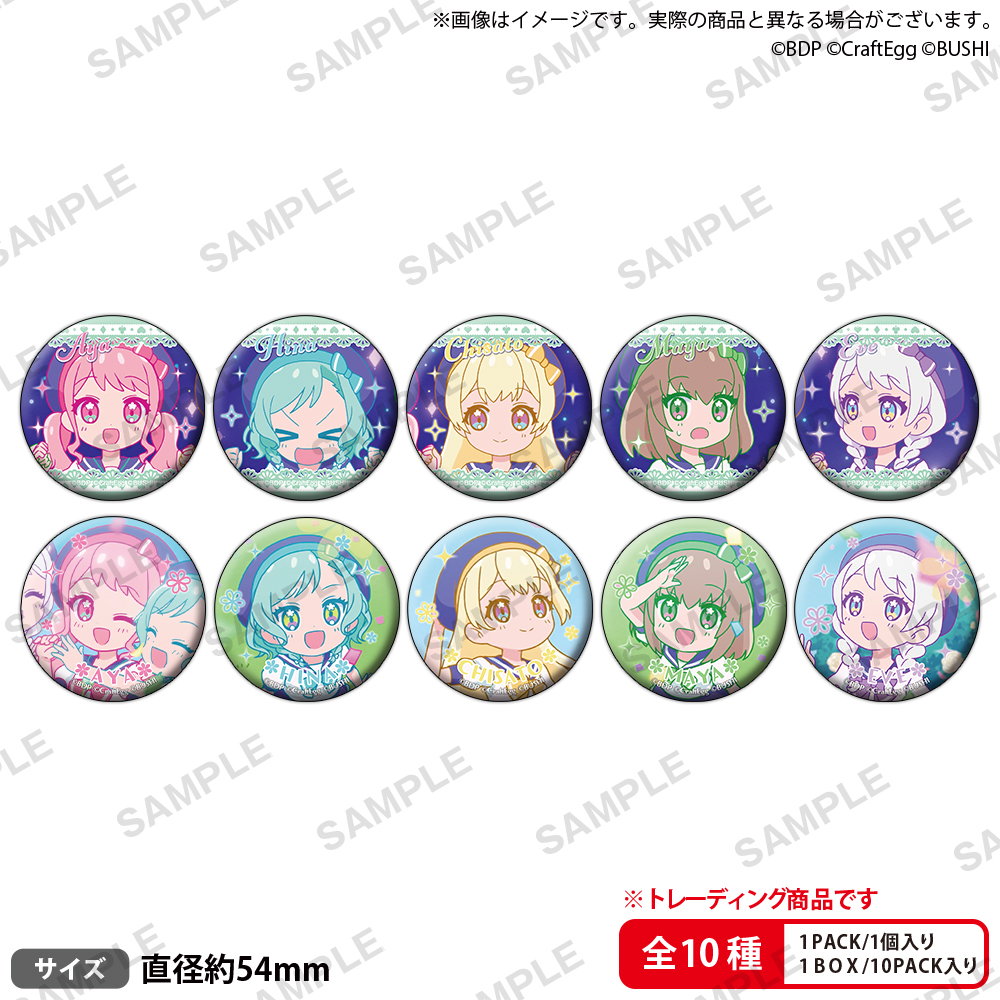 BanG Dream! Girls Band Party! Trading Can Badge Brand new Pastel Road!
10 types, random
SGD $7
hololive SUPER EXPO 2022
Bushiroad Sleeve Collection Extra "hololive SUPER EXPO 2022"
52 designs available
SGD $18
Bushiroad Deck Holder Collection V3 Extra "hololive SUPER EXPO 2022"
52 designs available
SGD $15
Bushiroad Rubber Mat Collection V2 Extra "hololive SUPER EXPO 2022"
52 designs available
SGD $45
Bushiroad Card Binder "hololive SUPER EXPO 2022"
"hololive 0th Gen & 1st Gen & INNK Music"
SGD $40
Bushiroad Card Binder "hololive SUPER EXPO 2022"
"hololive 2nd Gen & GAMERS"
SGD $40
Bushiroad Card Binder "hololive SUPER EXPO 2022"
"hololive 3rd Gen & 4th Gen"
SGD $40
Bushiroad Card Binder "hololive SUPER EXPO 2022"
"hololive 5th Gen & Secret Society holoX"
SGD $40
Bushiroad Acrylic Card Stand "hololive SUPER EXPO 2022"
SGD $40
hololive Gotochi Goods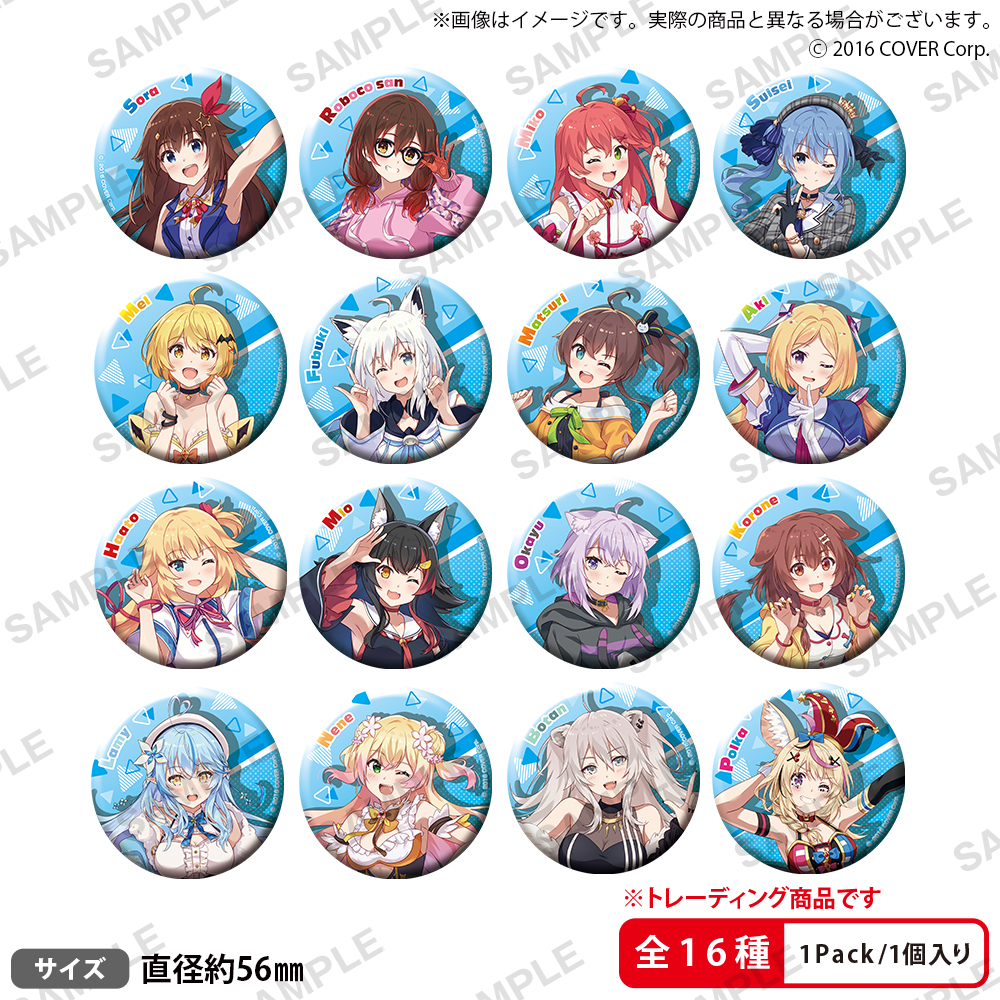 hololive Trading Can Badge Festival ver. Vol.1
16 types, random
SGD $7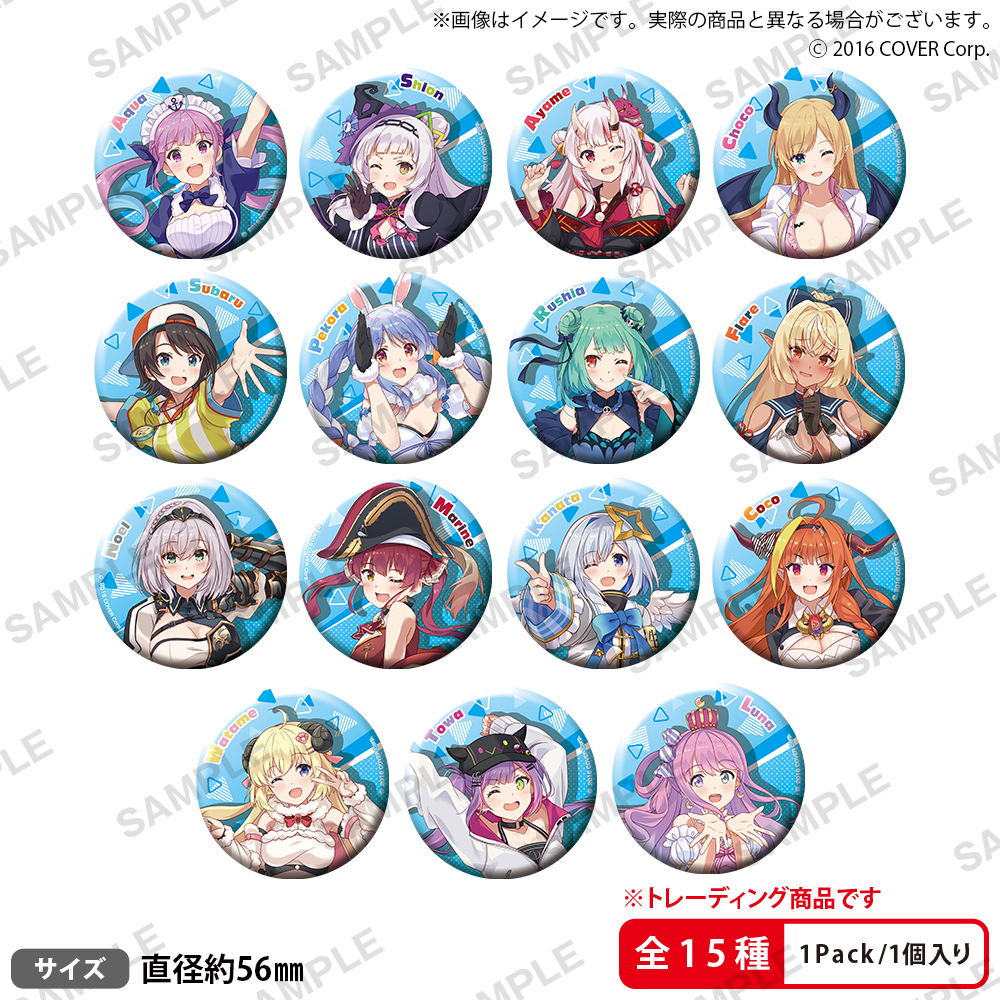 hololive Trading Can Badge Festival ver. Vol.2
16 types, random
SGD $7
hololive Gotochi "Osaka Takoyaki" Acrylic Stand Keyholder
Himemori Luna
SGD $15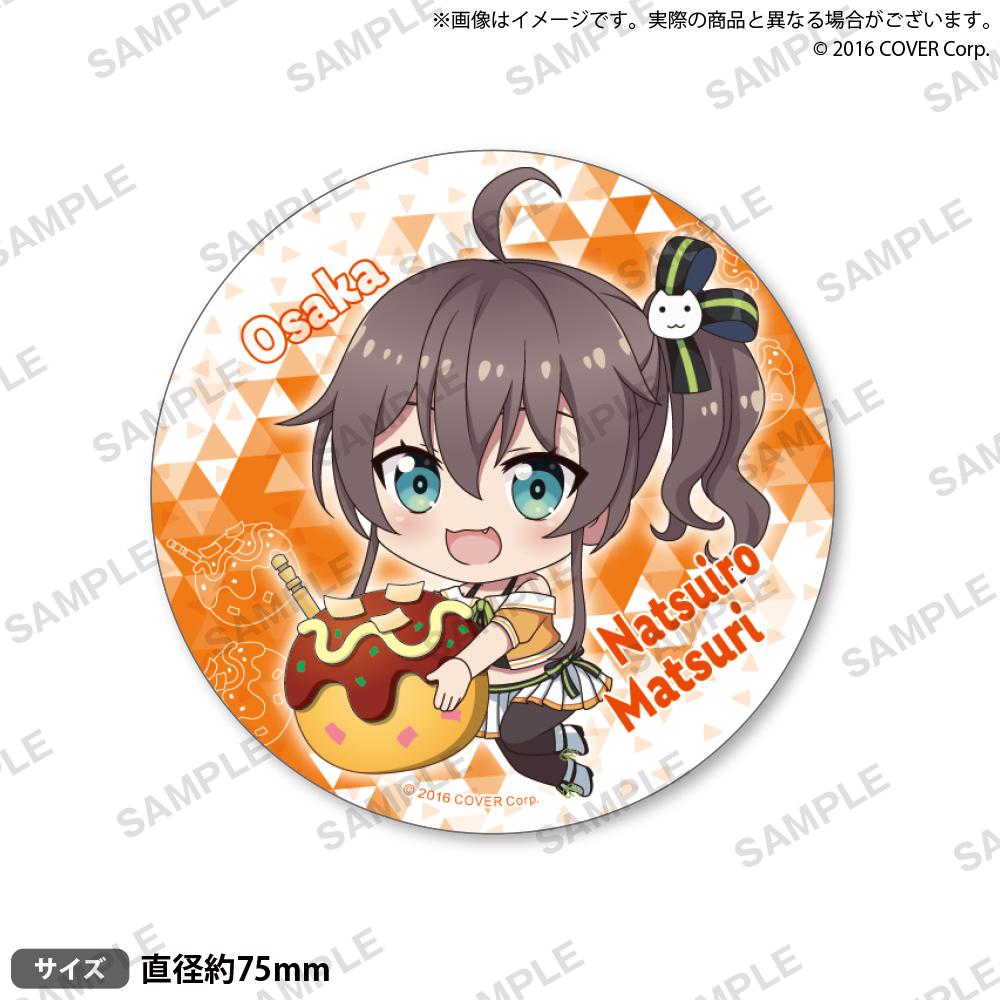 hololive Gotochi "Osaka Takoyaki" Can Badge
Natsuiro Matsuri
SGD $7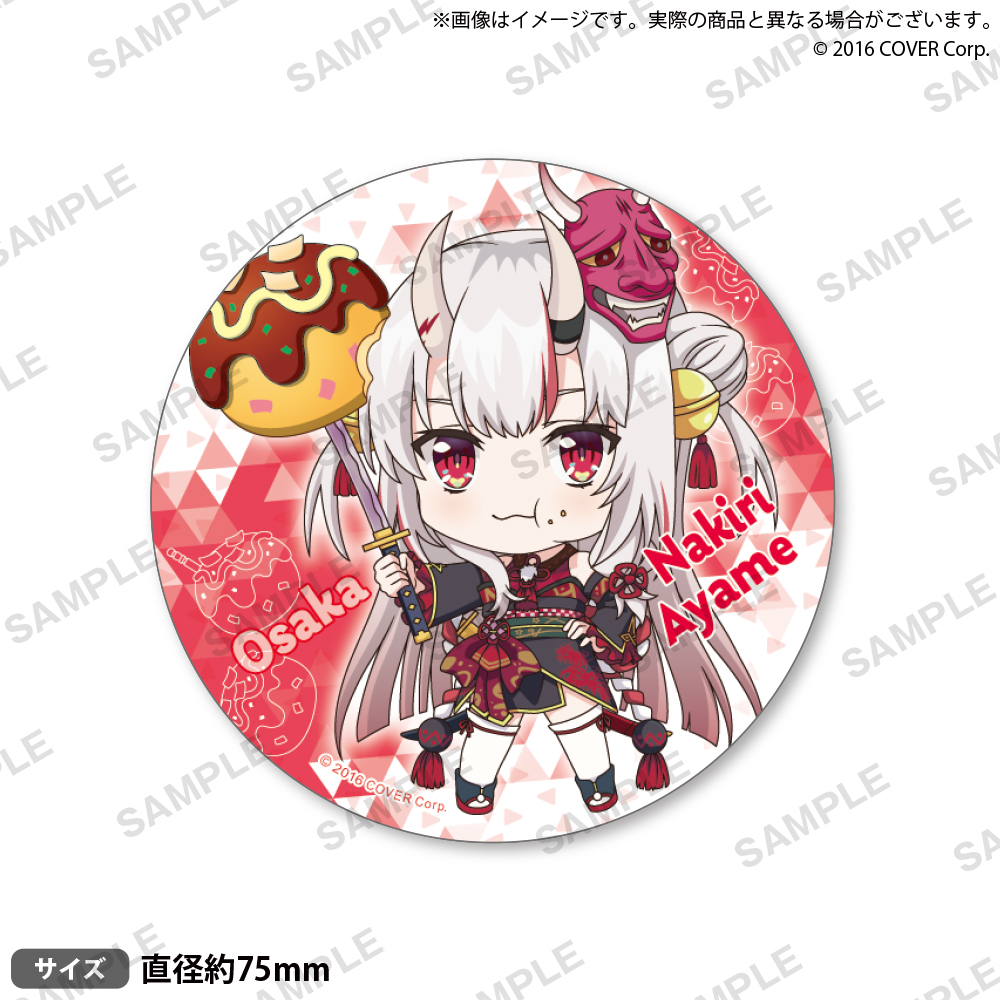 hololive Gotochi "Osaka Takoyaki" Can Badge
Nakiri Ayame
SGD $7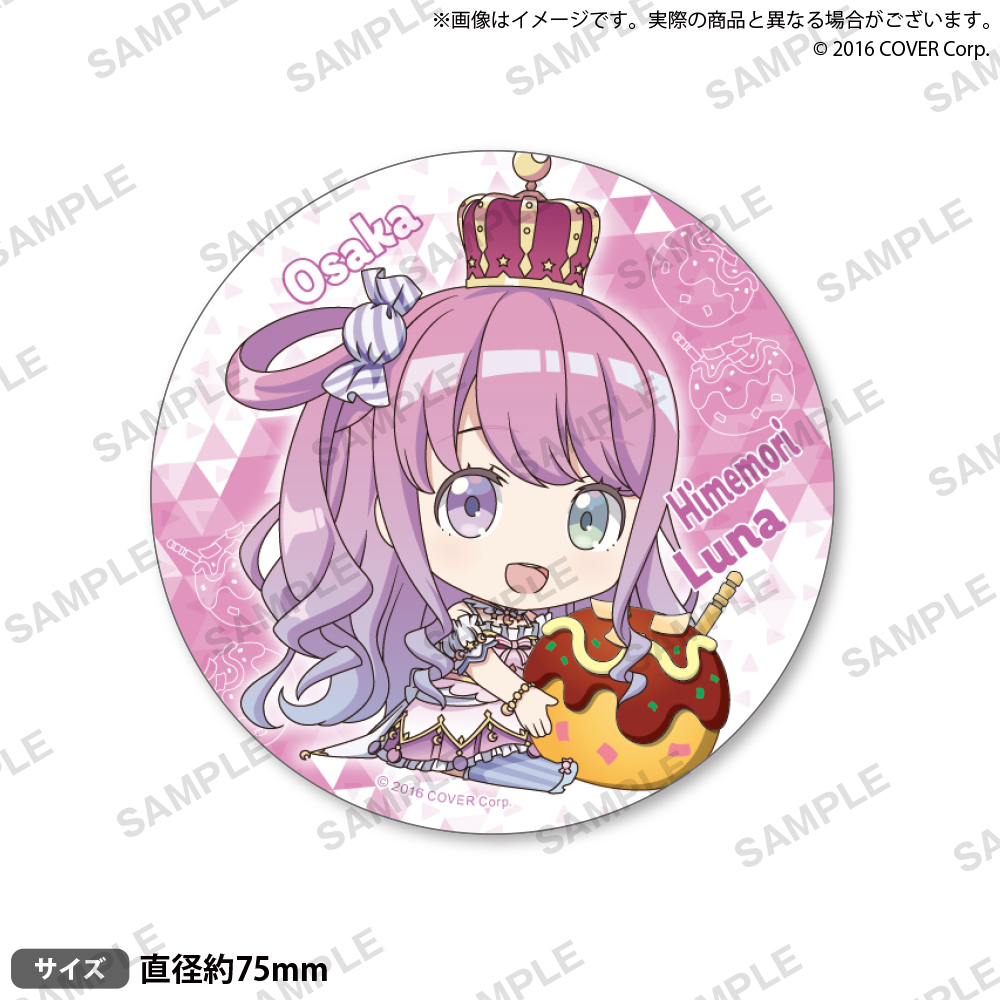 hololive Gotochi "Osaka Takoyaki" Can Badge
Himemori Luna
SGD $7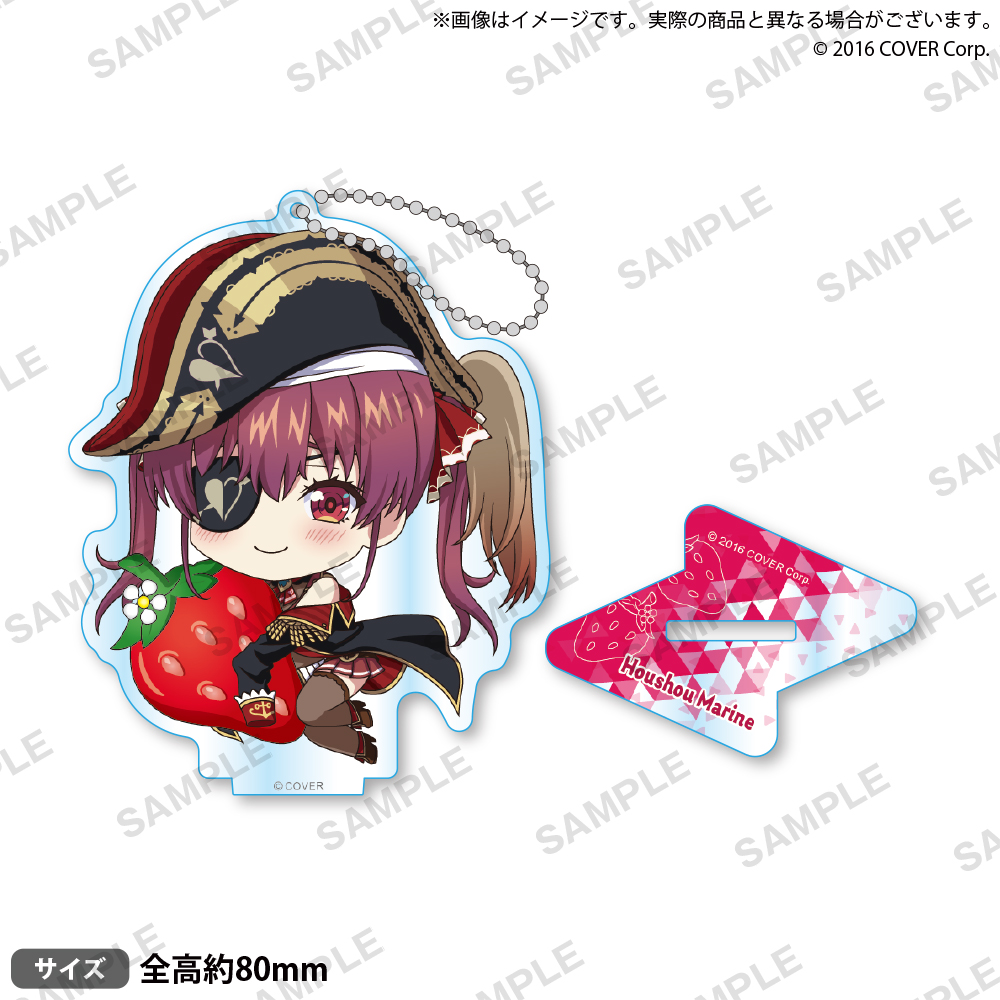 hololive Gotochi "Fukuoka Amaou" Acrylic Stand Keyholder
Houshou Marine
SGD $15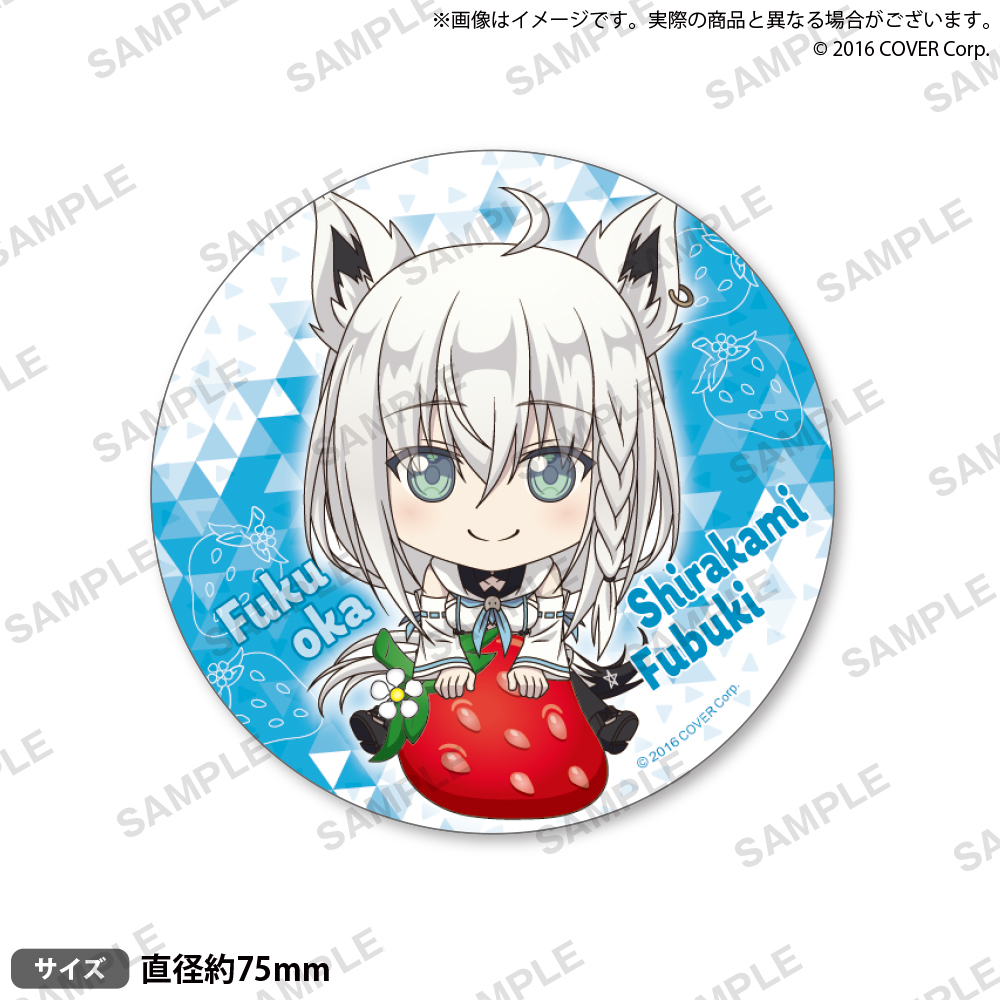 hololive Gotochi "Fukuoka Amaou" Can Badge
Shirakami Fubuki
SGD $7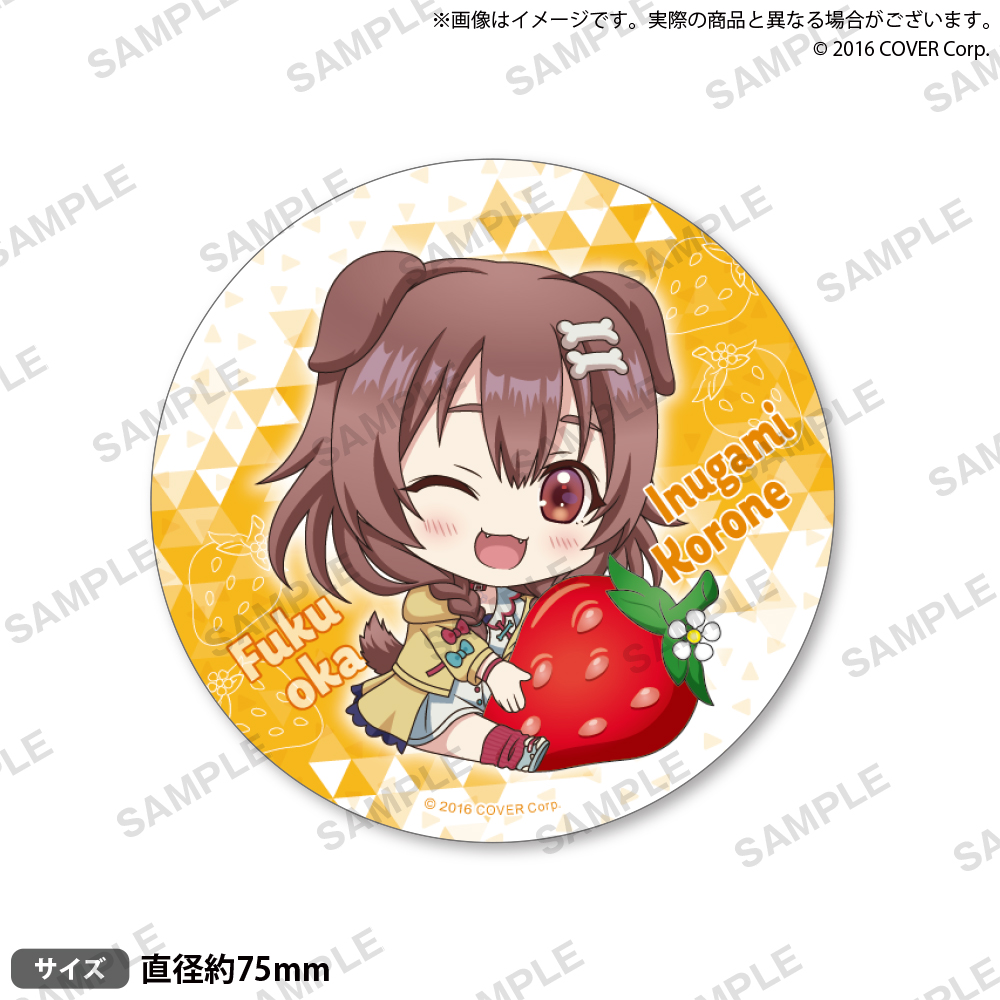 hololive Gotochi "Fukuoka Amaou" Can Badge
Inugami Korone
SGD $7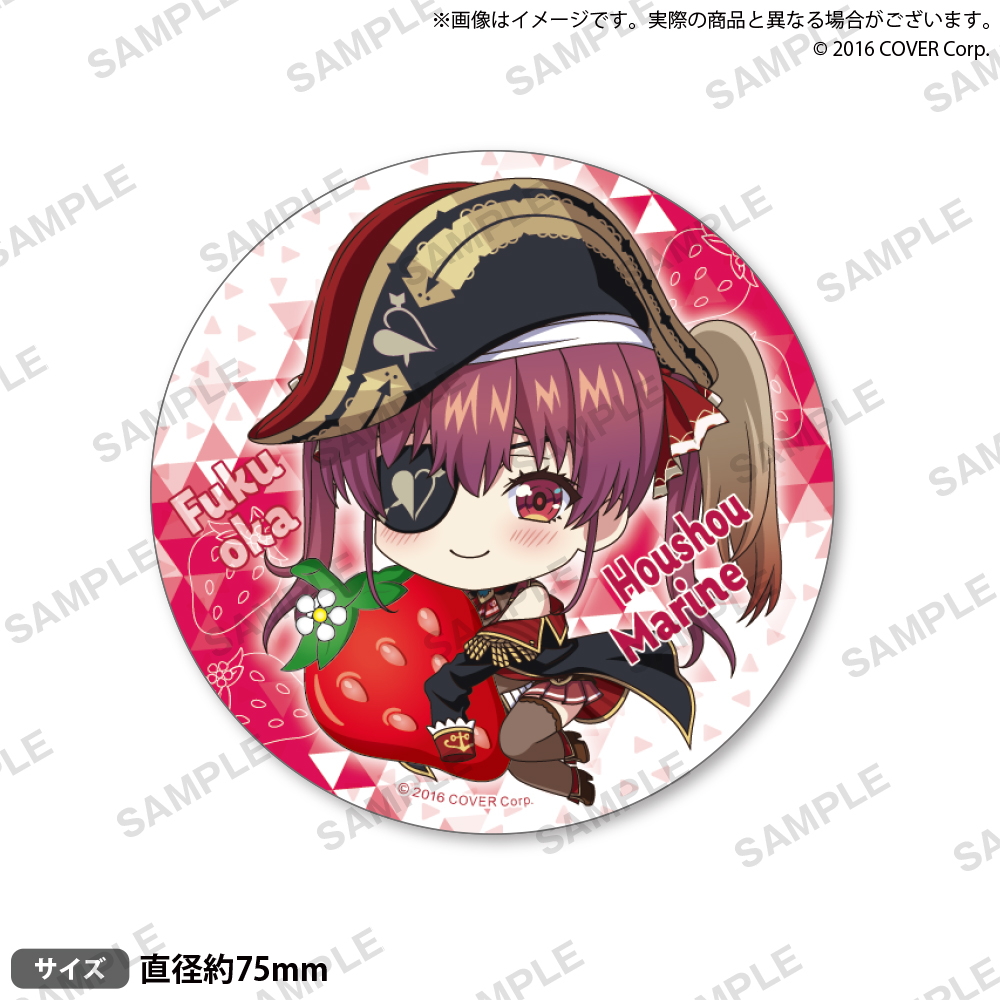 hololive Gotochi "Fukuoka Amaou" Can Badge
Houshou Marine
SGD $7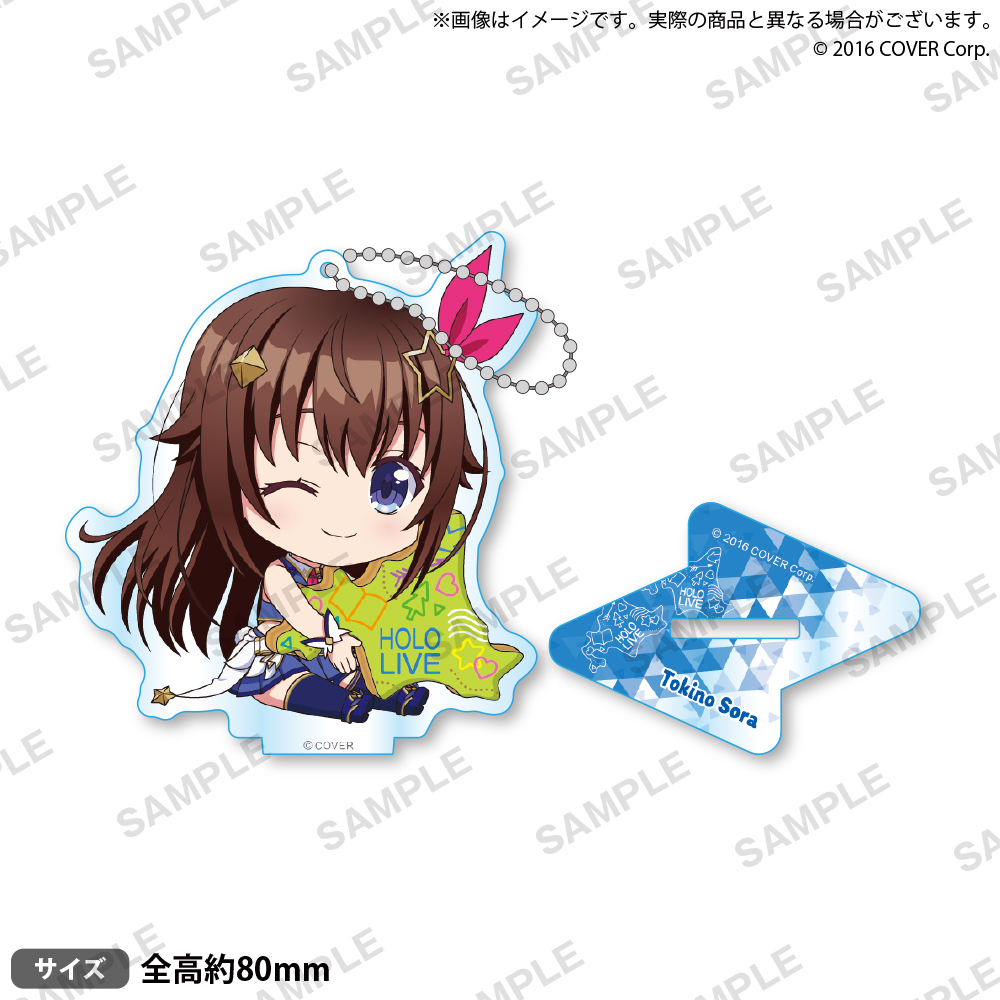 hololive Gotochi "Hokkaido Shape" Acrylic Stand Keyholder
Tokino Sora
SGD $15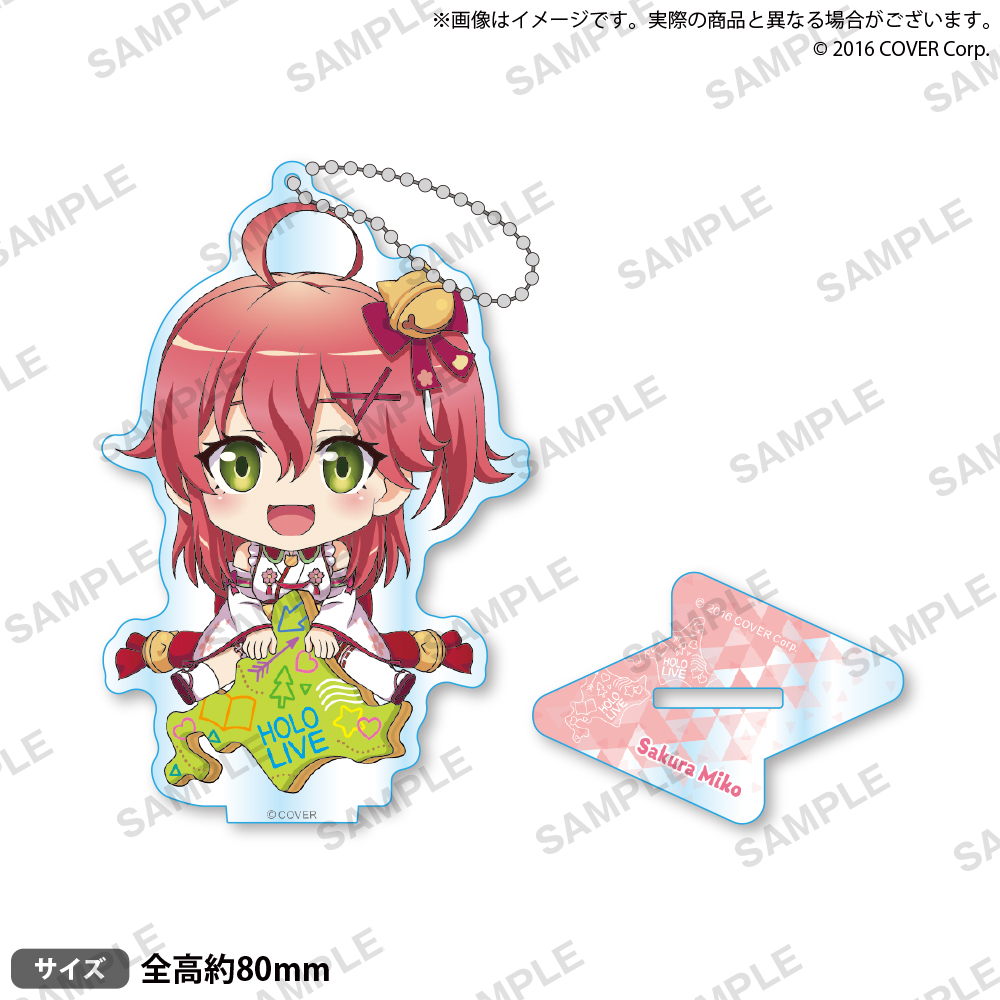 hololive Gotochi "Hokkaido Shape" Acrylic Stand Keyholder
Sakura Miko
SGD $15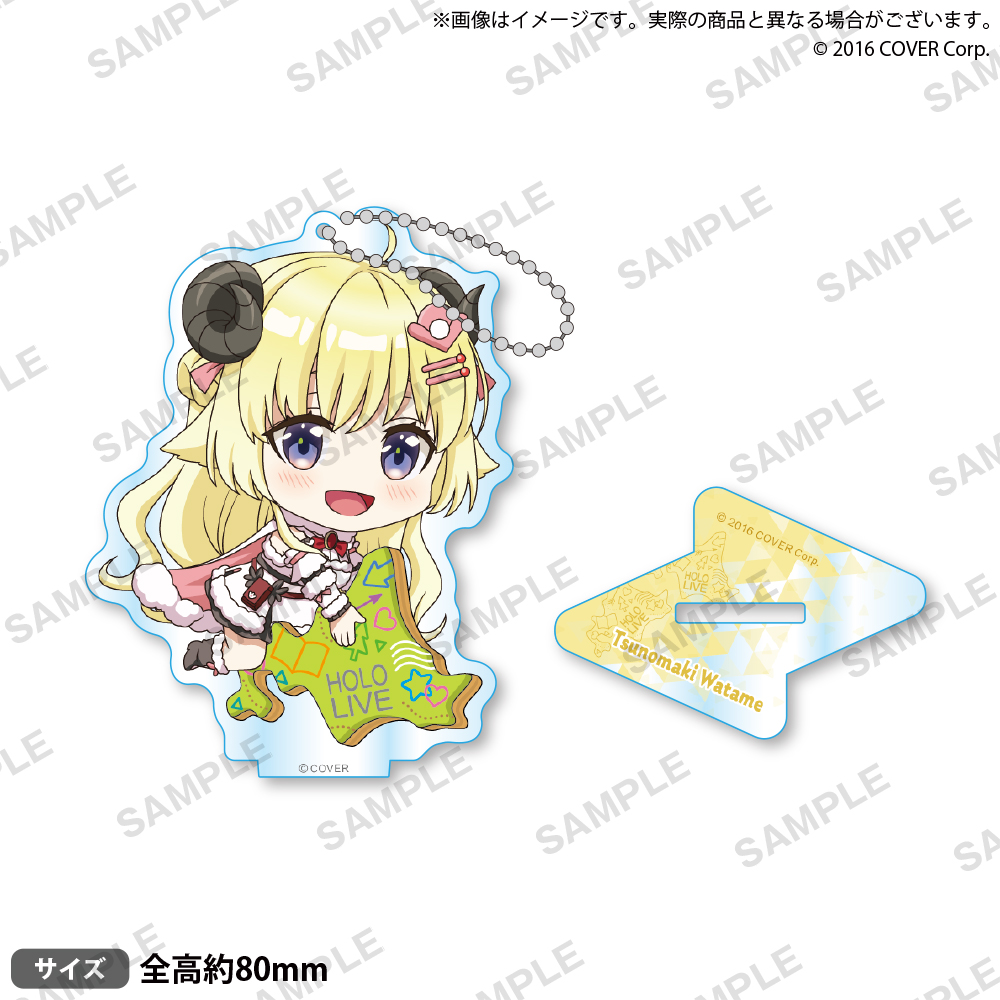 hololive Gotochi "Hokkaido Shape" Acrylic Stand Keyholder
Tsunomaki Watame
SGD $15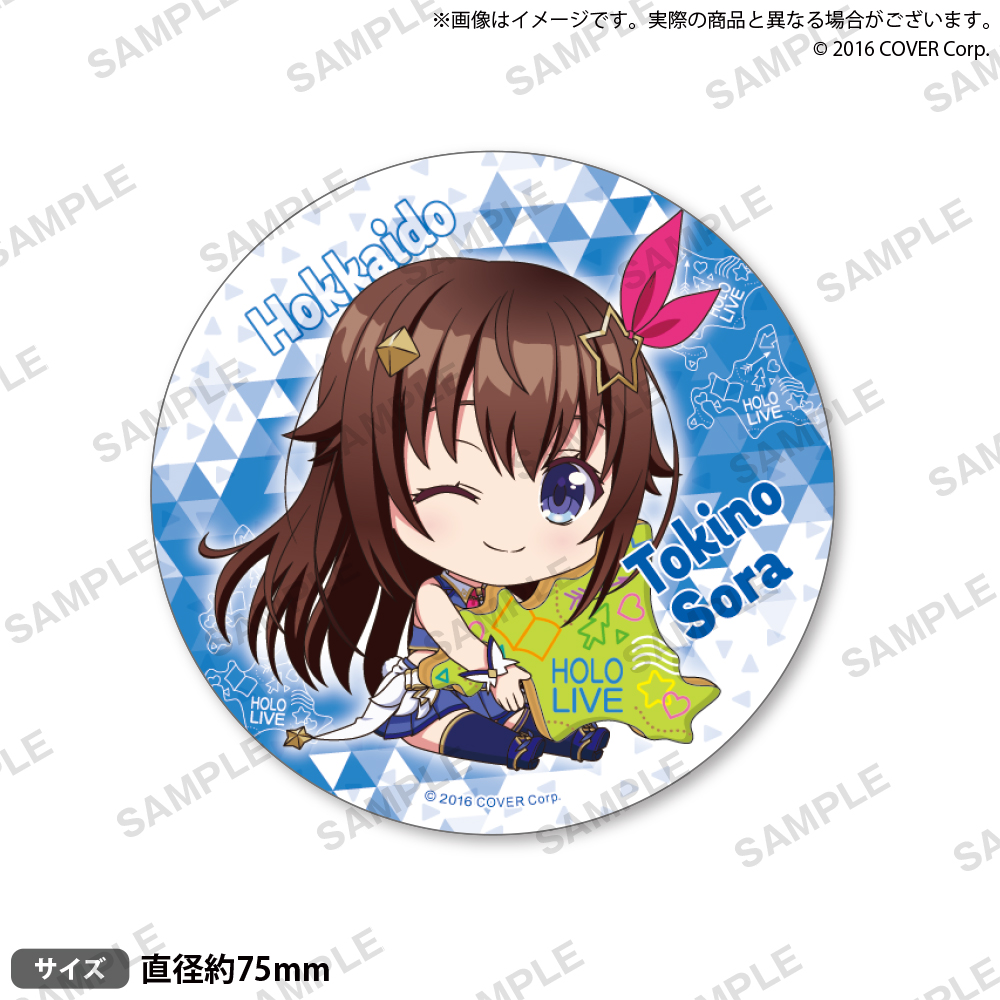 hololive Gotochi "Hokkaido Shape" Can Badge
Tokino Sora
SGD $7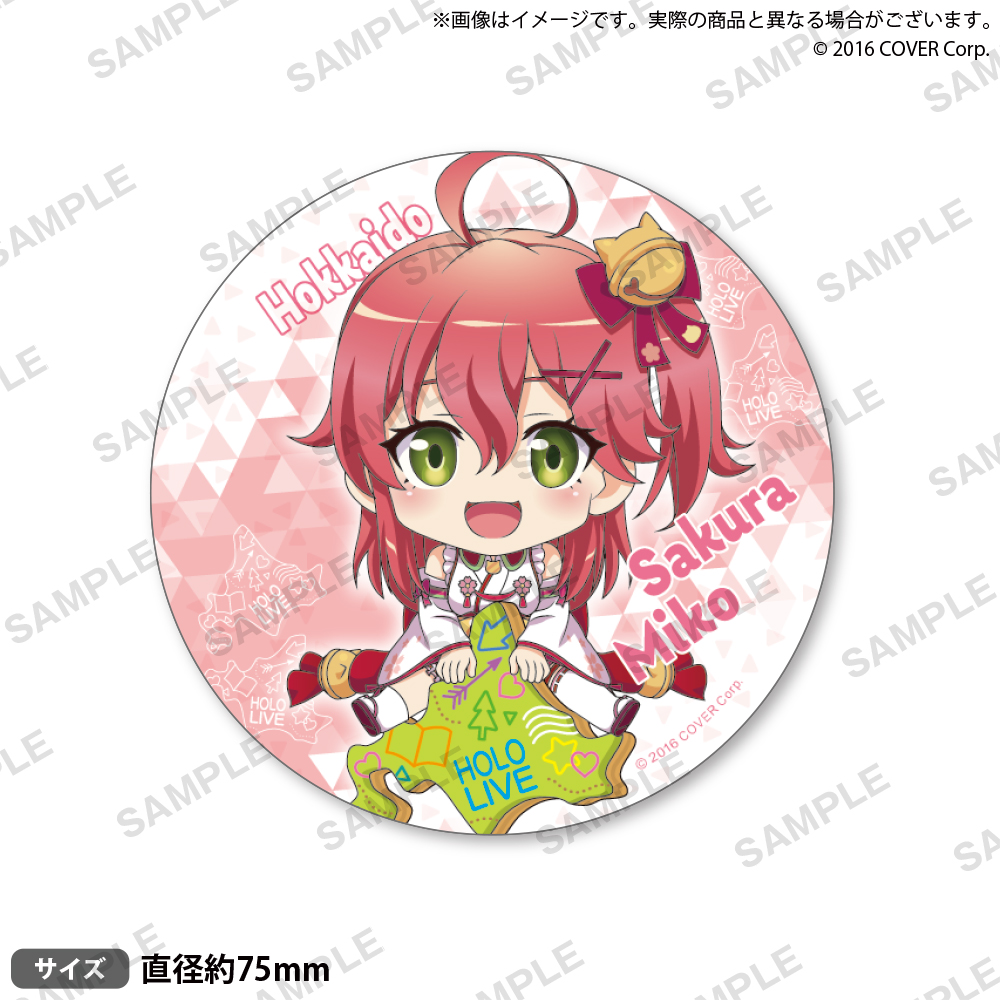 hololive Gotochi "Hokkaido Shape" Can Badge
Sakura Miko
SGD $7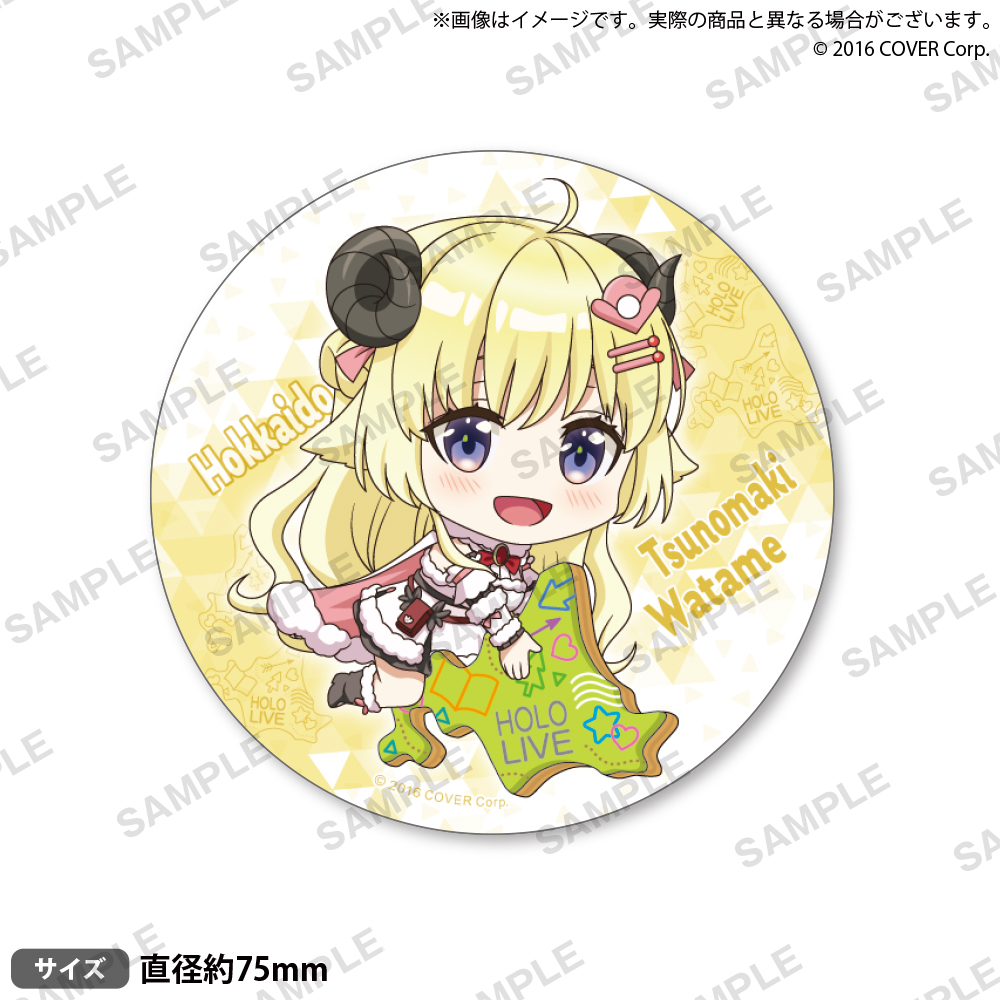 hololive Gotochi "Hokkaido Shape" Can Badge
Tsunomaki Watame
SGD $7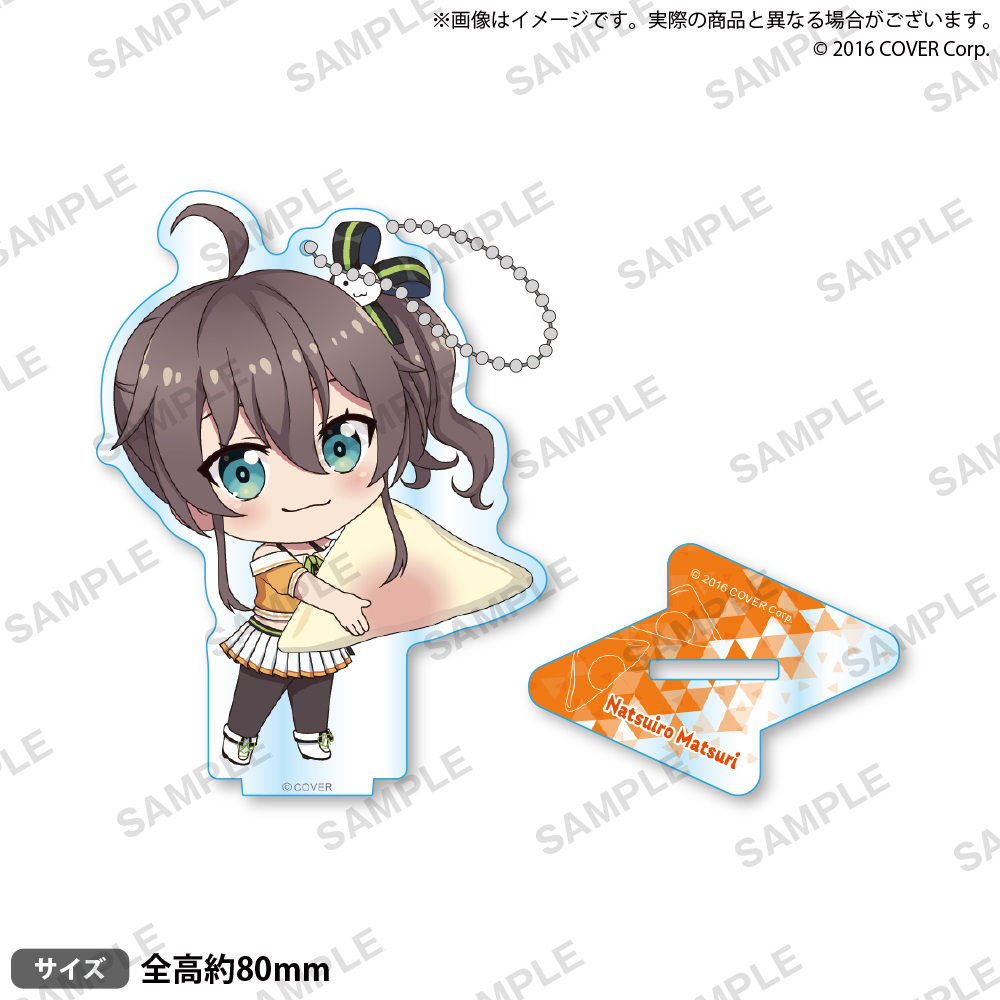 hololive Gotochi "Kyoto Yatsuhashi" Acrylic Stand Keyholder
Natsuiro Matsuri
SGD $15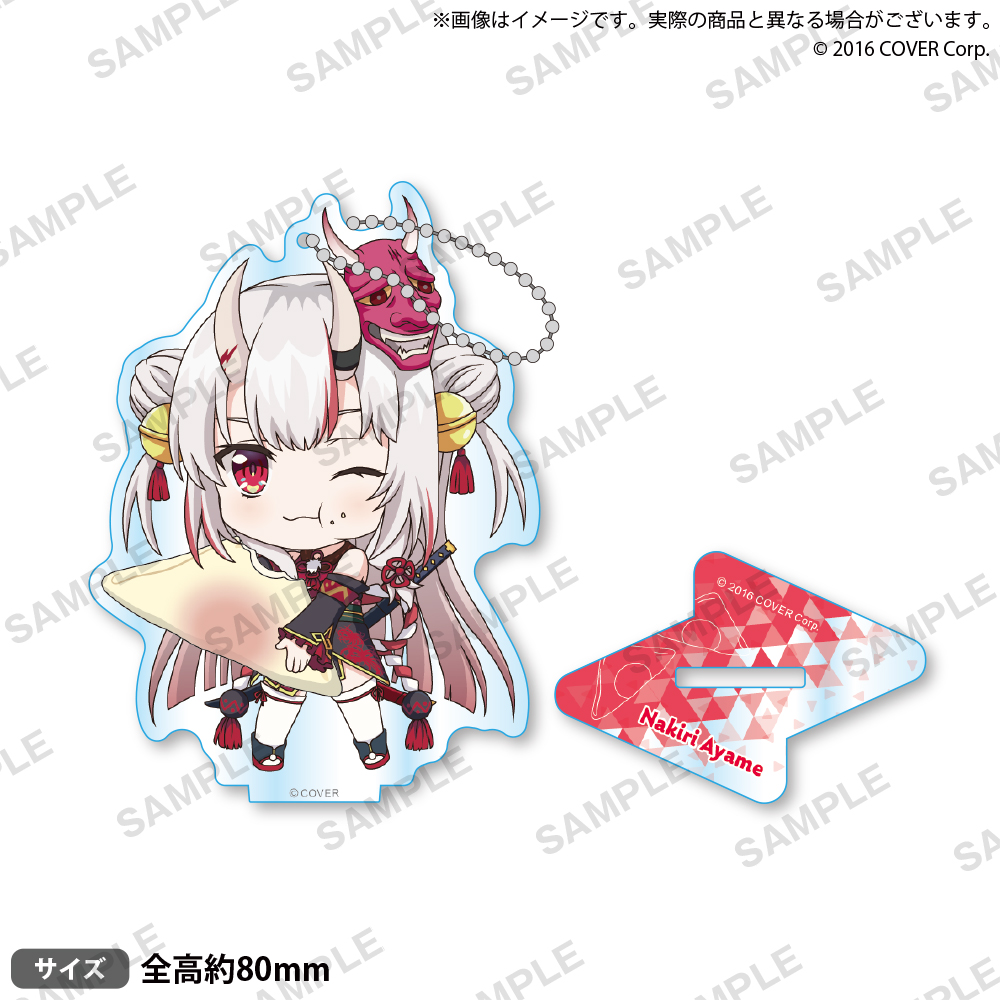 hololive Gotochi "Kyoto Yatsuhashi" Acrylic Stand Keyholder
Nakiri Ayame
SGD $15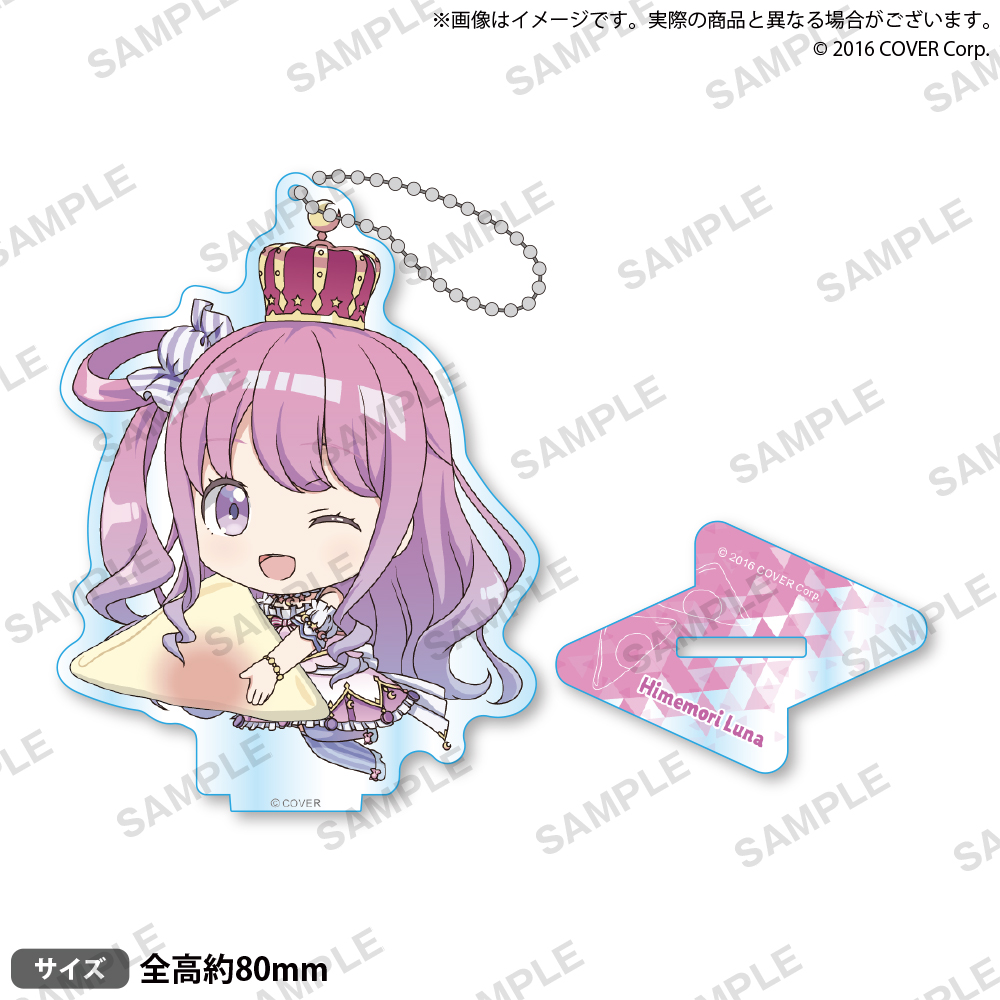 hololive Gotochi "Kyoto Yatsuhashi" Acrylic Stand Keyholder
Himemori Luna
SGD $15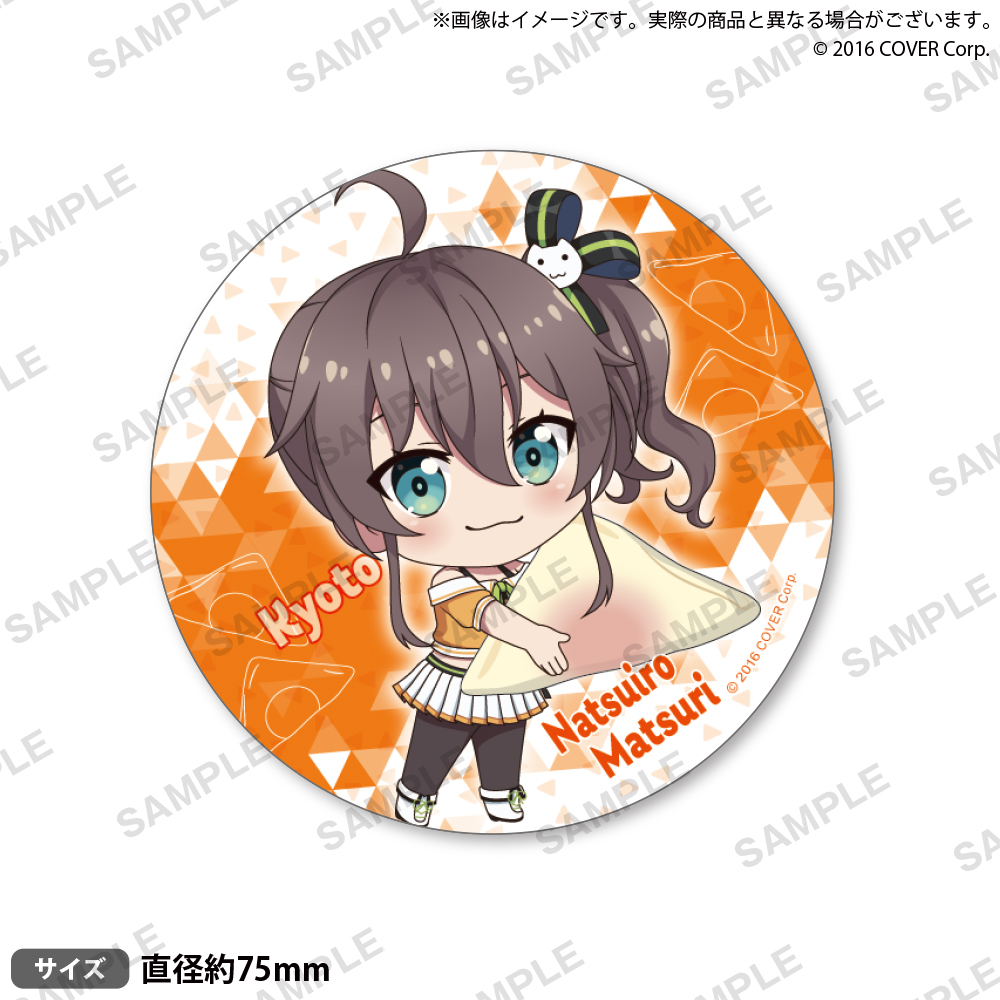 hololive Gotochi "Kyoto Yatsuhashi" Can Badge
Natsuiro Matsuri
SGD $7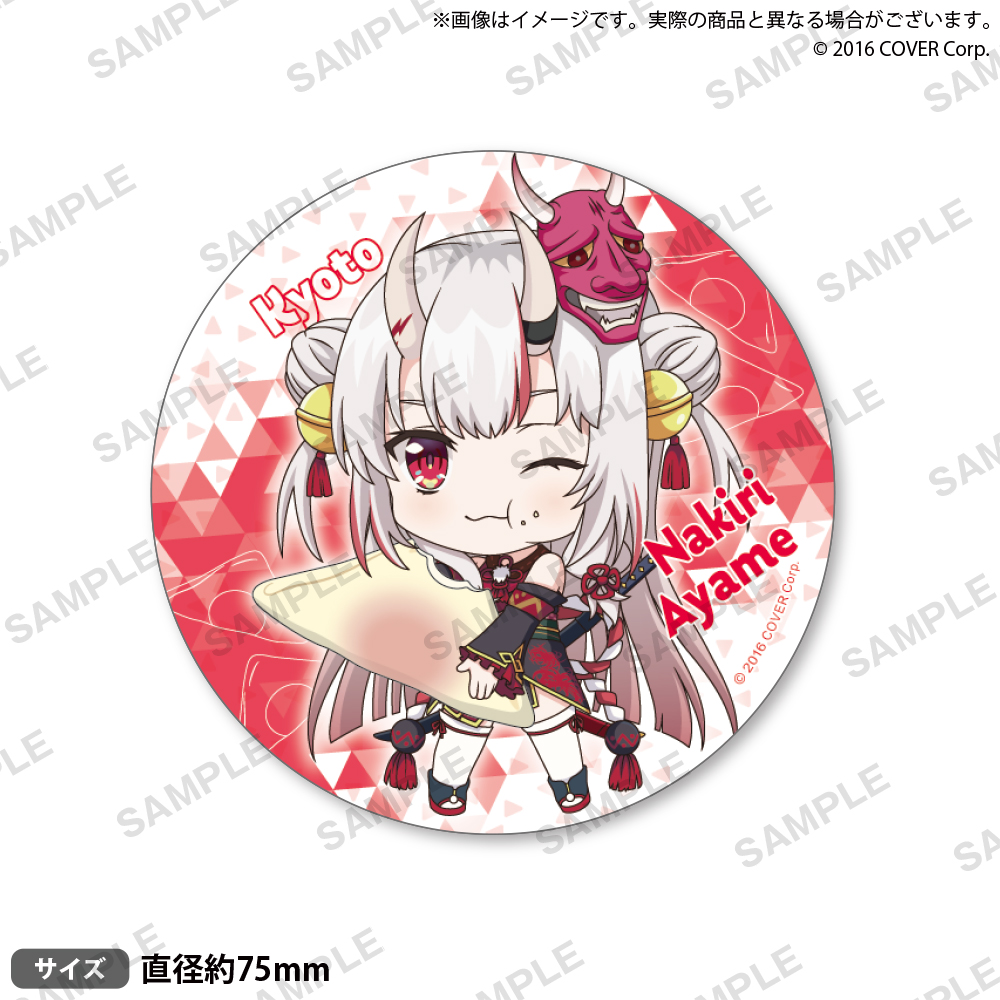 hololive Gotochi "Kyoto Yatsuhashi" Can Badge
Nakiri Ayame
SGD $7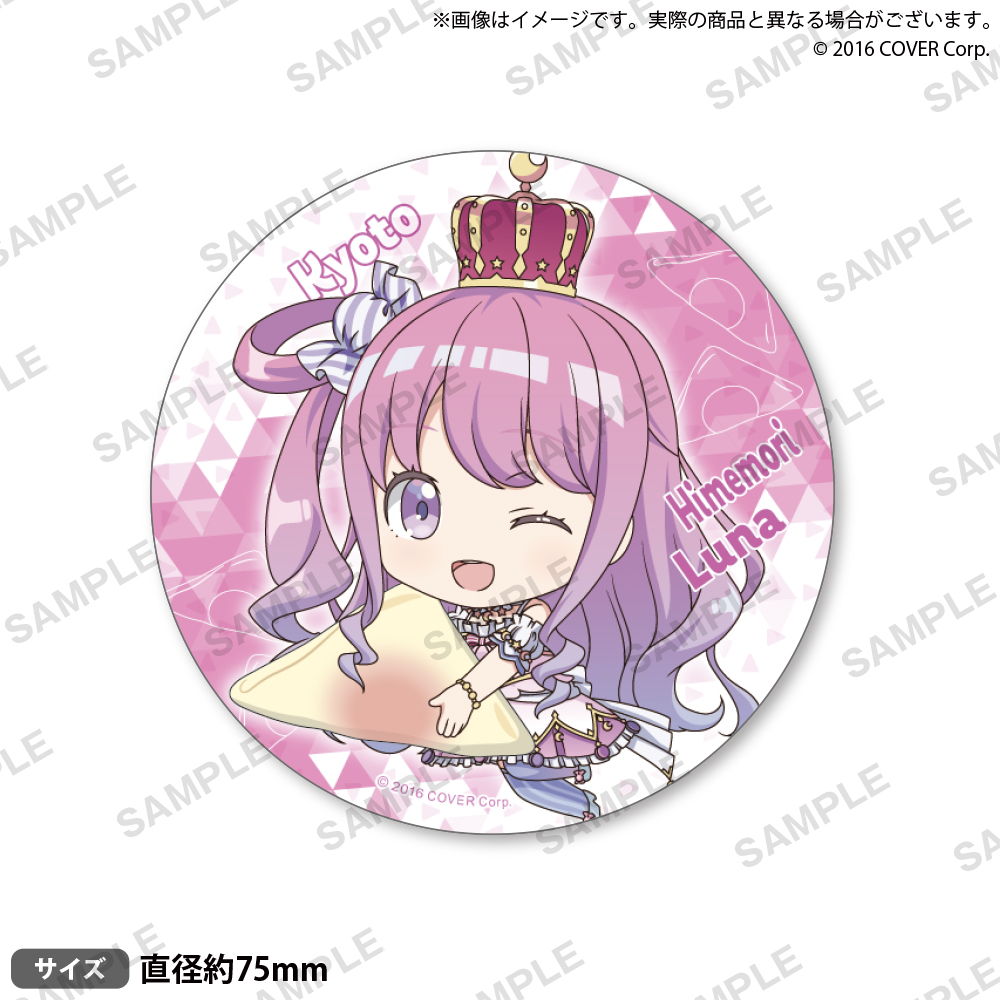 hololive Gotochi "Kyoto Yatsuhashi" Can Badge
Himemori Luna
SGD $7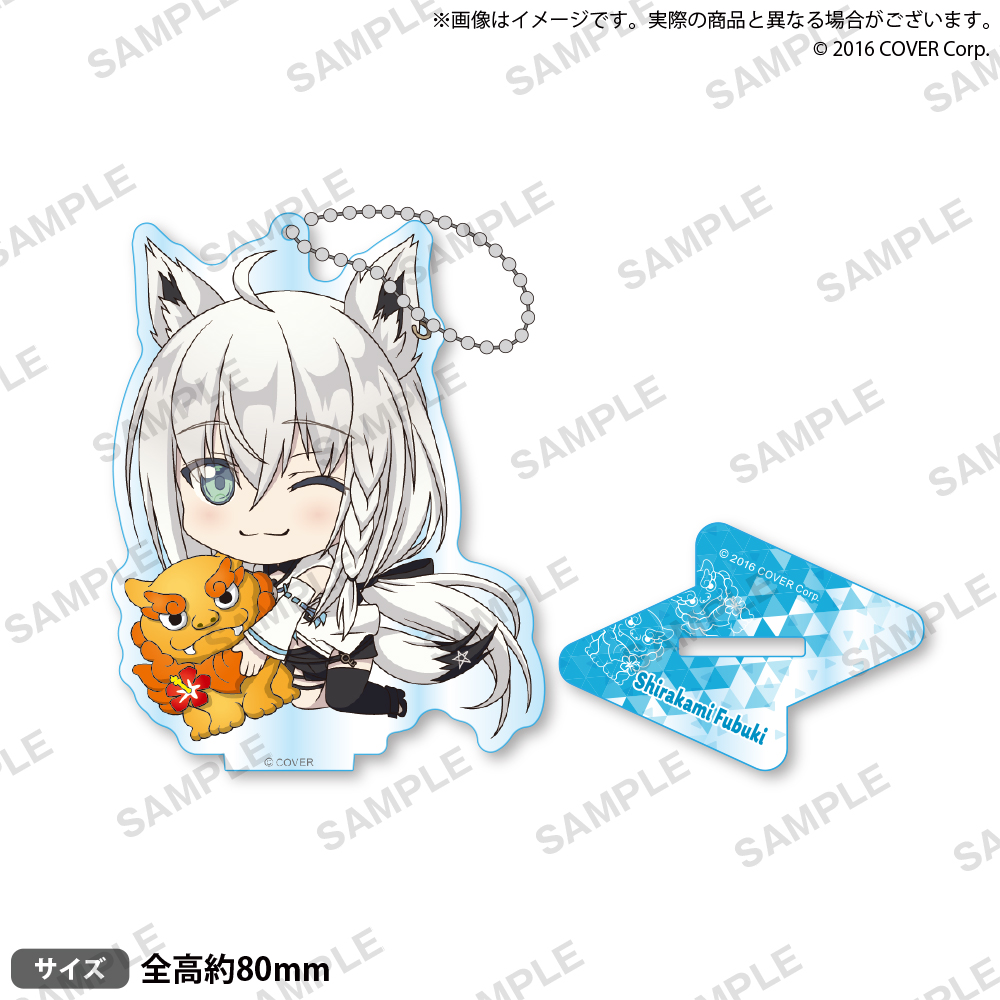 hololive Gotochi "Okinawa Shisa" Acrylic Stand Keyholder
Shirakami Fubuki
SGD $15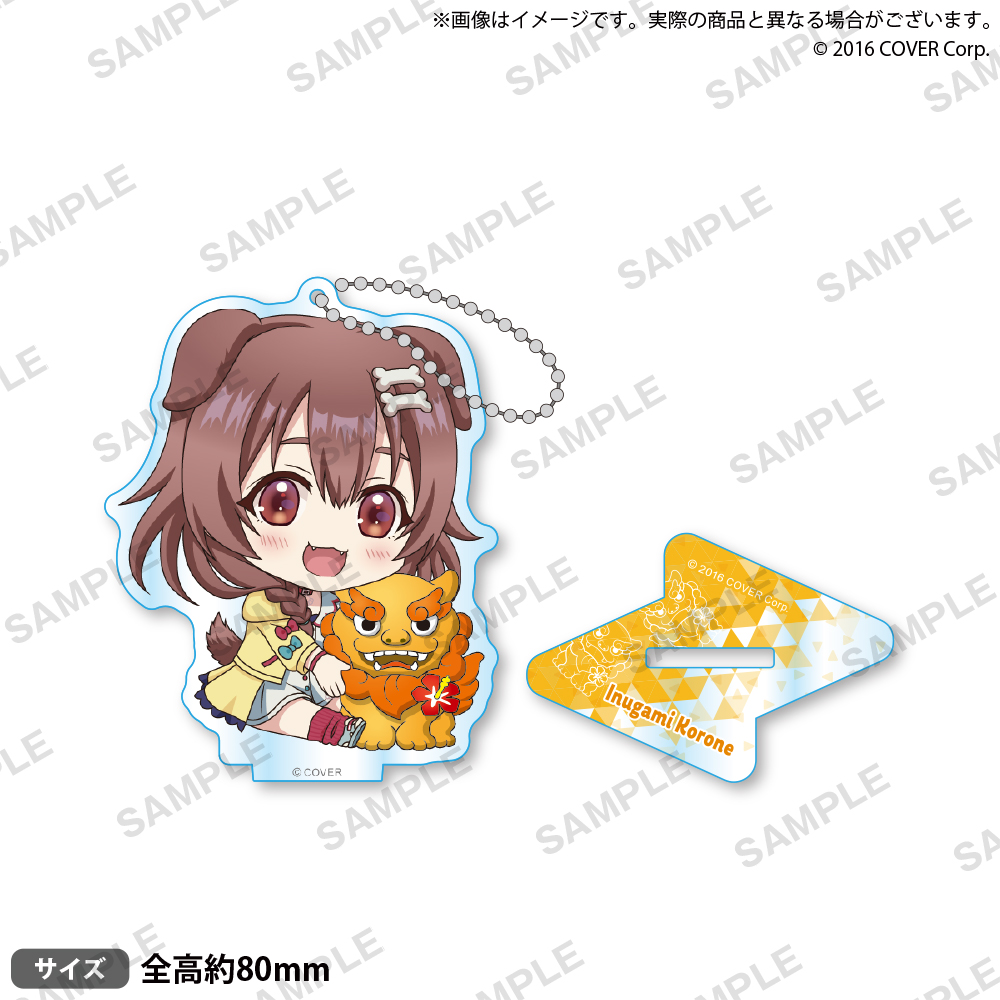 hololive Gotochi "Okinawa Shisa" Acrylic Stand Keyholder
Inugami Korone
SGD $15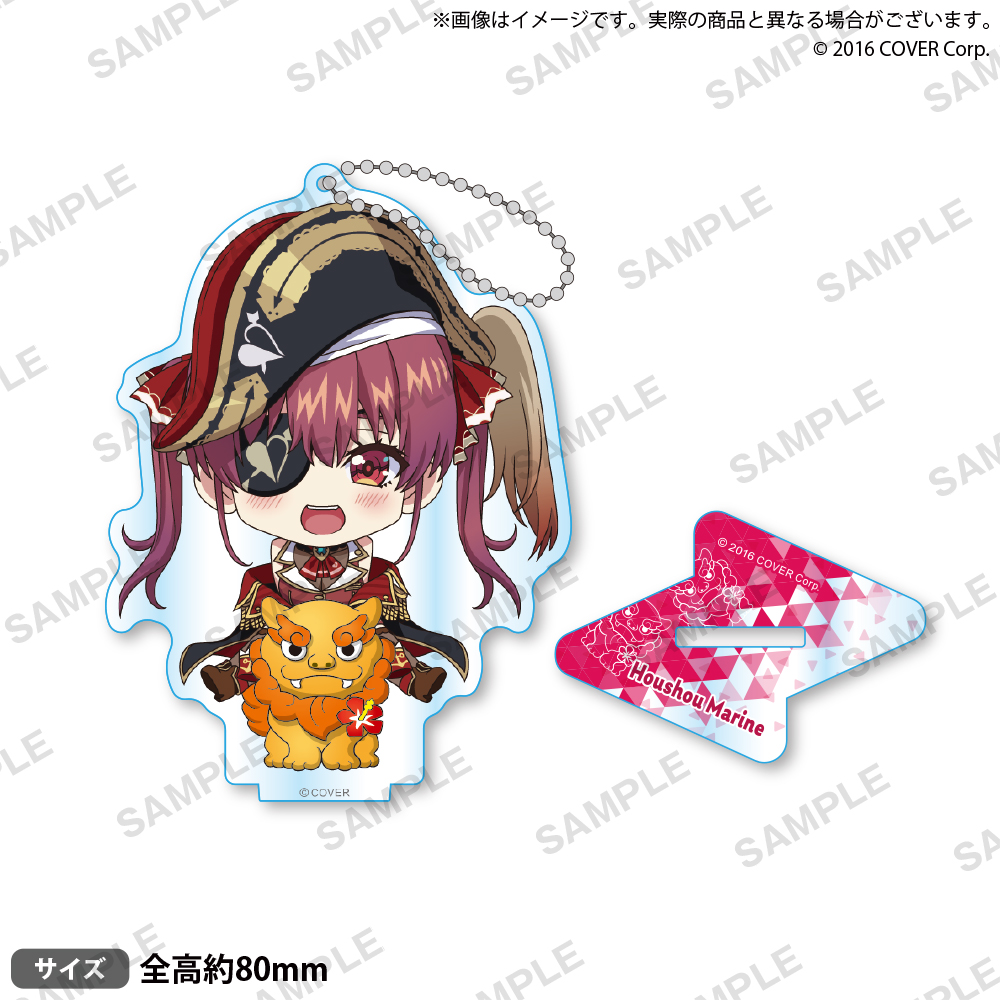 hololive Gotochi "Okinawa Shisa" Acrylic Stand Keyholder
Houshou Marine
SGD $15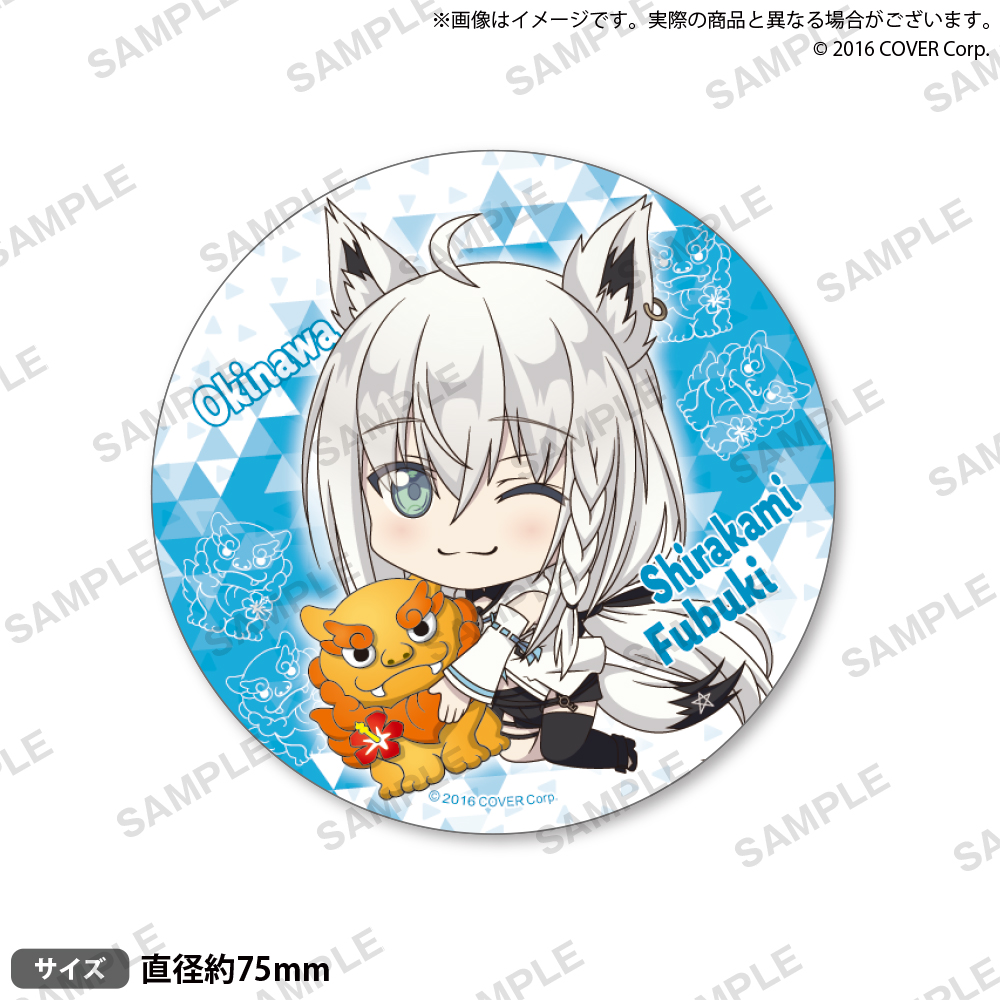 hololive Gotochi "Okinawa Shisa" Can Badge
Shirakami Fubuki
SGD $7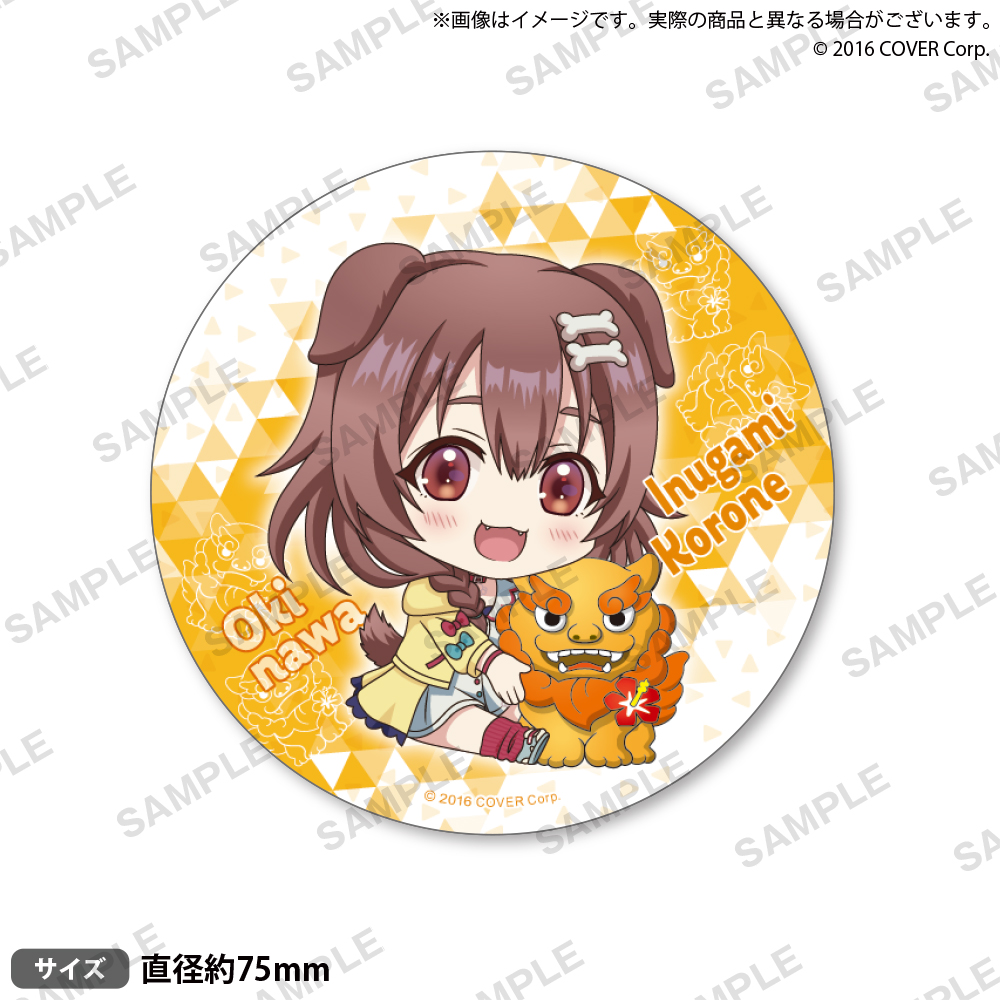 hololive Gotochi "Okinawa Shisa" Can Badge
Inugami Korone
SGD $7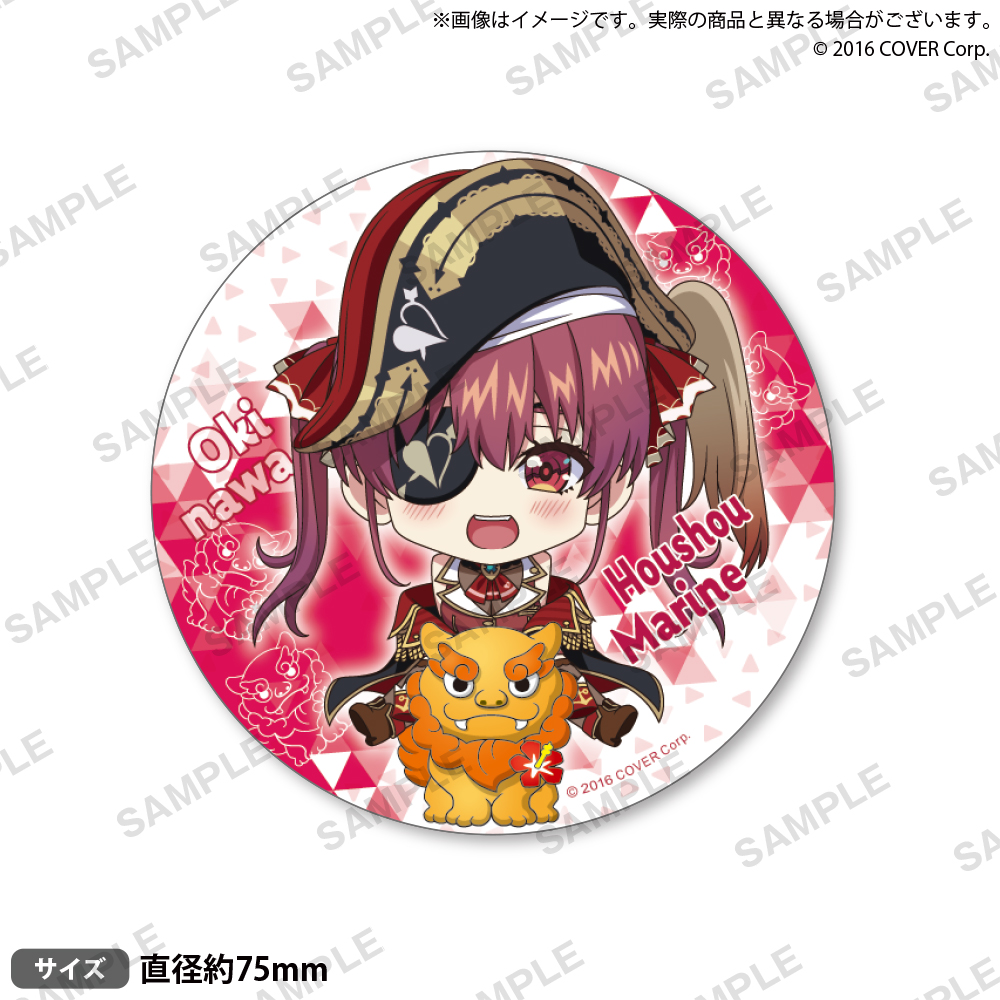 hololive Gotochi "Okinawa Shisa" Can Badge
Houshou Marine
SGD $7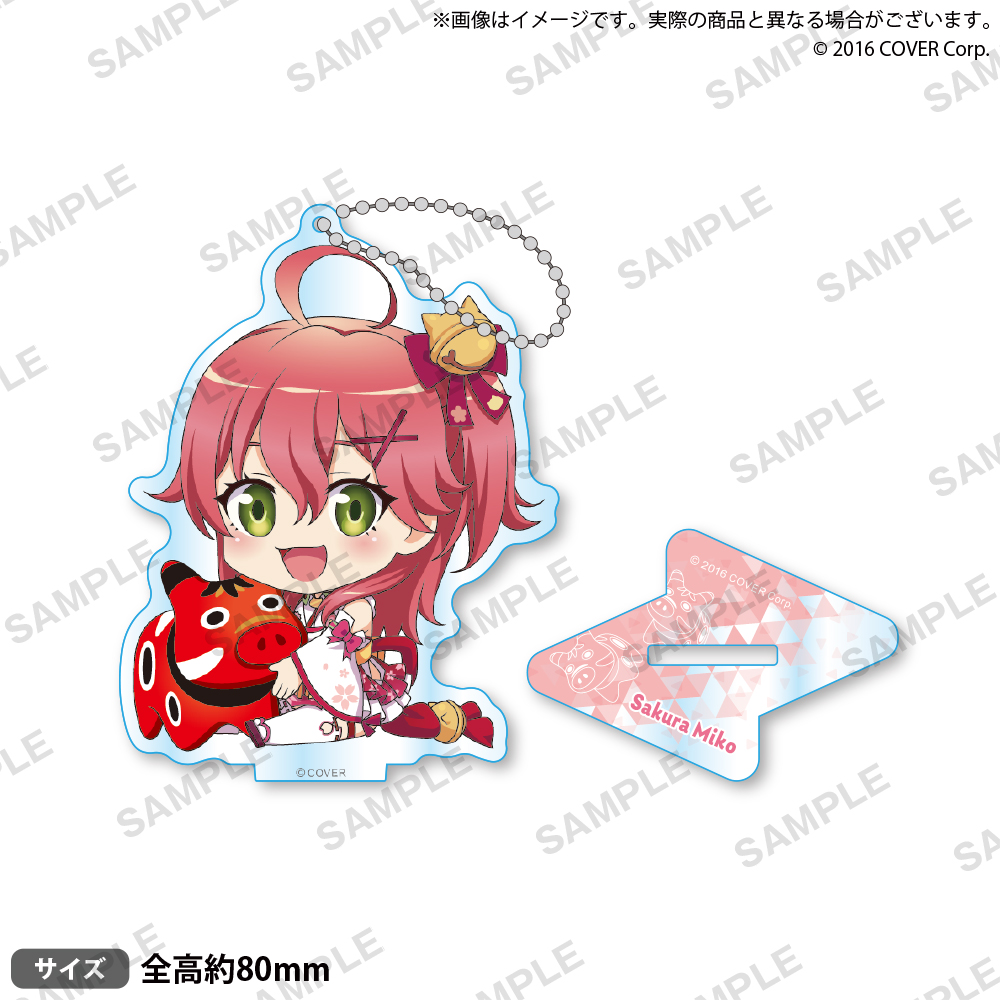 hololive Gotochi "Fukushima Akabeko" Acrylic Stand Keyholder
Sakura Miko
SGD $15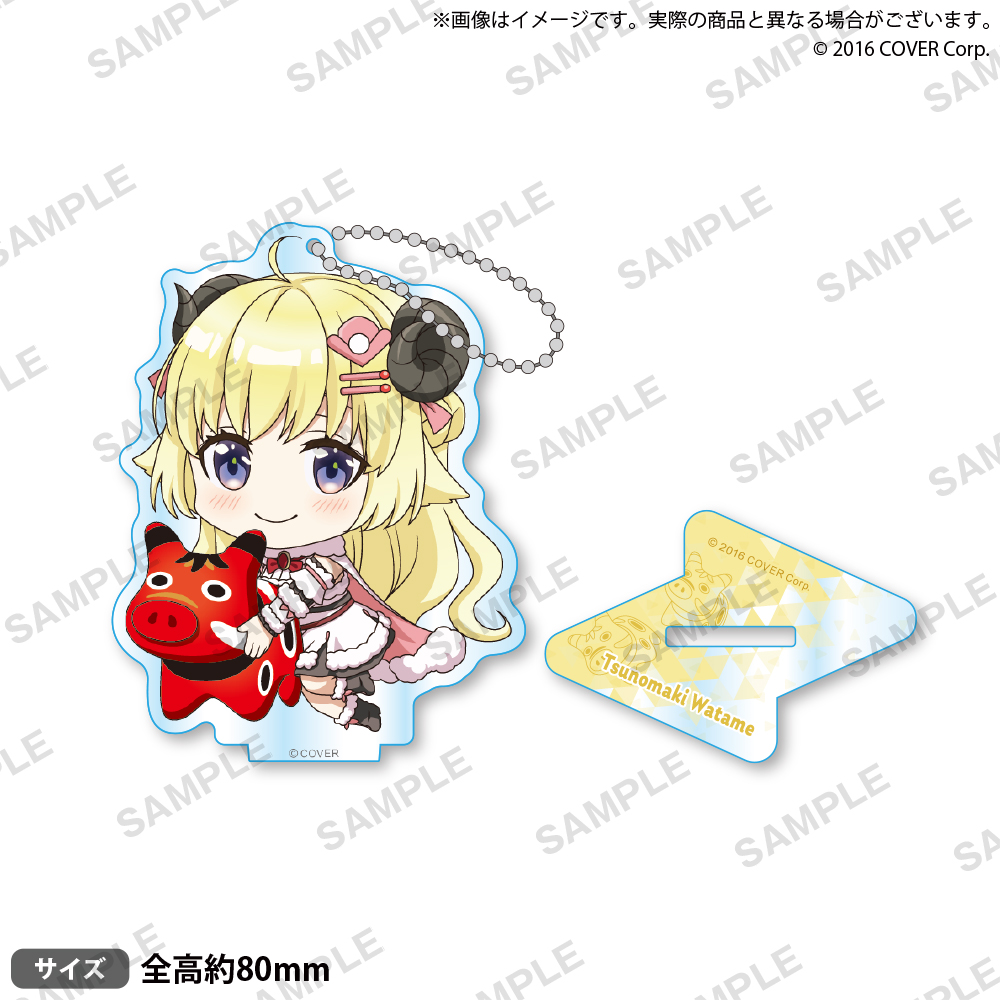 hololive Gotochi "Fukushima Akabeko" Acrylic Stand Keyholder
Tsunomaki Watame
SGD $15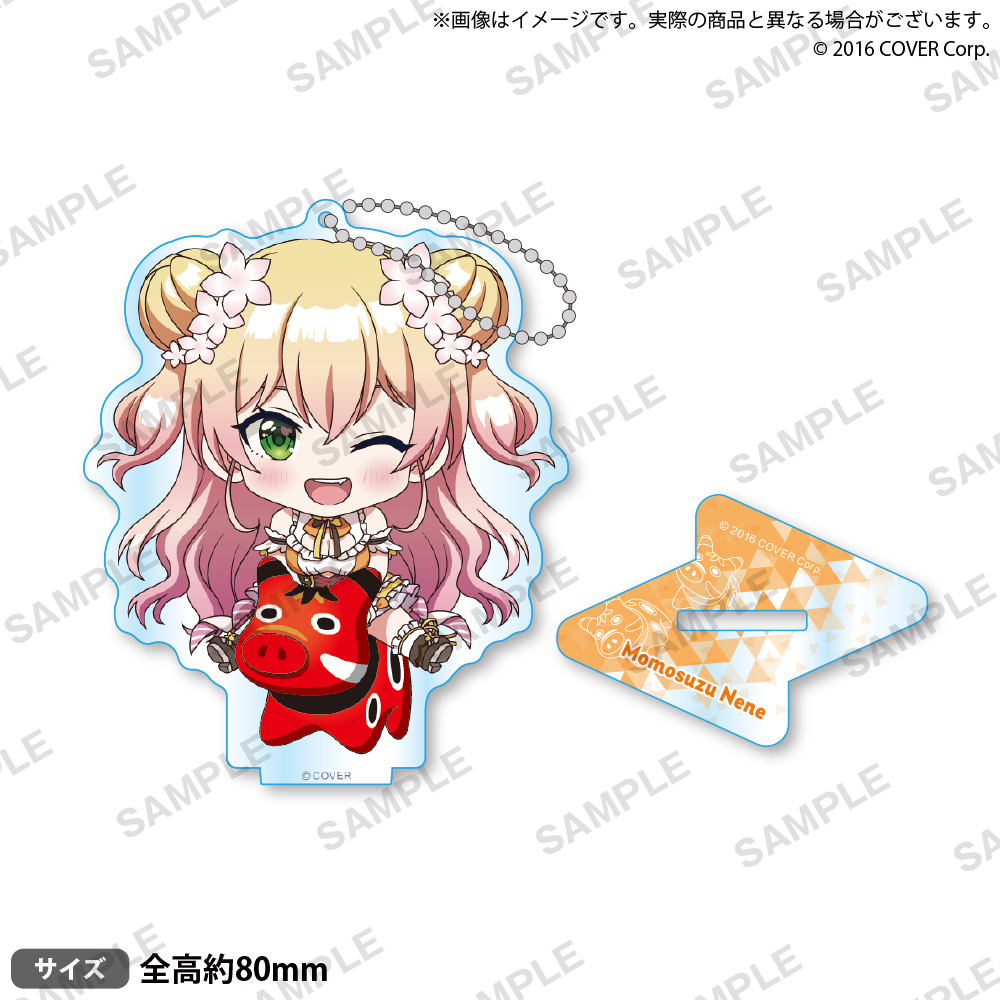 hololive Gotochi "Fukushima Akabeko" Acrylic Stand Keyholder
Momosuzu Nene
SGD $15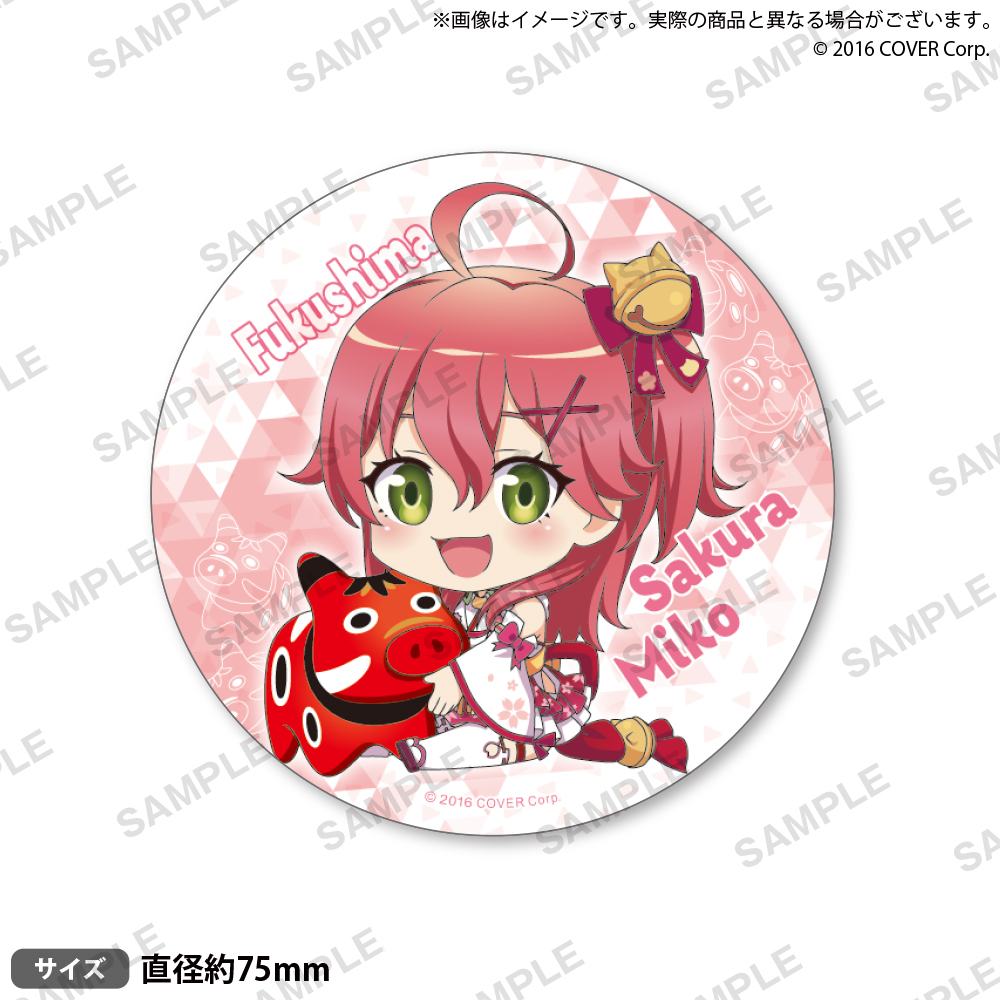 hololive Gotochi "Fukushima Akabeko" Can Badge
Sakura Miko
SGD $7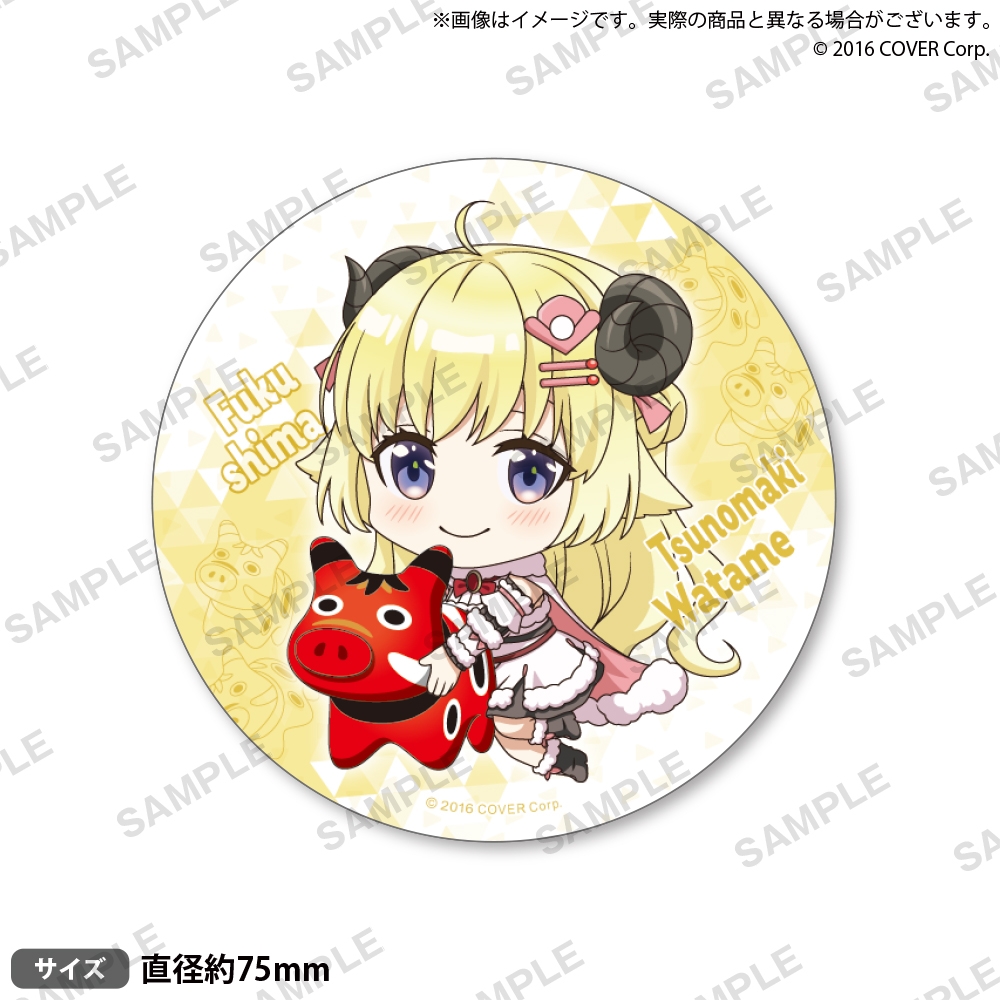 hololive Gotochi "Fukushima Akabeko" Can Badge
Tsunomaki Watame
SGD $7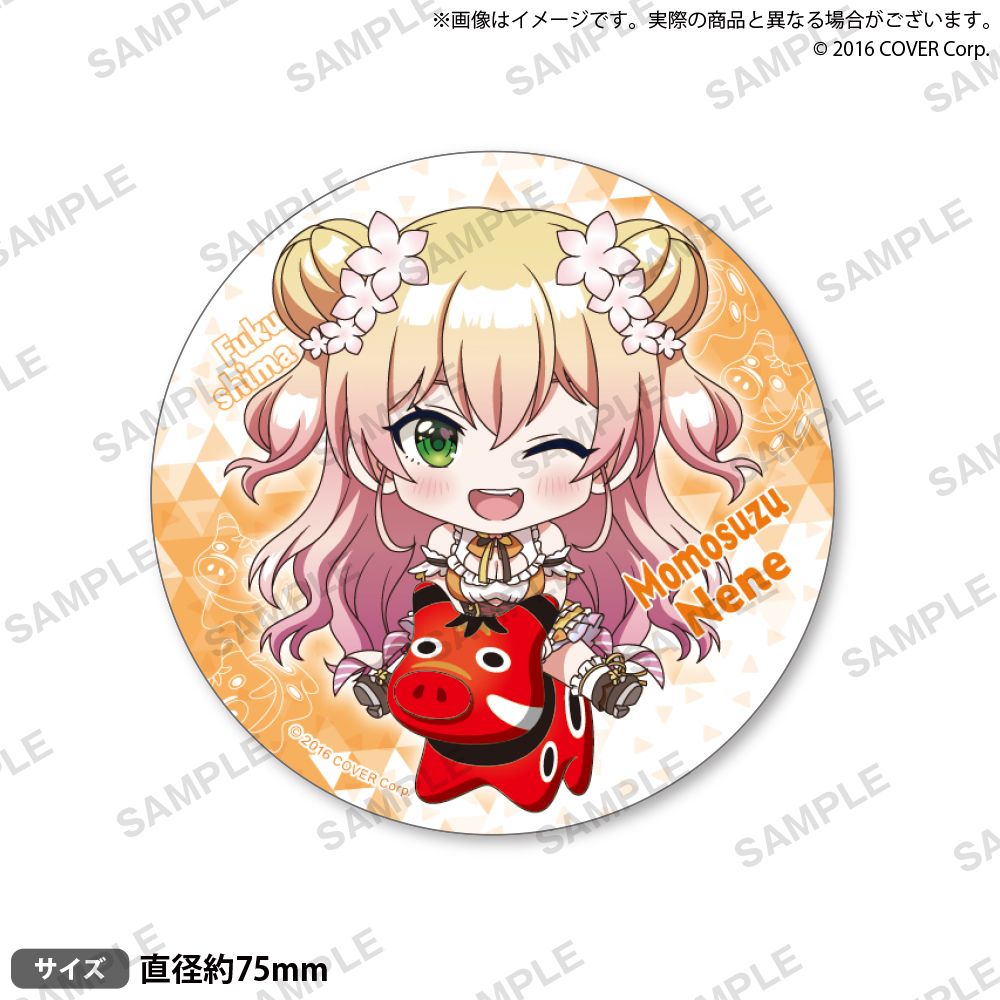 hololive Gotochi "Fukushima Akabeko" Can Badge
Momosuzu Nene
SGD $7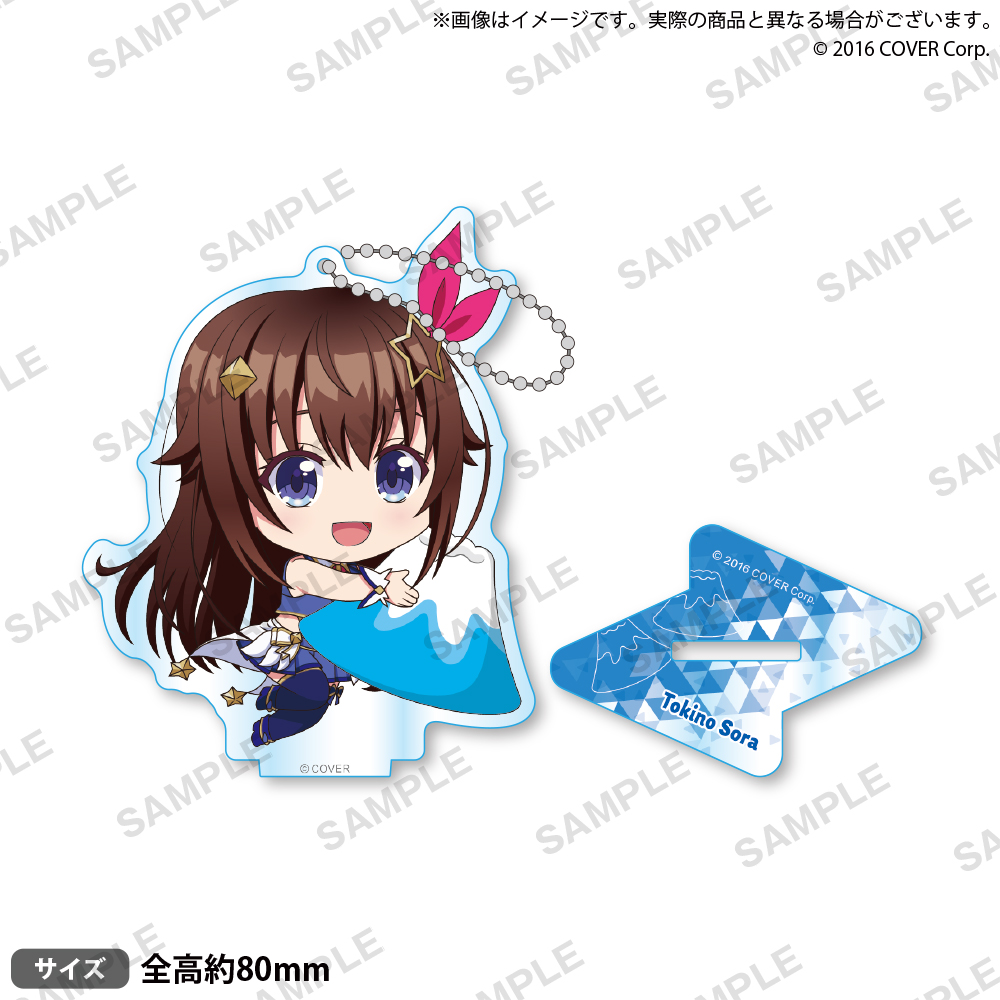 hololive Gotochi "Mt Fuji" Acrylic Stand Keyholder
Tokino Sora
SGD $15
hololive Gotochi "Mt Fuji" Acrylic Stand Keyholder
Sakura Miko
SGD $15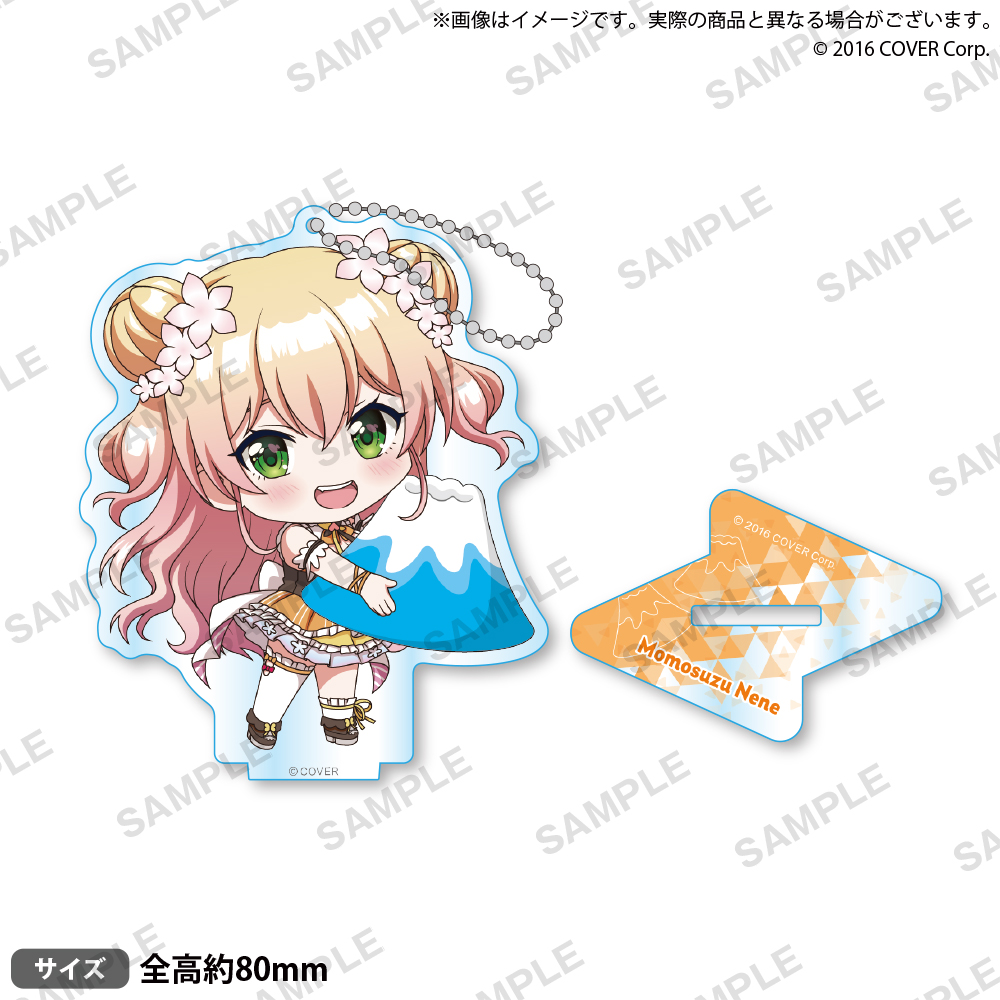 hololive Gotochi "Mt Fuji" Acrylic Stand Keyholder
Momosuzu Nene
SGD $15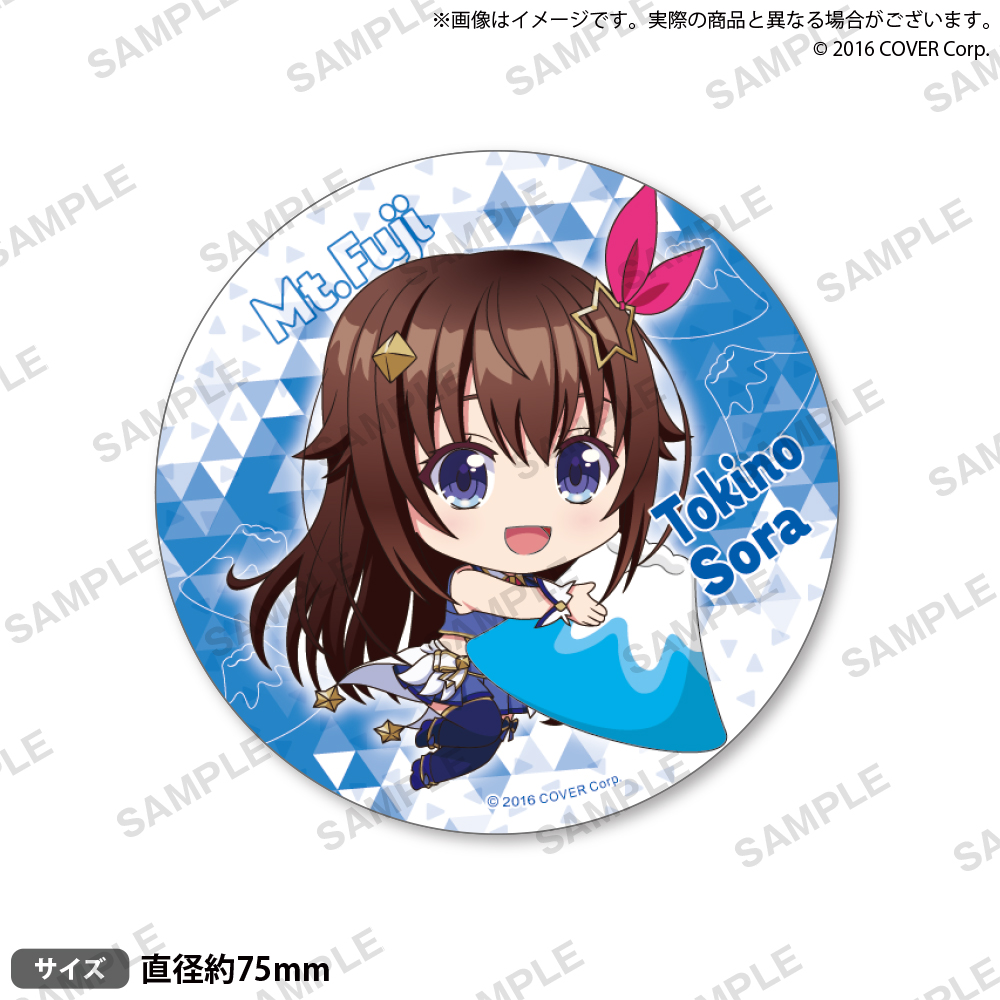 hololive Gotochi "Mt Fuji" Can Badge
Tokino Sora
SGD $7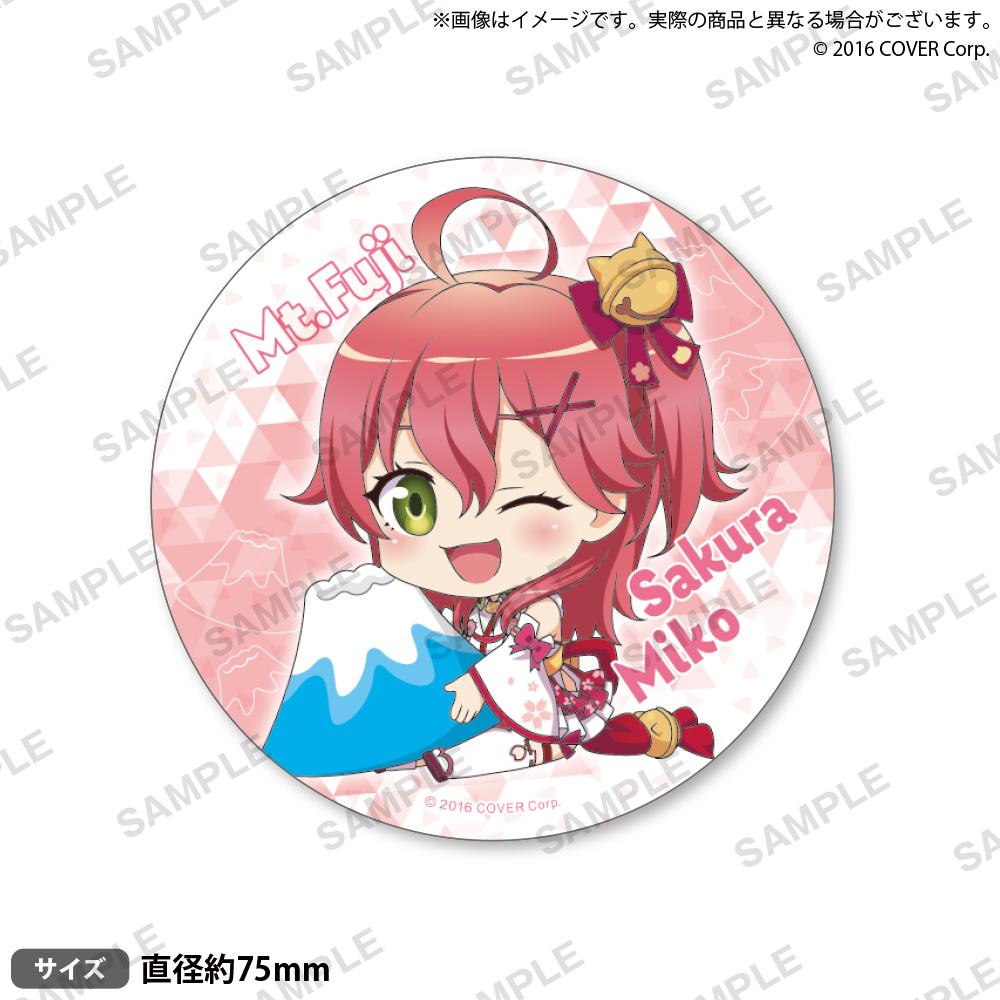 hololive Gotochi "Mt Fuji" Can Badge
Sakura Miko
SGD $7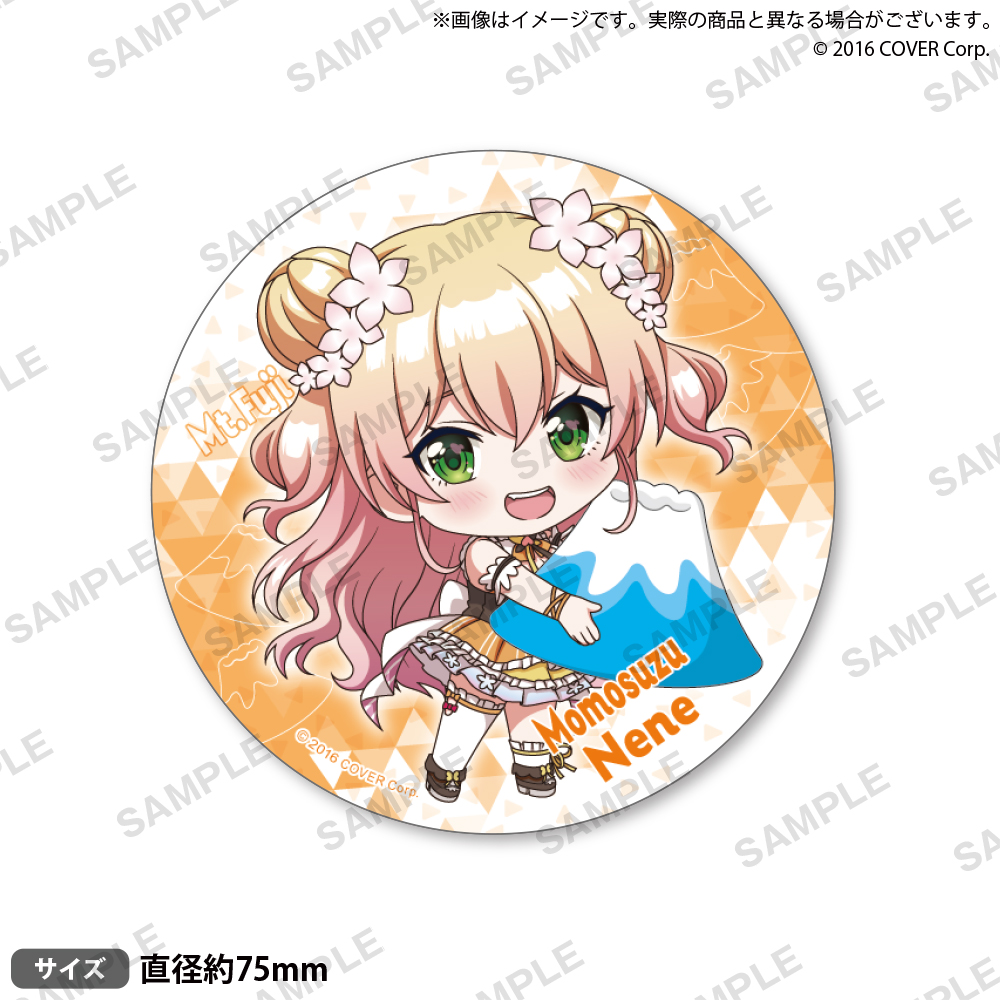 hololive Gotochi "Mt Fuji" Can Badge
Momosuzu Nene
SGD $7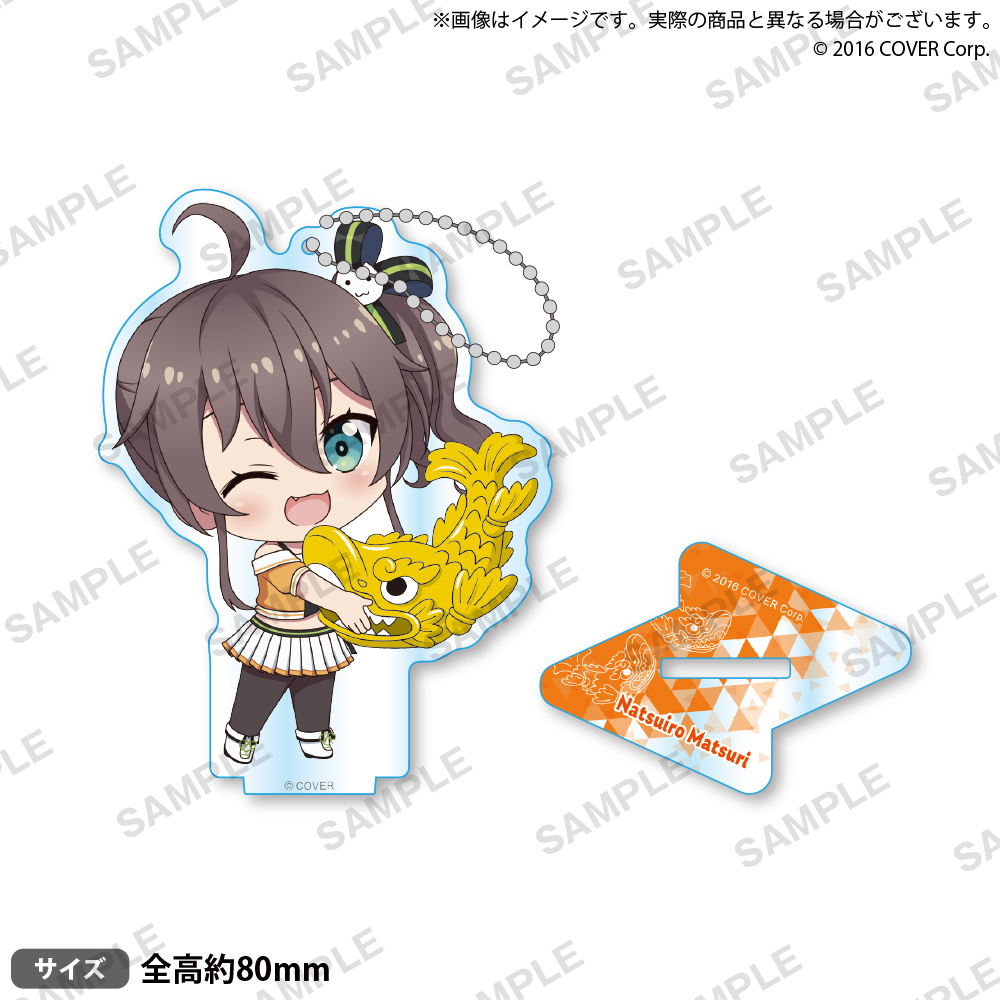 hololive Gotochi "Nagoya Shachihoko" Acrylic Stand Keyholder
Natsuiro Matsuri
SGD $15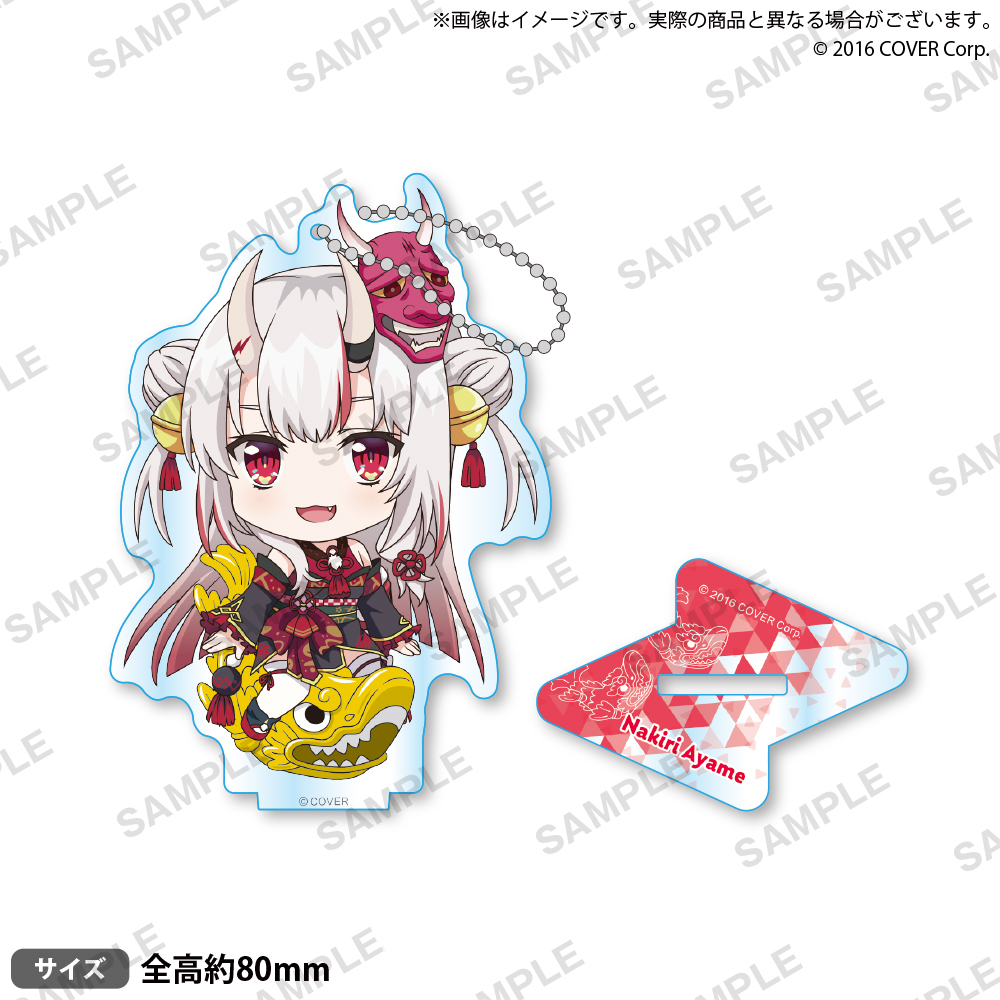 hololive Gotochi "Nagoya Shachihoko" Acrylic Stand Keyholder
Nakiri Ayame
SGD $15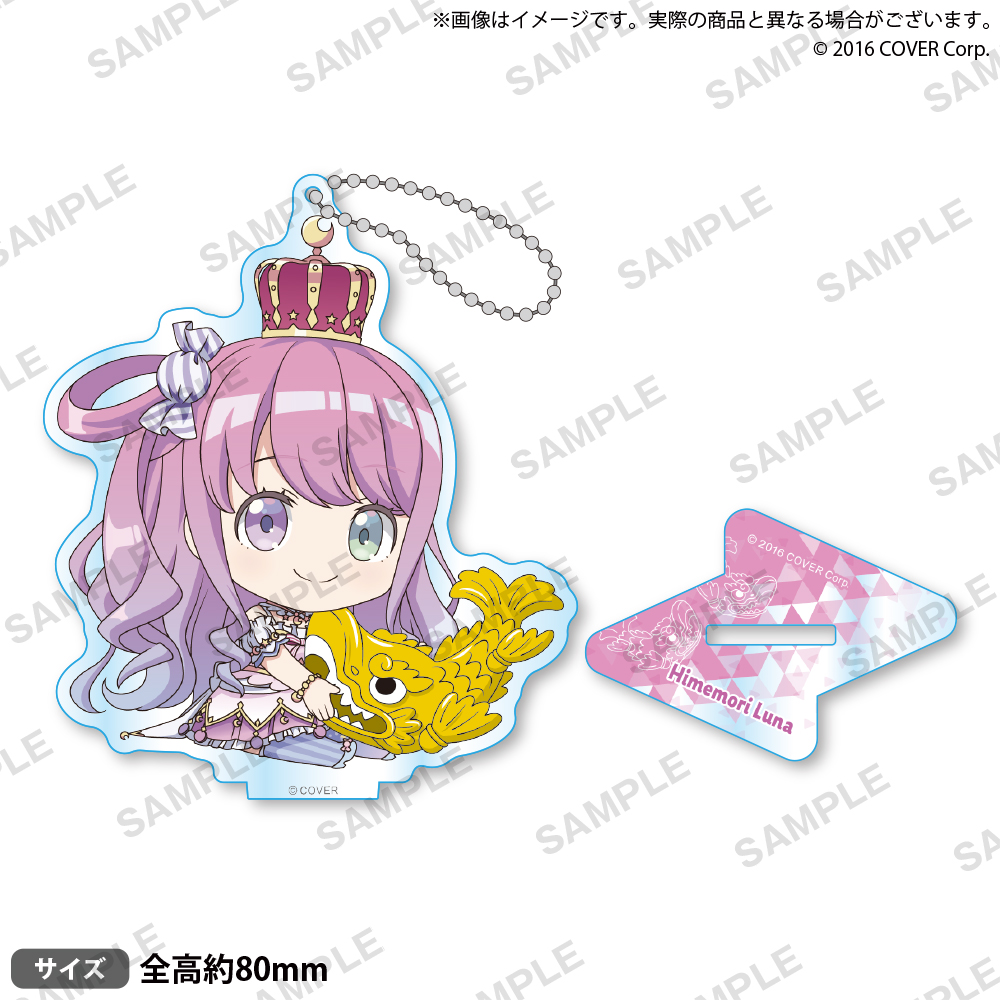 hololive Gotochi "Nagoya Shachihoko" Acrylic Stand Keyholder
Himemori Luna
SGD $15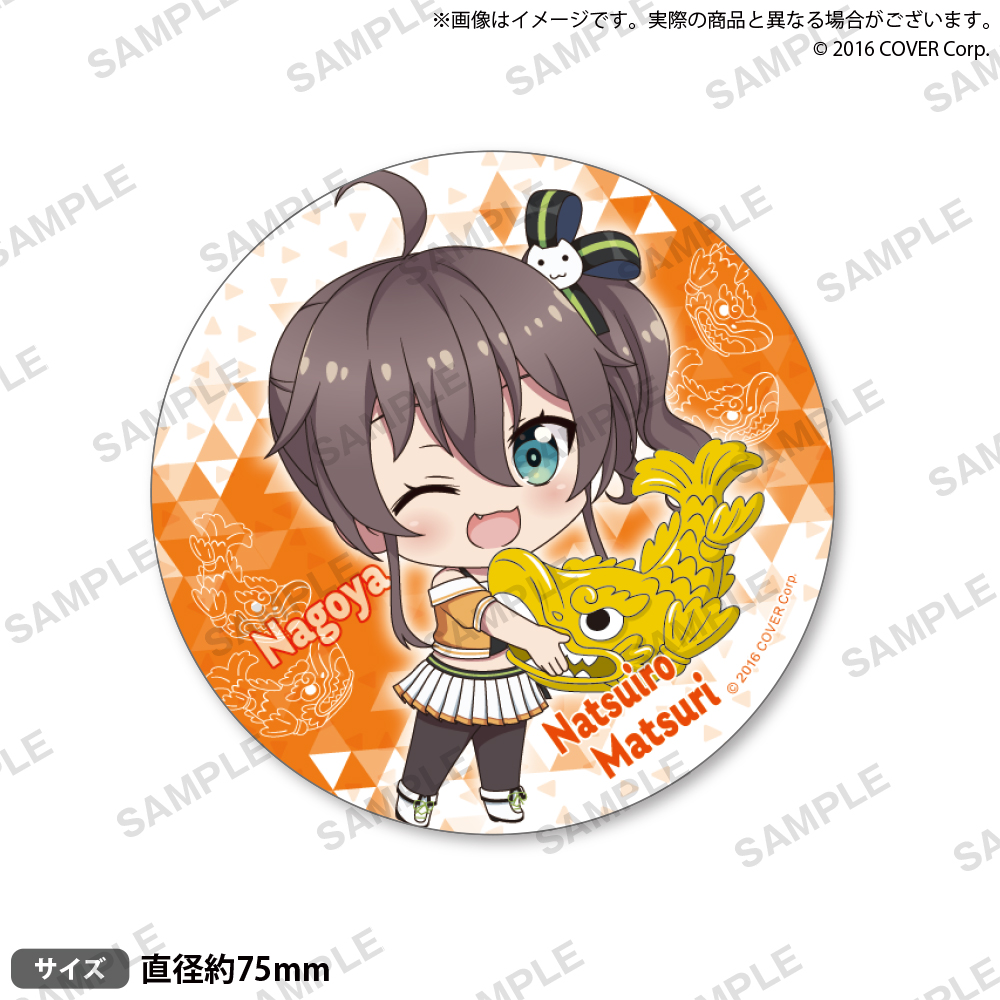 hololive Gotochi "Nagoya Shachihoko" Can Badge
Natsuiro Matsuri
SGD $7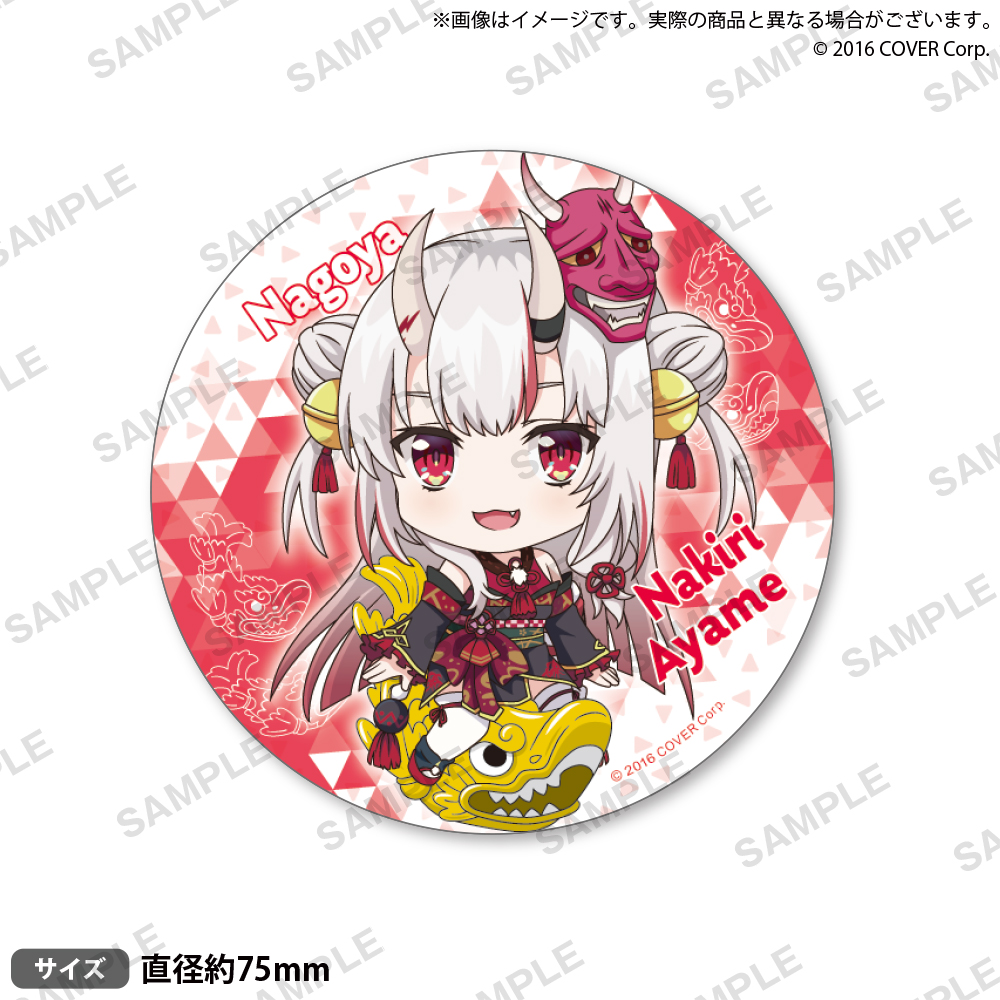 hololive Gotochi "Nagoya Shachihoko" Can Badge
Nakiri Ayame
SGD $7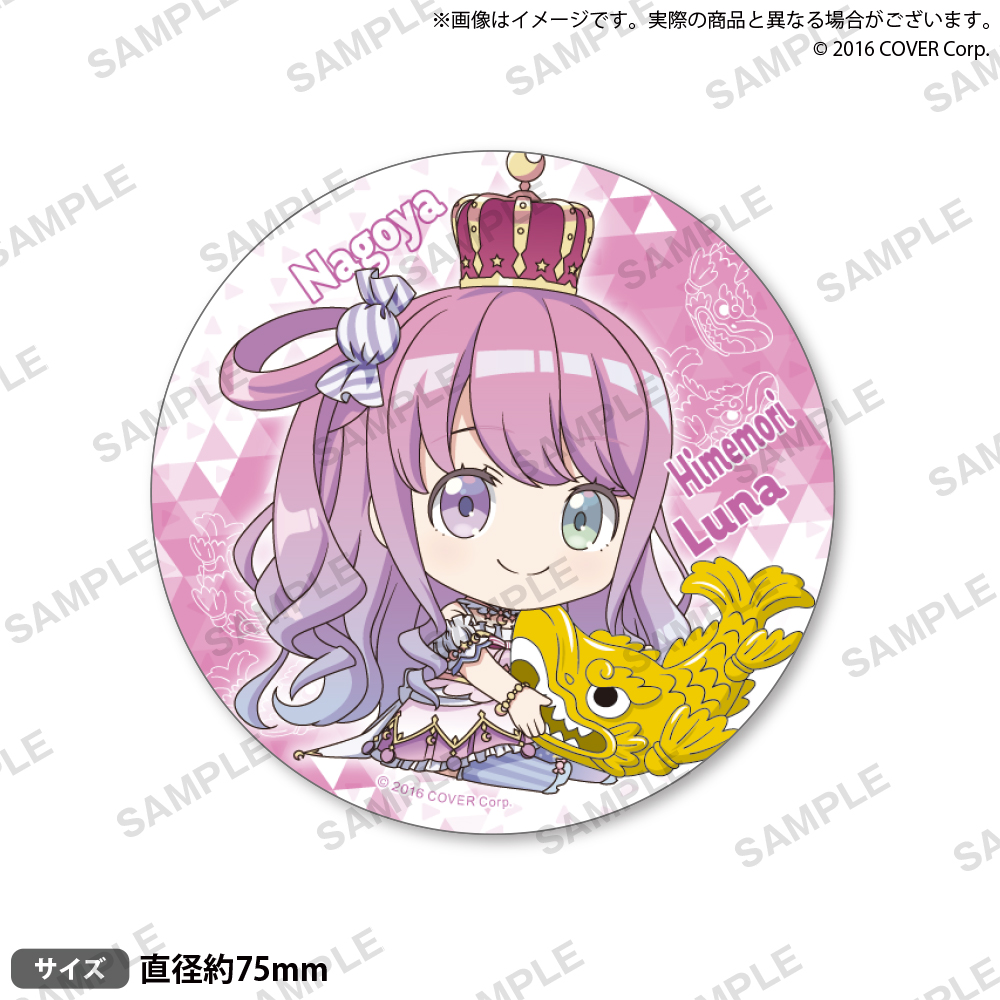 hololive Gotochi "Nagoya Shachihoko" Can Badge
Himemori Luna
SGD $7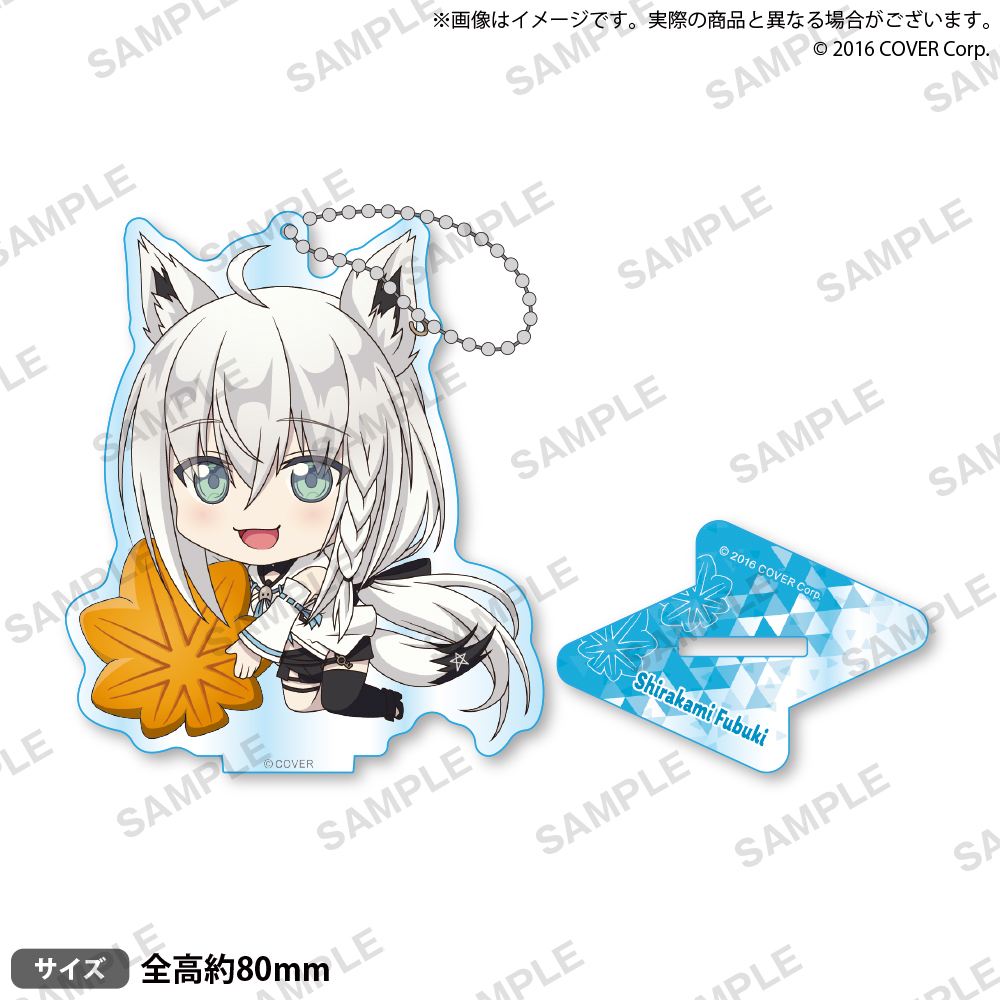 hololive Gotochi "Hiroshima Momiji Manju" Acrylic Stand Keyholder
Shirakami Fubuki
SGD $15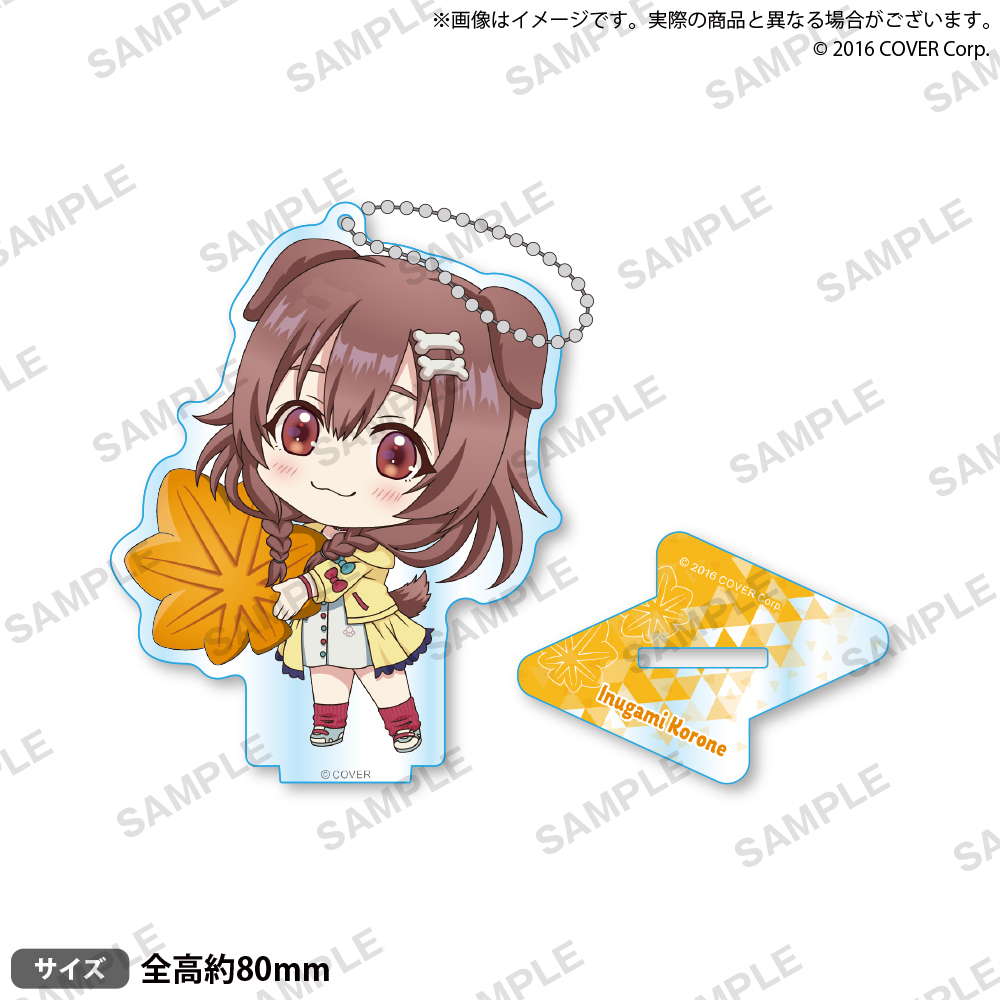 hololive Gotochi "Hiroshima Momiji Manju" Acrylic Stand Keyholder
Inugami Korone
SGD $15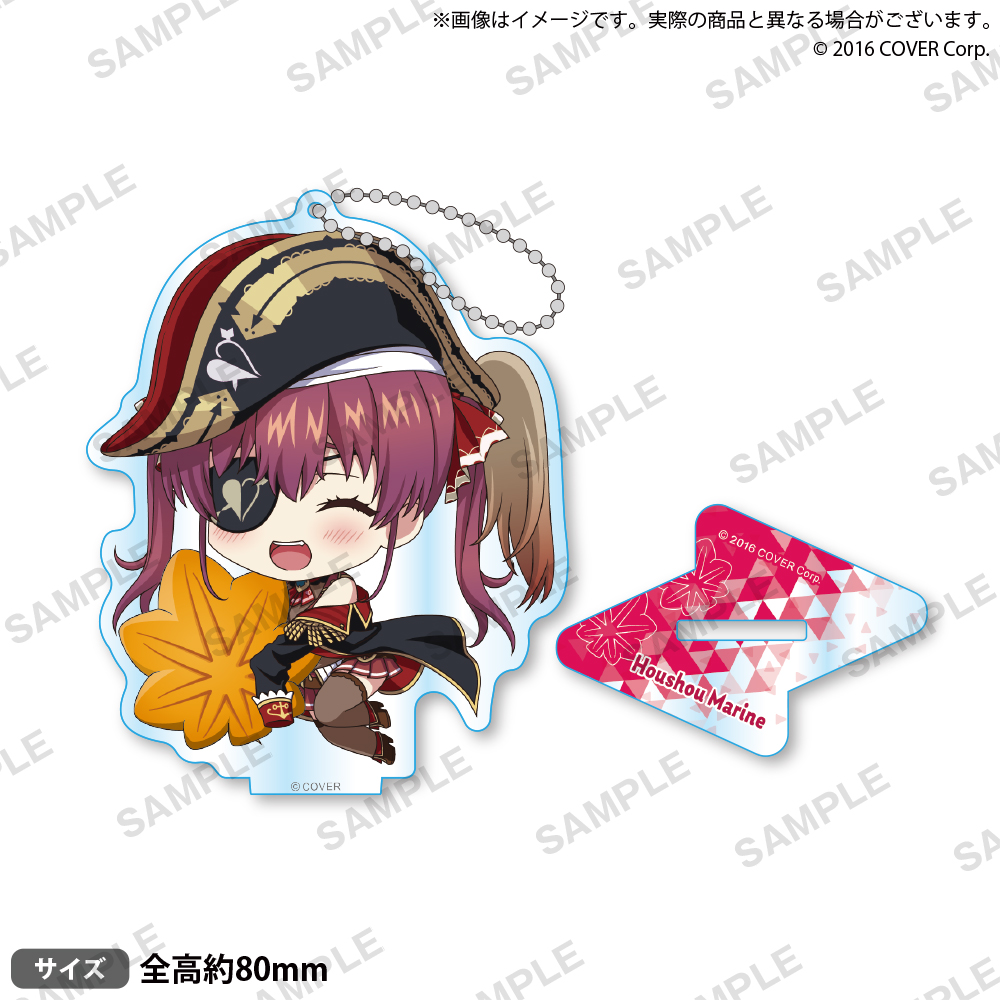 hololive Gotochi "Hiroshima Momiji Manju" Acrylic Stand Keyholder
Houshou Marine
SGD $15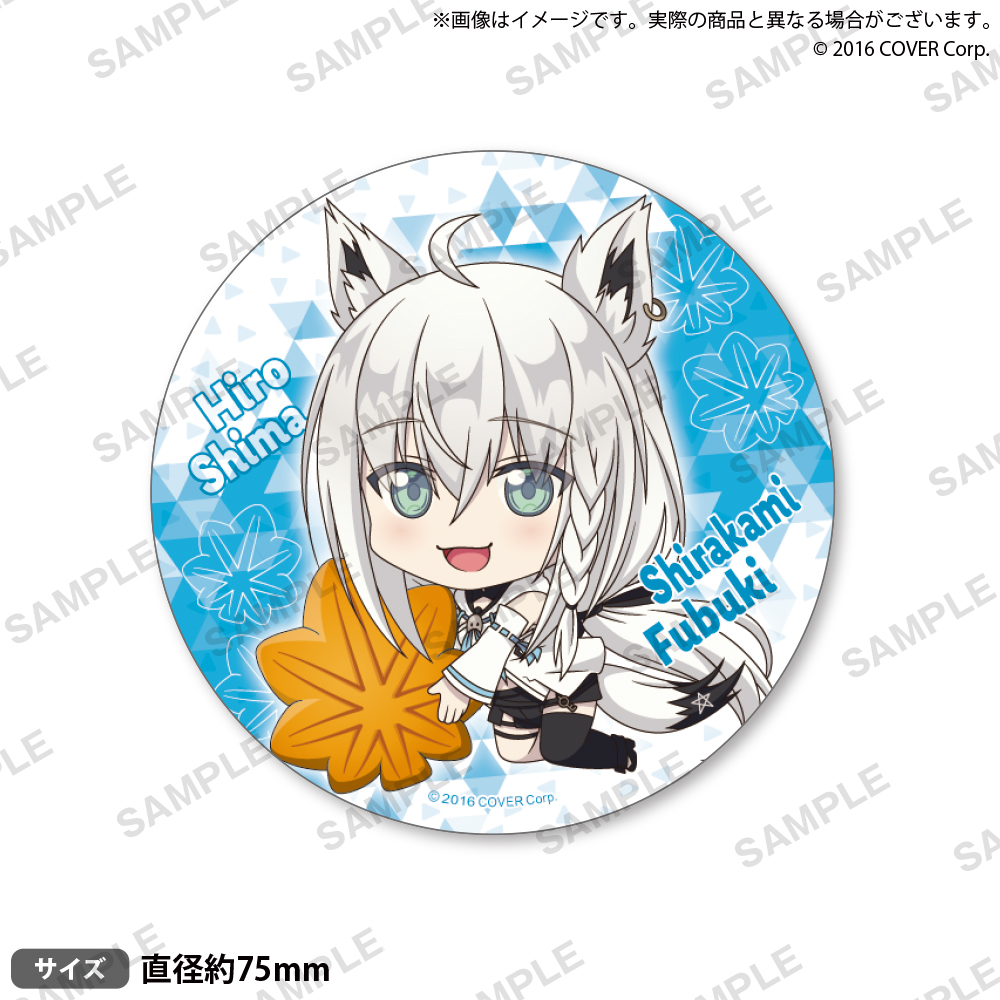 hololive Gotochi "hiroshima Shachihoko" Can Badge
Shirakami Fubuki
SGD $7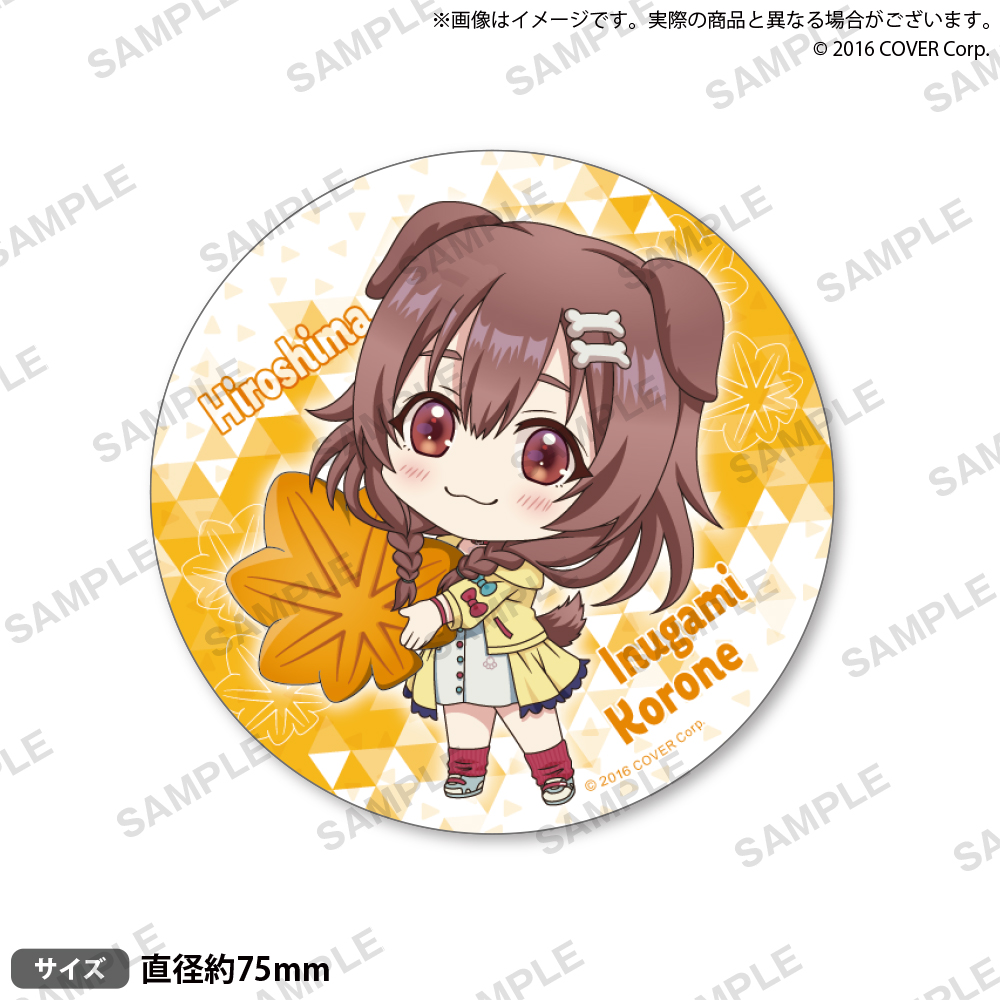 hololive Gotochi "hiroshima Shachihoko" Can Badge
Inugami Korone
SGD $7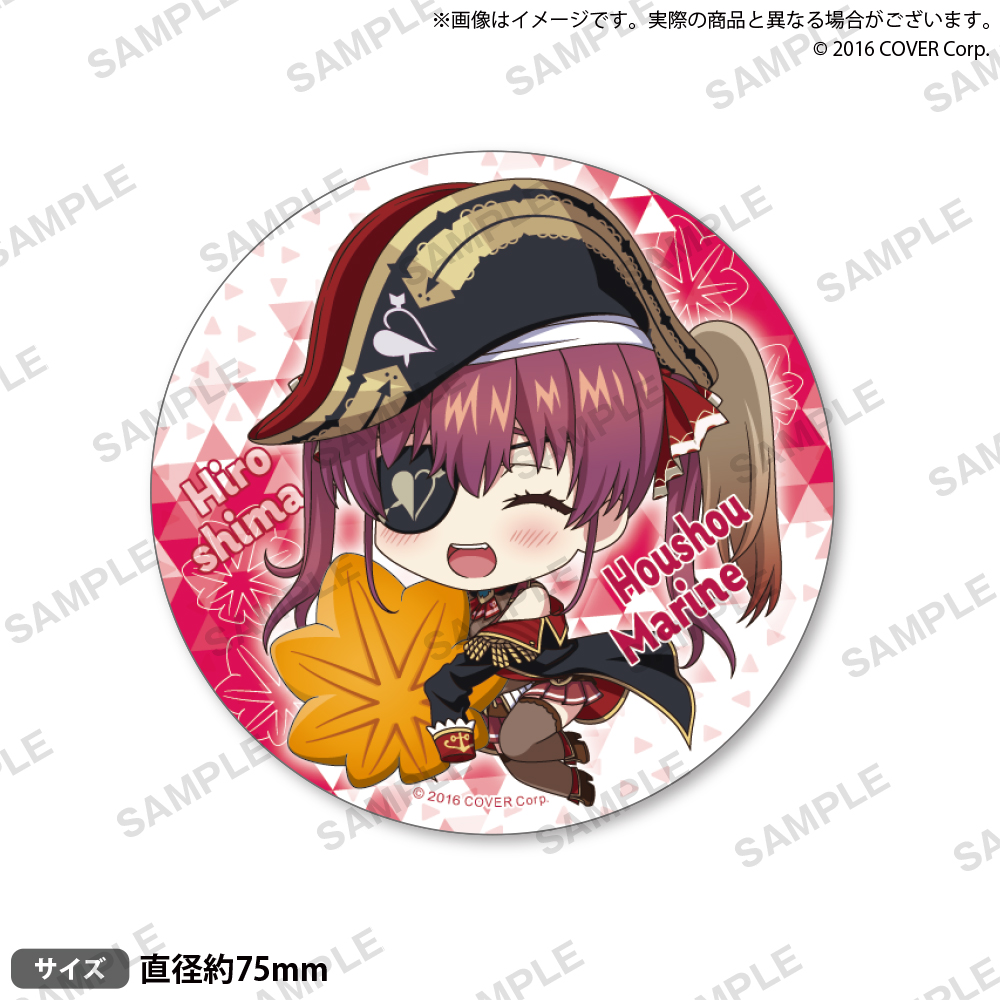 hololive Gotochi "hiroshima Shachihoko" Can Badge
Houshou Marine
SGD $7
Weiss Schwarz English Edition
Cardfight!! Vanguard English Edition