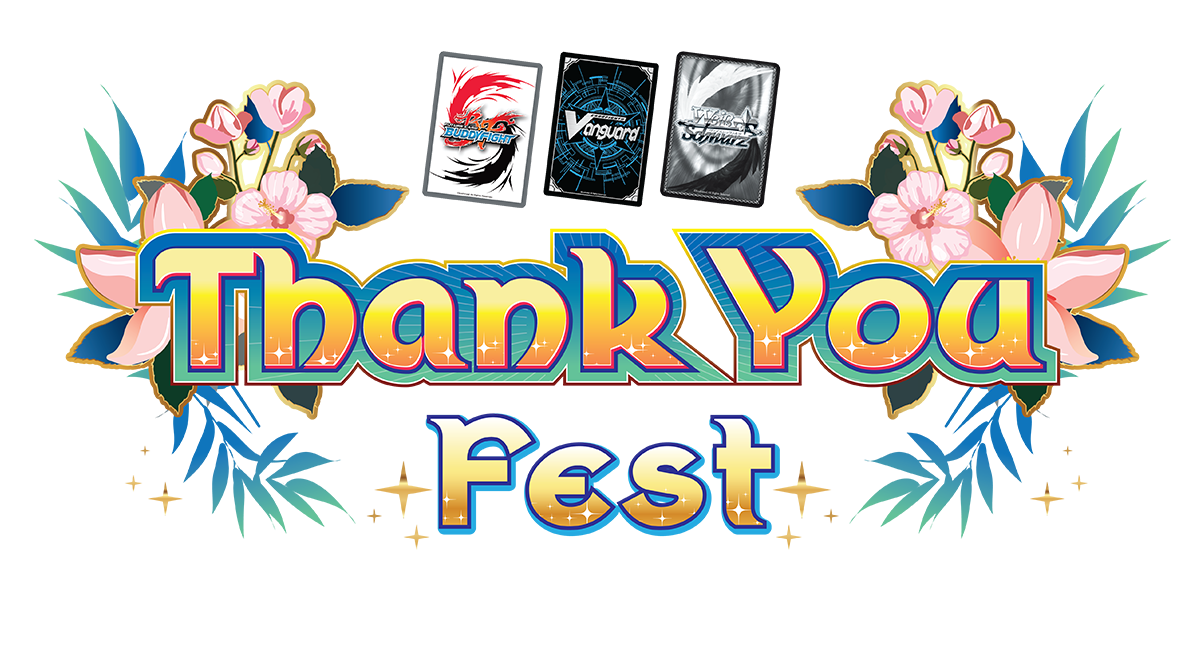 Join us in celebrating your local stores!
The Thank You Fest is a special one-time store event held between 8 August – 12 September that will allow players to collect the PR cards from Bushiroad Spring Fest 2020, which, unfortunately, was cancelled due to the COVID-19 pandemic.
Now that the world is slowly coming out of lockdown, we would like to take this opportunity to show our support for your local game stores around the world, whose businesses have been affected by closures and lockdowns.
Prizes
★★★ Top 2 Champion ★★★
*While stocks last
★★★ Top 3★★★
All Game

Lanyard
*While stocks last
Participation Promo
*While stocks last
★★ Shop Challenge Coupon Exchange ★★
Players with Shop Challenge Coupons may perform the exchange at a participating store!
*Stores that have yet to hold Shop Challenges may hold them at any time during this period.
**While stocks last
General
Format
Individual
Language
Only English edition cards may be used.
Deck
A player must use the same deck throughout a tournament. No switching of cards is permitted in between games within a tournament, except for the situations specified in the Sideboard Ruling for BFE Best of 3 tournaments.
Cards
Cards from new expansions are legal to use from the expansion's official release date.
Cards from expansions which are available after Sneak Preview / Pre-sale events are not allowed for use in the tournaments until the expansions are officially released.
Deck Registration
It is not mandatory to submit a deck list upon tournament registration.
Entry Fee
Please check with your local stores.
Time-up Policy
3-extra turns according to Bushiroad TCG Advanced Floor Rules.
Sideboard Ruling (For Future Card Buddyfight Best of 3 rounds)
Fighters must use the same Buddy and Flag throughout the whole tournament. Fighters cannot change the Buddy or Flag between games.
Fighters can have 0-10 cards for their sideboard.
The 4 per deck rule applies to the main deck and sideboard as a whole. (i.e. You may only have up to 4 of a certain card between your deck and sideboard. Like normal games, your Buddy does not count towards the 4 per deck.)
Between games 1-2 and 2-3 of each round, fighters may use cards from their sideboard to change their deck.
After sideboarding, the deck needs to be in a legal state and the sideboard can be no more than 10 cards.
Fighters must return deck to pre-sideboard state before each new round.
VGE-S / VGE-P / WSE / BFE Regulation & Formats
VGE-S
VGE-P
WSE
BFE
Best of 1, Swiss
25 min/round
Best of 1, Swiss
25 min/round
Best of 1, Swiss
30 min/round
Best of 1, Swiss
20 min/round
or
Best of 3, Swiss
40 min/round
Cut to Top 8 or Top 4
Best of 1, Single
Elimination
Best of 1, Single
Elimination
Best of 1, Single
Elimination
Best of 3, Single
Elimination


(sideboard allowed)