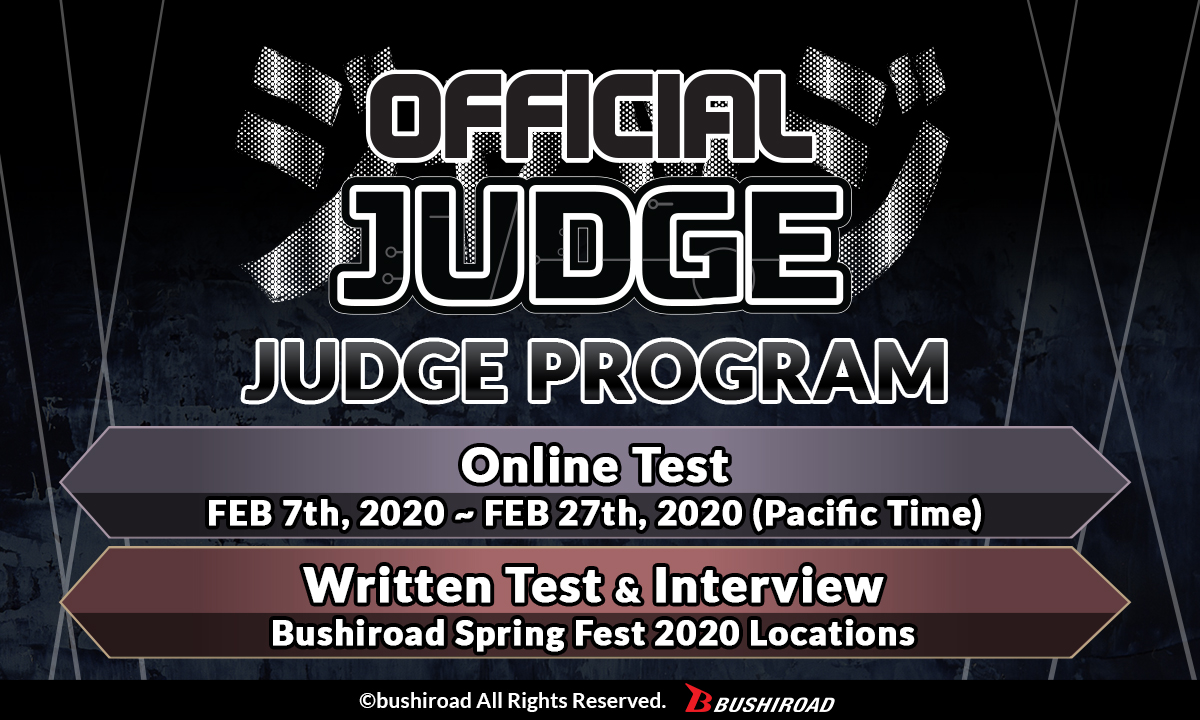 Bushiroad Judge Program
As the tournament scene for Bushiroad's Trading Card Games grows larger worldwide, we are seeking to gather fans who would love to assist in ensuring tournaments are professional and enjoyable.
The Bushiroad Judge Program aims to improve the quality of our tournaments by gathering judges who not only have an in-depth knowledge about the games and tournament organization, but are also willing to assist in providing the best experience for our players.
Eligibility
Anyone who is 18 years old and above, familiar with game rules of any Bushiroad Trading Card Game, willing to learn about organizing tournaments and is passionate about growing the community may apply for the Bushiroad Judge Program.
Application
Online Test: Feb 08th, 2020 ~ Feb 27th, 2020 (Pacific Time)
Online Test Result Notification: By mid of March 2020
Written Test & Interview: Bushiroad Spring Fest 2020 Locations
Online Test
Interested parties may attempt the online judge test for an evaluation of their knowledge on Bushiroad's trading card games. Candidates will also be evaluated based on their knowledge of the floor rules and game rulings of the selected game. Online tests for Cardfight!! Vanguard, Weiss Schwarz and Future Card Buddyfight are available.
The tests can be accessed here:
Cardfight!! Vanguard
Weiss Schwarz
Future Card Buddyfight
Written Test & Interview
Candidates who have passed the online test will have to undergo a second selection process, consisting of a written test and interview, at a Bushiroad Spring Fest 2020 location. A field test as an event staff may be applicable to determine the candidate's ability.
Officially Certified
Candidates who successfully pass the online test, written test, interview and field test (if applicable) will be certified as an official Bushiroad judge.
Rewards and Benefits
Official Bushiroad judges will receive an official judge shirt and are eligible to judge at any official Bushiroad tournament, which includes sanctioned events at shop and regional level.
*Compensation will be provided for any judge/judging appointments at official tournaments. Please check with the tournament organizer for details.
For official Bushiroad Judges who judge at Regional-level events, they will receive a hot-stamped PR card specific to their game, unique to each tournament circuit. All Judge PR cards are only legal for tournament use when their non-hot-stamped equivalent are available to the public, i.e. after the product goes on sale.
Applicants who successfully pass the Judge Program in this circuit will receive the hot-stamped Judge PR card from the previous circuit while stocks last. Only judges who were certified and proceed to judge in a subsequent regional will be able to receive the Judge PR card from the current circuit.
Frequently Asked Question
Q. I attempted the previous online test or interview but did not pass, am I able to try again this time?
A. Yes, you may try again this time.
Q. I attempted the previous test but did not receive any reply, what should I do?
A. You most likely did not make it past the previous test. We would suggest you try again with the current test.
Q. I have passed the online test but was not able to attend any interview in the previous test, what should I do?
A. Please participate in the current test.
Q. What should I do if I cannot attend an interview at any upcoming Regional Championship location?
A. Please kindly contact us to arrange for a timing convenient for all parties.
Q. Will there be another online test later on?
A. We are planning to run the Judge Program for every major tournament circuit. Please stay tuned for more information.
Q. I passed the test previously, do I need to retake the test?
A. Previously qualified judges will be able to obtain the Judge PR so long as their certification is still valid. However, we strongly recommend that judges who have passed the test in 2018 and before to retake the test, so as to keep their knowledge up to date as the game develops.
Q. How long does my judge certification last?
A. As we require our judges to be kept up-to-date with changes in the game & floor rules, judges will be required to retake the Judge Program every two years. For example, a judge who passes the Judge Program in the Spring 2018 circuit will be eligible to judge up to and including the Spring 2020 circuit.
*Judges may be required to retake the Judge Program tests in the event of major changes to the game rules.
---
For inquiries, contact us at sg_support@bushiroad.com.