SINGAPORE (December 5, 2019) – On November 29, Bushiroad announced JoJo's Bizarre Adventure: Golden Wind for the English Edition line-up of its popular trading card game, Weiß Schwarz. The set will be released on March 27, 2020.
Weiß Schwarz allows players to relive the climactic moments from their favorite anime and games through an exciting, fast-paced and strategic card game. Popular titles such as Fate/stay night, Sword Art Online and Attack on Titan have graced the game, along with many others.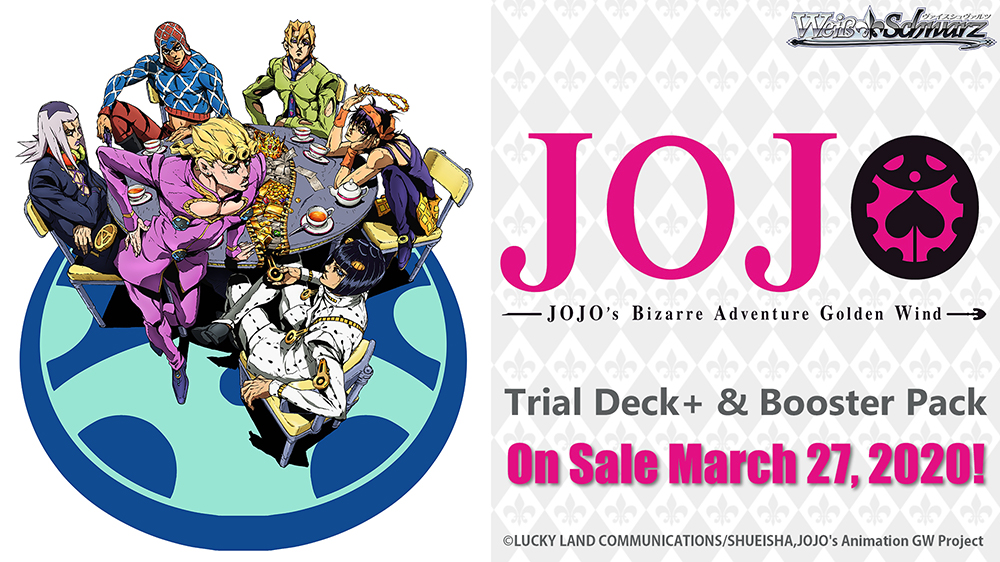 A Trial Deck+ and Booster Pack will be released for this title. The Trial Deck+ contains a pre-made deck of cards that can be used immediately for play, while the Booster Pack contains cards that allow players to upgrade the former or to build an entirely new deck. The Trial Deck+ and Booster Pack for the Japanese edition have been released earlier in March and September this year respectively, which were well received in the domestic Japanese market.
The long-running JoJo's Bizarre Adventure series is the brainchild of Japanese manga artist, Araki Hirohiko, with JoJo's Bizarre Adventure: Golden Wind being the fifth instalment. It tells the tale of Giorno Giovanna as he embarks on a journey to take down the Passione gang boss. Adapted into an anime series with 39 episodes, it was aired on Tokyo MX and other channels between October 2018 and July 2019, along with a simulcast on Crunchyroll. Outside of Japan, the series also gained popularity and generated much hype with the western audience.
---
Bushiroad (English) – https://en.bushiroad.com/
Weiß Schwarz Official Website – https://en.ws-tcg.com/
Weiß Schwarz Facebook – https://www.facebook.com/WeissSchwarzTCG/
Weiß Schwarz Instagram – https://www.instagram.com/weiss_schwarz_en/
---
Link to pdf
©bushiroad All Rights Reserved.